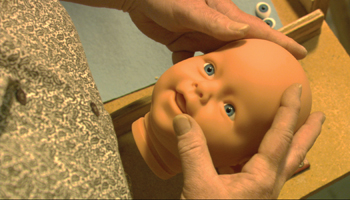 Head Shop: The wage slaves of 'Bubble' toil in a doll factory.

Blue Light Special

Is Steven Soderbergh's 'Bubble' the future of filmmaking or just another speculative bubble?

By Richard von Busack

TODAY'S FILM VIEWERS cry out, "Who cares about acting, writing, directing and cinematography. It's how the movie is distributed that really matters!" Steven Soderbergh's experimental film Bubble, his most Baton Rougey work since sex, lies, and videotape, just opened in some theaters with digital projection equipment and is available at the same time on DVD and HDNet. As Soderbergh said on CBS radio, "Takeout food didn't put restaurants out of business"—meaning that the increase of home video isn't going to necessarily spell doom for theatrical movies.

True, less and less of the public understands the different in aesthetics between the big screen and the small one. There has been a decline of the screen image, thanks to reliance on CGI during the last few years. Movies as dank as BloodRayne or Underworld: Evolution are so loaded with effects that the digital screen might as well be the way they were meant to be seen: it's the way such films were composed. After a year in which exhibitors' profits were down, though, theater managers have met Soderbergh's distribution system with displays of agony. Outside the cities, though, it's hard to imagine who would be buying theater tickets for a film as anti-Hollywood as Bubble.

Can we talk about Bubble as a movie now? It's a love triangle. Martha Hightower (the grave Debbie Doebereiner) works at a doll factory in the Midwest and sews clothes for the pink plastic babies. She has a tender interest in a younger co-worker, Kyle (Dustin James Ashley). A new girl comes to work: Rose (Misty Dawn Wilkins), a single mom. Like Kyle, she's a doper and a fellow high school dropout. Martha is an obese, locked-in woman—her feelings never show. So Soderbergh gives the impression of enlightenment (agape or eros) by a bubble of blue light that expands around her face as she sits silently in church.

What transpires is a murder plot that is in no way melodramatized. Thanks to Soderbergh's austere direction, the question is left open as to whether the killer is mentally ill or acting out a more understandable crime of passion. Calling Bubble a banal or patronizing movie seems unfair. Bubble isn't about ugliness; it's about lack of adornment. Viewers who see no compassion in this film aren't looking. It contains little points of beauty: choosing the exterior of a house trailer, Soderbergh decides to show one that's landscaped, with flowering trees and shrubs. If there is flatness, there is also a sense of peace and stasis. At times, Bubble's cast of nonprofessionals demonstrates why there is such a thing as a professionals, but Soderbergh took the time to choose angles and change lighting—tasks the average point-and-shoot filmmaker often skips. Bubble's lack of inflection suggests a real-life Fargo. The Flannery O'Connor-like script by Coleman Hough is affecting. It sports odd, haunting lines: at a fishing supply shop, the cashier notes, "The darker the water, the darker the bait." No matter how Bubble is released, it's a real movie.
---
Bubble (R; 90 min.), directed and photographed by Steven Soderbergh, written by Coleman Hough and starring Debbie Doebereiner, Dustin James Ashley and Misty Dawn Wilkins, plays at selected theaters, or you could buy it on DVD.
---
---
Send a letter to the editor about this story to letters@metronews.com.
---
[ Silicon Valley | Metroactive Home | Archives ]