[ Metroactive Central | Archives ]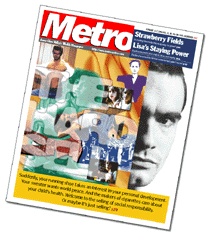 February 1-7, 1996
Cover
Companies that Care: If we're to believe the ad campaigns from Benetton, Philip Morris and Nike, what those companies really want to do is to help each and every one of us fulfill our potential as human beings. Of course, buying their products just might help.

News
Mething Around: California's battle over the widely used pesticide methyl bromide has pitted agribusiness against environmentalists. But is it really a matter of choosing strawberries over public safety?

Public Eye: Candidates sneeze over magic dust, tree hugger moves into former lumber yard, and the Celestine Prophecy guides redevelopment and politics.
Arts &amp Entertainment
Events
Cinequest Film Festival: Works by directors Neil Jordan, Luis Valdez, and Gus Van Zant are among the featured films at Cinequest, which opens this weekend at the new UA Pavilion Theaters.

African Awareness Month: Race for the Times on KSJS, cross-cultural exchange sends SJSU students to Ghana, and a guide to the month's events.

Movies
Screamers: All's Weller that ends well.

Music
Bedroom Poet: Lisa Loeb gives normality a good name.

No Gatorade Here: Soda spurts onto local music scene.

Beat Street: Local bands split CDs and hip-hop strikes in Cupertino.

Audiofile: Reviews of the latest CDs by God Lives Underwater, George Michael, Go Van Gogh, and Dream Warriors.

Stage
Lady Day at Emerson's Bar and Grill: Memorializing Billie Holiday as the pinnacle of the jazz vocal tradition.

Our Lady of the Tortilla : Tasty, if unbelievable, fun.
Menu
Il Fornaio: Wood-fired ovens and aromatic baked specialties uphold the unmistakable company signature.

Bargain Bites: A lunch break at Muchos, downtown's Mexi-food high rollers.
---
This page was designed and created by the Boulevards team.
Copyright &copy 1996 Metro Publishing and Virtual Valley, Inc.