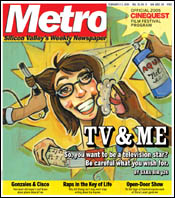 For the Week of
February 2-8, 2005
Cover Story: TV & Me:
So, you want to be a television star? Be careful what you wish for.
Talent Search: Richard von Busack searches the web for TV stardom.
10 Ways to Assault the Media: Paris Hilton doesn't have to do anything to get on TV, but the rest of us have to work at it.
News: Murder in a Head Shop
Will David Cruz's killer ever be found?
The Fly: This week's political bites.



Biter: Mea Culpability.
Techsploits: The outcome of the wars over peer-to-peer software could decimate the bedrock of the U.S. economy.
Rev: Go Enduro: The body has a stripped-down, almost skeletal look. Basically, they look like giant insects.



East vs. West: Avant-garde Chinese artists take on Western notions of politics and culture in 'On the Edge' at Stanford.
Craft As Art: The distinctions vanish at Palo Alto Art Center's show of Japanese art.



Cinequest Cascade: This year's Cinequest film festival in San Jose boasts more than 175 features and shorts.
Barrel's Bottom: The cruelest month? That would be January, bringer of 'Alone in the Dark' and 'Hide and Seek.'



Working Class Hero: Steve Earle's American revolution.
Club Life: Blue Rock Shoot in Saratoga.



Full Circle: Jeff Chang explores hip-hop's global effect in 'Can't Stop Won't Stop: A History of the Hip-Hop Generation.'



The Third Degree: Los Gatos newcomer has great ingredients to work with but doesn't always do them justice.
Silicon Veggie: Our resident vegetarian boldly takes on the final frontier—steakhouses—and Peachwood's comes out on top.
5 Places to Love: Romantic Restaurants.



Waiting Beauties: The women in City Lights' 'Waiting Room' find little solace in men's healing arts.



Please don't forget to write! Metro welcomes letters. Like any great work of art, they should be originals — not copies of letters sent elsewhere. Include address and daytime phone (for verification purposes only). Letters may be edited for length and clarity or to correct factual inaccuracies known to us. Postal: Metro Letters, 550 S. First. St., San Jose, CA 95111. Fax: 408/298-0602. Email: letters@metronews.com. Emailers, please include name, city of residence and phone number. Letters printed will list email address unless otherwise specified. Letters to the editor are not currently published in the online version of this paper.