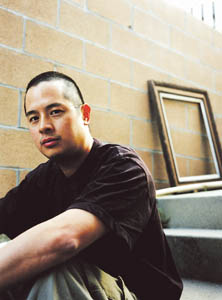 No Talk Stink: Author Jeff Chang co-founded SoleSides, the label home of DJ Shadow and Blackalicious.

Full Circle

Jeff Chang explores hip-hop's global effect in 'Can't Stop Won't Stop: A History of the Hip-Hop Generation'

By Todd Inoue

EVERYBODY'S GOT a story to tell and Jeff Chang's is unique in that his begins with a car accident. In 1997, after a four-year run, the principals at SoleSides (the Bay Area independent label of DJ Shadow, Latyrx and Blackalicious) announced their intention to disband at a Lake Tahoe retreat. Chang, a label co-founder, drove his green Honda up to the cabin in a blinding blizzard. He rear-ended a truck and smushed his hood, leaking antifreeze until his car limped to its destination. He arrived—soaked, cold and hungry—at a meeting that would force a surprise career change.

After a long hot shower and longer heated discussion, SoleSides was dead. Chang began piecing together his future while riding shotgun in a tow truck back to the Bay Area.

"I had nothing to do now with my life, and that's when I thought I would do a book," Chang says. "It wasn't going to be about SoleSides, but it was going to be about all the things SoleSides and hip-hop had taught me about my world."

Blackalicious, Latyrx and DJ Shadow would later forge a new collective known as Quannum Projects to much success. Meanwhile, Chang wrote a book and the fruit of his labor, Can't Stop Won't Stop: A History of the Hip-Hop Generation, was released Feb. 1 by St. Martin's Press. He reads from the book at MACLA on Feb. 10.

Chang's book spotlights the creative and political surges that occurred from societal upheaval—examining the turmoil and resulting output from the '60s to today. Neighborhoods of the Bronx, Kingston and Los Angeles figure prominently in the rise of hip-hop—now a multibillion-dollar industry where glitz and glamour outshines its nascent political voice.

Chang—a contributor to the Bay Guardian, Village Voice, Washington Post and Metro—initially found the process intimidating. An article is like a 100-yard dash. A cover story is like a 440. A book? Easily a triathlon.

"For an article you'll do the interviews, you figure out the lead, the kicker, the flow of the narrative. With a book you have to do it all on a much bigger level," he says. "An article is small enough that you can start a theme and people will not forget it. Imagine starting a theme in chapter one or two and hoping that a reader will still have the theme in their head by the time they get to page 658. I don't know if I succeeded, but dealing with those kinds of problems blew my head. Every day I stepped to the keyboard I felt I was out of my league. At a certain point you have to get comfortable with that feeling of knowing you don't know and just go for it."

The book was originally going to be about Ice Cube's Death Certificate album. Chang had a long contentious relationship with the album, balancing his identities as a hip-hop head and conscious Asian American. He sent out 50 query letters, got 20 to 30 rejections, and the rest didn't respond. "One agent told me it sounded like a good feature article, a nice way to completely dis your idea," he says. "The query process was totally humbling because I was coming off three or four years of SoleSides being the 'next big thing.'"

Chang wasn't ready and neither was the book idea. Three years later, after moving to New York and working for Russell Simmons at 360hiphop.com, he realized the book had a beginning, middle and end. "Death Certificate was the middle. The beginning was the Bronx in 1968, and the end became the 2000 election-year protest season. I was like, 'Damn, I really have a book now. People can't tell me I just have an article anymore.'"

Chang is a product of both community organizing and hip-hop. An East Bay resident born in Honolulu, he earned a bachelor's in economics from Berkeley and a master's in Asian American studies from UCLA. He's worked in campus and labor organizing and public interest lobbying. Along with SoleSides, he is co-founder of the progressive magazine Colorlines. And true to his journalistic and activist pedigrees, Can't Stop Won't Stop takes a microscopic look at a macroscopic culture. Far from a list of famous names and hit records, Can't Stop Won't Stop delves into the culture that produced some of music's most pressing, volatile and outrageous statements and personalities. He ties how gang treaties in the Bronx, Kingston and Los Angeles produced seminal hip-hop figureheads from the Afrika Bambaataa to Dr. Dre. He weaves a narrative about the New World Order imposed by Bush governments and how the malaise affects what's played on local radio. Can't Stop Won't Stop sprints far beyond connecting DJ Kool Herc to the Game; Chang dissects the social movements that begat contemporary hip-hop culture.

"The book is not trying to be the definitive history of hip-hop music," Chang says. "I could never write a definitive history of anything, but I'm trying to represent the main strands and trends that have girded the rise of our generation through politics, culture, music, graffiti art, gang peace treaties, activism and more. It's a narrative that traces the rise of the hip-hop generation from the ashes of the '60s to the 21st century.

"I'm almost taking the hip-hop generation as if they were one composite character, and I'm tracing all the different ways they came of age through the '70s, '80s, and '90s. I have full chapters on Kool Herc and Afrika Bambaataa. There's a lot about the gangs of the Bronx, Jamaica and Los Angeles. When they formed gang peace treaties, creative surges came out of that, leading to the creation of hip-hop and eventually a worldwide youth culture, and a multibillion-dollar industry. Hip-hop began with the creative powers of people from the margins—and gangs are among the most marginalized folks in society."

One of his favorite interviews was Clive "DJ Kool Herc" Campbell—the Jamaican DJ who threw parties that laid the groundwork. Herc's contributions have either been confused, mischaracterized, glossed over or forgotten completely. Chang and Herc sat down in Soundview Park and went through his life page by page.

"He was so giving of himself," Chang says. "We focused on Campbell's immigrant experience and I could really relate to his coming-to-America story because coming from Hawaii to the mainland is almost like an immigrant experience in itself."

Today, hip-hop's reach extends far beyond music. Its influence on fashion, linguistics, style, mass media, marketing, pro sports, haircuts and handshakes has moved the planet in a manner no other American invention has since the internal combustion engine. Chang says the only area hip-hop hasn't touched is Viagra commercials, which may not be far off (would Viagra consider using the Jungle Brothers "Jimbrowski" or Schoolly D's "Mr. Big Dick" for an ad campaign? Just asking).

"What does amaze me though is how new generations of kids redefine hip-hop in their own way every three to five years or so," he says. "Even though it's a global commodity now, hip-hop remains a lived local culture. I'm listening these days to, on the one hand, Brazilian hip-hop like Curumin and tripping on how he brings together traditions of samba and bossa nova into funk and hip-hop. On the other, I'm catching up on the new Bay Area stuff—Keak da Sneak, the Federation, the Frontline—because you just can't escape it where I live, and the stuff really does sound good pumping out of these cars coming down the street, as good as E-40, Mac Mall and Mac J. Mill and Mac Dre sounded back in the day."

Hip-hop was born of the street. But with so much popularity, visibility and dominance of the Billboard charts, when will hip-hop peak? The force is impenetrable—able to withstand deaths, boycotts and Vanilla Ice. Two weeks ago, Ice Cube scored the No. 1 movie in the country with the family road trip comedy Are We There Yet? Knowing that Can't Stop Won't Stop came out of a fixation with Death Certificate, which was excoriated at the time for its perceived violent, racist and misogynistic values, Chang says he isn't mad at Cube. In fact, he wants to get tickets.

"I'm dying to take my kids to this," he says. "I heard he teaches the kids his famous grimace. Some folks might see this as Cube losing his edge. Me, I'm happy that you can take your kids to a family movie that doesn't exclusively star white people in all-white neighborhoods. It wasn't like this when I was a kid. And hip-hop helped changed that."
---
Jeff Chang appears at MACLA, 510 S. First St, San Jose on Thursday (Feb. 10) for a reading and booksigning. The event is free and features local DJs and breakdancers. For more information, call 408.998.2783 or visit www.cantstopwontstop.com.
---
---
Send a letter to the editor about this story to letters@metronews.com.
---
[ Silicon Valley | Metroactive Home | Archives ]