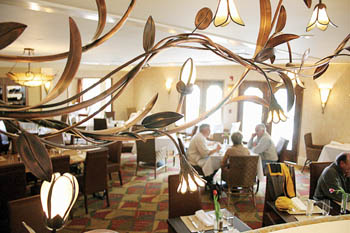 Photograph by Felipe Buitrago

New Look: The lounge and dining room have received a sleek modern redesign at Three Degrees.

The Third Degree

Los Gatos newcomer has great ingredients to work with but doesn't always do them justice

By Stett Holbrook

WHEN YOU get down to it, Los Gatos really isn't much of a restaurant town. Given Los Gatos' wealthy population and Bel Air-like real estate prices you'd think the city would attract more culinary talent to cater to this high-income demographic. But that's not the case.

Sure, there are plenty of good lower-market options (hello C.B. Hannegan's and Andale), but when it comes to fine dining, the city doesn't distinguish itself. While there are a few exceptions such as Manresa and Kuleto's, Los Gatos is known more for its pricey boutiques and salons than its culinary attractions.

So, when Three Degrees opened in November in the beautifully remodeled Toll House hotel, I had high hopes. It replaces the unremarkable Clock Tower restaurant and is now owned by the Larkspur Hospitality group. While it has potential, Three Degrees has yet to get its bearings and serves uneven, often aggressively salty food.

One of Three Degrees' problems is visible right away. Or not. It's invisible from South Santa Cruz Avenue and hidden within the hotel. Once you find the restaurant by walking down a long hallway past conference rooms or driving around back to the front door, it's a good-looking place. The lounge and dining room have been redesigned to give them a sleek, modern style done up in warm, earthy colors. It's a great place for drinks.

While the space has a cool, new look, the servers that work the dining room are still a little rough around the edges. Waiters are friendly and aim to please but are sometimes unfamiliar with details of the menu. On one visit, our entrees arrived with a "Who gets the chicken?" better suited to Denny's. With entrees that hover around $22, you expect more. But on two visits, waiters solicited feedback on the food and seemed genuinely interested in our responses.

And there's a lot to say about the food. Unfortunately, not all of it's good. Chef Gary Arthur has some great ingredients to work with, and several dishes reflect that quality. But too often, the kitchen doesn't do these ingredients justice.

The large menu is divided between small plates and entrees and draws upon an eclectic mix of American, French, Asian, Caribbean and Mexican influences. The small plates we tried were a mixed bag. The tea-smoked salmon and pork sausage spring roll ($8.50) landed with a thud. It was heavy and oily, and the strongly flavored fish was a poor match with the pork.

Beef skewers ($8.25) were wonderfully tender, but the peanut sauce that coated them was bracingly salty. Better was the elegant salad of Faurot Ranch greens with shaved watermelon turnips ($5.25) and the plump, perfectly cooked sautéed scallops with Granny Smith apples and saffron aioli ($10). The silken, earthly celeriac soup ($5) was good, too, though it was barely warm.

Two of the best dishes came from the lunch menu. Pan-roasted sea bass ($13.50), paired with an orange butter sauce long on the butter and mussels that tasted as if they were just plucked from an ocean rock, was an impeccably fresh, snowy-fleshed fillet with an appealing caramelized crust. I didn't know what to expect with the warm pork tenderloin and roasted-vegetable salad ($11.50), but I loved what I got. The faintly pink, tender pork was coated with a spicy jerklike seasoning and married well with the robust flavors of roasted eggplant, bell pepper and zucchini.

From the dinner menu, the Painted Hills Ranch New York pepper steak ($26.50) delivered just what you want in a premium cut of meat: thick, juicy and full of tender beef flavor. Too bad the savory bread pudding served with it was pasty and mushy. Grimaud Farms rabbit ($20.50) stewed with whole grain mustard and tomatoes was good but stingy compared to the big steak. The accompanying red chard simmered with ham hocks was so intensely salty it had me gasping for water. One of the biggest disappointments was the Indian-spiced salmon and mussels ($19.50). The seasoning muddied the flavor of the salmon, and the mussels, while tender, were devoid of flavor.

Things didn't improve with dessert ($6). The menu was a tired list of the usual suspects: chocolate mousse, pear tart, chocolate cheesecake, poached pears. It's one thing to take commonplace desserts to new heights, but the ones I tried were uninspired and didn't rise above just OK.

It's still early, and Three Degrees could right itself with more attention to detail, less cluttered combinations and a more restrained use of the salt shaker. But in the meantime, it's still slim pickings for fine dining in Los Gatos.
---
Three Degrees
Address: 140 S. Santa Cruz Blvd., Los Gatos.
Phone: 408.884.1054.
Hours: Breakfast
Mon-Sat 6:30pm-11am, Sun 6:30am-10am; lunch Mon-Sat 11am-3pm; dinner Sun-Thu 5-10pm, Fri-Sat 5-11pm; Sun brunch 10am-3pm.
Price range: $19-$27.
---
---
Send a letter to the editor about this story to letters@metronews.com.
---
[ Silicon Valley | Metroactive Home | Archives ]