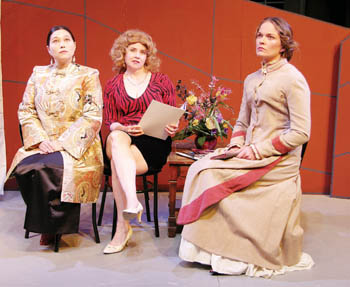 Photograph by Holly Cornelison

Time Warp: Forgiveness From Heaven (Heidi Kobara, left), Wanda (Lauri Smith, center) and Victoria (Nichole Hamilton) transcend their eras to end up in the same 'Waiting Room.'

Waiting Beauties

The women in City Lights' 'Waiting Room' find little solace in men's healing arts

By Marianne Messina

CITY LIGHTS THEATER Company takes on Lisa Loomer's play The Waiting Room with a hearty cast and a bare stage—a recombinant mix of chairs, table and flexible white boxes come together as an office, a bar, a sauna, a hospital room. The play comes out swinging against the American medical establishment and against women's quest for a beauty tailored to men's tastes. Chatting in their doctor's waiting room, Victoria from Victorian England (believably prim Nichole Y. Hamilton) speaks of her tightly corseted wasp waist while Forgiveness from Heaven, a young Chinese wife (Heidi Kobara) from imperial times, explains the still-unfolding process of her foot binding.

Loomer's humor walks a precarious line throughout the play and counts on its audience having an affinity for graveyard—or at least hospital—humor. For example, Forgiveness, now at the point of losing her atrophied toes one by one, chirpily explains to Victoria how her "feet would smell, and puss would drip terrible." Kobara's cheerful, never cynical delivery takes the sting out of some pretty gruesome details, making it easy to laugh (without feeling like a monster) at Forgiveness' twisted truisms: "At my age, who needs feet?" (a reference to the bound foot as sex object).

Forgiveness and Victoria are soon joined in this seeming time portal by modern-day Wanda (played lovably by Lauri Smith), a garrulous, Jersey-accented bleached blonde well into her third "tit job." As Wanda is coldly prodded and processed through the typical breast cancer gauntlet, only the ease with which Smith inhabits Wanda's brassy personality keeps Wanda above the laugh line. When Wanda worries about her biopsy results, the nurse (D. Renee Willis playing not fewer than seven roles and moving deftly from urban attitude to Jamaican accent) consoles her with "Where you going to get cancer? You don't have a single body part that's real."

Loomer saves her hardest satirical hits for her male characters: smug, white professionals unable to connect. At one point, the women's doctor, Doug (Derek McCaw appearing in his third City Lights doctor role—with good reason), panics when he thinks he might have to enter his waiting room in person (gasp) to bring in the next patient. We see the men—Doug, Ken (Dirk Leatherman) and Larry (Larry Barrott)—in saunas, Swedish massages, exotic beaches, always attended by women they talk around, except when they want something.

Oily, conscienceless, good ol' boy ("We went to school together") Larry works to undermine a small company that may have a cure for cancer so that the pharmaceutical company he's invested in (along with Ken) gets the edge. Between cell phone interruptions from his wife, for which he shifts into Dr. Phil voice and speaks therapese, Larry coaxes Ken (who's with the FDA) to put out damaging reports on the competitor. "What does Doug have to do with it?" Larry argues at one point. "All he cares about are his patients." An achingly humorous anti-hero, Barrott's Larry utterly slithers.

Satirizing feminist rhetoric in a bar scene does not exculpate this play from its feminist tilt, so its brightest moments come when it is least preachy/whiny (Larry would say, "You know, waahh!"). It gently reminds us that our underlying fears (especially around death) make it hard for us to connect. It lightly reiterates the power of reading: then, a well-read woman threatened the patriarchy; now, a well-read patient threatens the doctorarchy. And for the most part, City Lights' production brings out the best this humor of the squirmy kind has to offer.
---
The Waiting Room, a City Lights Theater Company production, plats Thursday-Saturday at 8pm and Sunday at 7pm through Feb. 26 at City Lights, 529 S. Second St., San Jose. Tickets are $15­$28. (408.295.4200)
---
---
Send a letter to the editor about this story to letters@metronews.com.
---
[ Silicon Valley | Metroactive Home | Archives ]