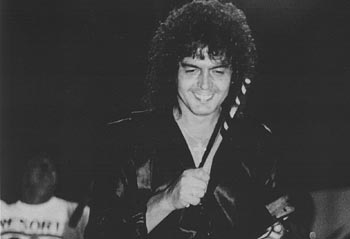 Chicano Groover: Richard Bean has reformed the seminal Sapo.

Richard Bean brings back Latin-rock Sapo

By Nicky Baxter

THE EMERGENCE of the "New Chicano Groove" has sparked renewed interest in Latin rock bands whose appearance in the late 1960s and early '70s altered the face of popular music. Santana is rightly credited for kick-starting this mini-revolution. Hitching African-Latin polyrhythms to rock guitar, the band paved the way for a myriad of other Chicano-led ensembles, most notably Azteca, Malo and Sapo. These bands used rock-style guitar and percussion as well. The incorporation of R&B and jazz elements, however, made their sound unique. Richard Bean was instrumental in upping the funk quotient in the then novel sound.

As a teenager in San Francisco's Mission District, Bean found himself immersed in music. "Salsa I heard a lot, on the streets," he says. "And R&B was on the radio." British rock, too, would leave a mark on the budding singer/songwriter. Bean formed the Dynamics, featuring a young Carlos Santana on lead guitar. In 1969, when Santana achieved national prominence, Bean got the clue: Why not form a band that could rock like the best of the Brits, sizzle like Pete Escovedo and funk like Tower of Power? Thus was Malo hatched. "Carlos came up with his sound," Bean recalls, "and we followed his lead but added horns and a more R&B feel." The first edition of Malo featured Jorge Santana, jazz trumpeter Luis Gasca, keyboardist Richard Kermode and percussion ace Coke Escovedo. Bean and Garcia handled lead vocals. The band mushroomed with the release of "Suavecito," an enduring Chicano rock love song co-authored by Bean.

Ironically, by the time "Suavecito" found its way to No. 2 on the charts, Bean was long gone. He is reluctant to pursue the subject, attributing his abrupt departure to the all-purpose "artistic reasons" department. Bean's next project, Sapo, would reflect his artistic vision and his alone. Formed in 1972, Sapo would remain faithful to the Latin-soul-rock formula. "The difference was that [in Sapo] I was the sole writer; with Malo, it was more collaborative," Bean explains.

Sapo's 1974 debut album, Sapo, was solid, showcasing brassy arrangements, terse guitar interjections and Bean's winsome lead vocals. "Can't Make It" and "Ritmo del Corazon" are handsome numbers, but the salsa-flavored "Sapo Montuno" is the album's choicest cut. All the ingredients are in place: the lazily percolating rhythm section, the tersely braying horns, the Wes Montgomery-inspired guitar fills and jabbing piano. Still, the album's sales were disappointing; by decade's end, the group would be no more.

Another stint with Malo in the early '90s convinced the singer to reform Sapo. "At shows, we were doing Sapo and Malo songs, so people started asking me about Sapo." They need ask no longer. The reformed Sapo's new material, affirms the singer, while still retaining its distinctive sound, is slightly poppier, more melodically inclined. Thanks to an appearance on Vibe, Sapo's profile is higher than ever. A digitally remastered reissue of Sapo has sparked further interest in the band. On the horizon is a new CD, Richard Bean and the Best of Sapo, culled from a live performance on Berkeley radio station KPFA. "I finally feel redeemed," Bean says. "I just want to play music that touches people."
---
Sapo plays Friday (Feb. 5) at 8pm at Planet X, 8 S. First St., San Jose. $15 door/$12 adv. (408/292-2111).
---
[ San Jose | Metroactive Central | Archives ]