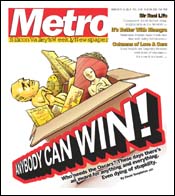 For the Week of
February 5-11, 2004
Cover Story: The Alties:
We announce top honors for the year's most non-Oscar-like award shows.
News: The Caged Birds Sing
Circus protesters battle for their free-speech rights in court after arrests at HP Pavilion.
The Fly: Mayor Ron Gonzales' lost State of the City speech; students protest Gov. Schwarzenegger's education cuts.
Marketing Row: Struggling Santana Row shopkeepers say urban hipsters, not suburban families, are the ticket to retail survival.



Biter: Behind the scenes with the bouncers at a club nearer than you think.
Techsploits: Annalee Newitz gets her ass to Mars.



In the Looking Glass: Artists create images of themselves in new Stanford portrait exhibit.



Maverick Motions: Cinequest announces premieres, politics and Peoples for annual film fest.
Puck Everlasting: Kurt Russell saves ice hockey drama 'Miracle' from its flag-waving excesses.
Games of Wickedness: 'Secret Things' uses sex to fight the social order.



Bend It With Bhangra: No longer restricted to weddings, bhangra music experiences an explosion in popularity.
Aural Fixation: David Bowie didn't just rely on old hits to wow fans at the HP Pavilion.
Sample Night: Symphony Silicon Valley took in a wide range of 'greatest hits' last Saturday.



Artful Dining: Los Gatos' Tapestry bistro weaves a seasonal menu with an intimate atmosphere.



Operatic Treasure: Opera San José discovers musical treasures in Bizet's 'Pearl Fishers.'
Stuff of Dreams: The SITI Company's 'A Midsummer Night's Dream' has a rhythm all its own.



Please don't forget to write! Metro welcomes letters. Like any great work of art, they should be originals -- not copies of letters sent elsewhere. Include address and daytime phone (for verification purposes only). Letters may be edited for length and clarity or to correct factual inaccuracies known to us. Postal: Metro Letters, 550 S. First. St., San Jose, CA 95111. Fax: 408/298-0602. . Emailers, please include name, city of residence and phone number. Letters printed will list email address unless otherwise specified. Letters to the editor are not currently published in the online version of this paper.