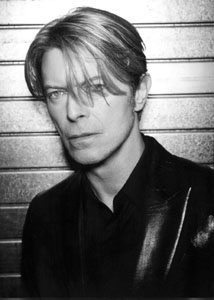 David Bowie continues to captivate audiences.

Dose of Reality

David Bowie didn't just rely on old hits to wow fans at the HP Pavilion

By Sarah Quelland

THE CONTRAST between David Bowie's performance at the HP Pavilion on Tuesday (Jan. 27) and the bands that played Channel 104.9's birthday bash at the Edge on Friday (Jan. 30) was remarkable. Bowie was every bit the rock legend, while Story of the Year, Switchfoot, Something Corporate and Default were light-years from legendary.

In 20 or 30 years, who will be the next generation of the Rolling Stones, the Eagles, Aerosmith, Kiss or Bowie? So many bands today are chasing singles with bland radio hits, and major labels are more interested in the quantity than the quality of the music they sell. Talent isn't being nurtured. Originality isn't being rewarded. It's all about instant gratification. If a band can't follow up its first effort with a strong sophomore release, it's dropped--and that's usually the end of it. Under this system, how many bands are going to have a chance to put out more than a handful of albums? Who's ever going to have enough hits for even one best-of package? What new rock bands are on top now that will still be making music and be capable of packing arenas 20 years from now? Will Pearl Jam, Radiohead and Metallica be the rock relics leftover from the 20th century? Maybe. Will Linkin Park, the White Stripes or Evanescence be the aging rock stars still touring in the 21st? It's doubtful. Rock & roll is in real danger of running out of heroes who will stand the test of time.

It was so refreshing to see a genuine rock legend whose new music sounds as fresh today as his early stuff did 30 years ago. Whether to the die-hard fan or the casual appreciator, there was no arguing that Bowie was fabulous on Tuesday night. He emerged to a sparse stage decorated simply with wintry, dead tree branches hanging overhead. He was dressed casually in a black shirt and tight black pants with the end of a long brown belt dangling strategically over the front. He sounded amazing. He looked happy and healthy. He was confident and sexy and unexpectedly playful. Bowie joked around with the audience and goofed around with his band mates between songs.

This was no greatest-hits tour for Bowie. He focused heavily on his latest album, Reality, and ignored important Bowie classics all the way from "Space Oddity" to "Let's Dance." Bowie kicked off his set with "Rebel Rebel," but immediately jumped into his new material ("New Killer Star," "Reality") before doing a slinky version of the funky "Fame." He included covers of the Pixies' "Cactus," Neil Young's "I've Been Waiting for You," the Velvet Underground's "White Light/White Heat" and the Bowie-penned Mott the Hoople hit "All the Young Dudes."

On "Under Pressure," bassist Gail Ann Dorsey did a beautiful job singing the Freddie Mercury part of the duet. Bowie also dabbled in Ziggy Stardust-era tunes ("Hang on to Yourself," "Five Years," "Suffragette City," "Ziggy Stardust") and other '70s' highlights ("The Man Who Sold the World," "Heroes," "Life on Mars?") adding only a couple songs from the '80s ("China Girl," "Ashes to Ashes"), a couple from the '90s ("Hallo Spaceboy," "I'm Afraid of Americans") and a few from 2002's Heathen ("Cactus," "Afraid," "Sunday"). Still, the most haunting and memorable songs of the night were "Days," "The Loneliest Guy" and "Bring Me the Disco King," three songs off Reality, all written from the perspective of a 57-year-old superstar who's seen and lived it all.

Bowie's modern influence ranges from Marilyn Manson to virtually every new shaggy-haired fashion-rocker to emerge from the East Coast. He's starred on the silver screen and on Broadway. He's equal parts mainstream and underground icon, and legacies like his are becoming scarcer and scarcer. If anything, Channel 104.9's show, while undeniably successful, proved that concept, meaning, art and longevity are being lost as bands race to find fleeting fame. Bowie returns to the Bay Area to play the Berkeley Community Center on April 16 with the Polyphonic Spree.

CANCELLATION: The Trapt show scheduled for Feb. 21 at the Edge has been canceled.

PLAN AHEAD: Otto, Feb. 5 at the Caravan; Firme, Life With Jonas and the Aggrolites, Feb. 7 at the Blank Club; Myzar, Andalusia and Atomic Mint, Feb. 7 at the Britannia Arms in Cupertino; the Betting Fraternity, Feb. 8 at the Gaslighter Theater in Campbell.
---
Send a letter to the editor about this story to letters@metronews.com.
---
[ Silicon Valley | Metroactive Home | Archives ]