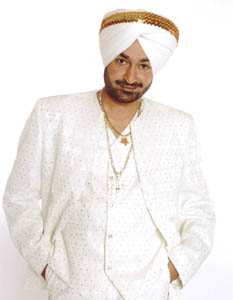 Singh Your Life: Malkit Singh has recorded 19 albums and is bhangra music's most popular artist.

Bend It With Bhangra

No longer restricted to weddings, bhangra music experiences an explosion in popularity

By Najeeb Hasan

BACK IN 2002, musician and pharmaceutical rep Manesh Judge remembers approaching a producer about the idea of lacing Punjabi-influenced music with hip-hop.

"Next thing I knew," says Judge, a second-generation Punjabi and a classically trained tabla player, "I was sitting in a studio, and they brought Spice over. I had made some pure Punjabi bhangra beats, and I had Spice sit back on the sofa and told him, 'Welcome to bhangra.' He said, 'Blankety, blankety, blankety, blank.' He loved it. We got him in, gave him a traditional hook line, gave him some space, and he took a notebook out and just started writing."

Spice, of course, is Spice 1, the streetwise rapper from east Oakland. The result of the collaboration with Manesh and his partner Noor Lodhi is the first track on his upcoming album. Manesh supplies the beat with his tabla, while his mother, a traditional Indian singer, supplies the hook with a line from a Punjabi folk song.

The playful, teasing vocal, masterfully sung and roughly translated as, "Follow me closely; I've lost my nose ring," contrasts sharply with Spice 1's flashy message but melds seamlessly with his sound--an innocent Indian folk song popularized in thousands of Punjabi villages juxtaposed not with hip-hop's soul but with mainstream rap lyrics.

Fusing the traditional or the enduring with the mainstream or the contemporary is always a risky proposition. Punjabi folk songs, after all, have been loyally sung for generations; the same certainly doesn't apply for the capricious tastes of consumers of Western pop music.

Once confined to weddings and harvest celebrations, bhangra has officially moved closer to mainstream acceptance in the West. The percussion-propulsive sound of northern India is becoming the rumbling base rather than an exotic accent. Artists like Truth Hurts ("So Addictive"), Redman/Erick Sermon ("React"), Bubba Sparxx and Missy Elliott found success using Indian music sources. Producer Timbaland has made a career from jacking Indian rhythms and melodies. San Jose gets a taste this Saturday as India's current bhangra king Malkit Singh and a gang of others perform at the United State of Bhangra show at the San Jose Civic.

While the roots of bhangra are derived from a Punjabi drum called a dhol (a two-headed drum played with sticks) and a folk dance that celebrated the harvest of grains in Punjabi villages, contemporary bhangra emerged in London in the 1980s when immigrant Punjabis began experimenting with fusing Western music to their beats. Groups like Alaap and Heera burst onto the scene under the guidance of producers like Deepak Kazanchi.

Kazanchi, widely thought to be the brains behind the bhangra craze, is credited to be the first to introduce drum machines and Western beats into Indian folk music and to have paved the way for performers like Malkit Singh, who soon became wildly popular in London, and Bally Sagoo. In 1990, Sagoo raised the bar and dropped Wham Bam, essentially a nonstop remix of popular songs spun over bhangra beats. Soon after, in the mid-'90s, Daler Mendhi, a taxi-cab driver from Emeryville, capitalized on the bhangra vibe and pushed the scene back into India and beyond (and became a wealthy man doing it), carving out a space for bhangra outside the dominating Bollywood music industry. Talvin Singh and Asian Dub Foundation took Indian sounds into the London dance clubs and reggae dance halls, respectively.

More recent signs of crossover activity recently include the 2003 heater "Beware of the Boys" by Jay-Z and Panjabi MC and a bhangra cover story in the January 2004 issue of XLR8R. Bhangra--as far as the rest of the world goes--has already arrived, with DJs spinning records in nightclubs from India to London. Meanwhile, in the United States, hip-hop has blessed the set and the rest of pop music is sure to follow.
---
United State of Bhangra, featuring Malkit Singh and A.S. Kang, Premi Group, Sukhdev Sukha, Bikram Singh and Fojee, and Asha Sharma, happens Saturday (Feb. 7) at 7pm at the San Jose Civic Auditorium, 145 W. San Carlos St., San Jose. Tickets are $25-$75. (408.277.5277)
---
---
Send a letter to the editor about this story to letters@metronews.com.
---
[ Silicon Valley | Metroactive Home | Archives ]