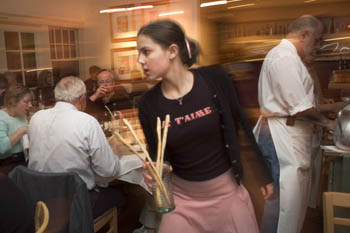 Photograph by Charlie Nucci

Love and Breadsticks: Well-schooled servers keep things moving at the cottagelike Tapestry.

Artful Dining

Los Gatos' Tapestry bistro weaves a seasonal menu with an intimate atmosphere

By Joseph Izzo Jr.

SIX YEARS after it opened in Los Gatos, Tapestry bistro remains afloat in the stellar regions of dining excellence. Proprietors and chefs Gary and Vickie Messick continue to achieve a fine-tuned music that lies between the baritones of culinary tradition and the trumpet blasts of contemporary fusion. From the opening presentation of fresh baked bread and sweet butter to the final spoonful of warm sticky toffee pudding, it's a spectacular show.

Tapestry can't be seen from Main Street in Los Gatos. It's a homey little place around the corner on College Avenue. At the entrance, the senses are wrapped in a warm, intimate atmosphere. The place feels more like a cottage than a restaurant. Antique doorknobs serve as hangers for coats and hats, and white linen dining tables hum with high chat. Festive scenes depicted colorfully on the walls and sculptures done in the same spirit struck my guests as more eye candy than art. They didn't add to the scene, but they didn't subtract from it either.

Tapestry's hard-working kitchen puts out menus that celebrate the seasons with a delicious harmony of old and new. The cooking team reaches fearlessly into the stockpots of the world to create exciting renditions that snap with ethnic vitality. A butter-textured foie gras ($15) on a bed of sweet sautéed onions reminded my palate of the goose liver we had in Paris many years ago.

We enjoyed polenta-crusted calamari ($8.50) fried in clean oil to perfect mouth-melting condition and served with fresh lime aioli. At the center of our table was placed a miniature shopping cart housing four golden fried spring rolls ($9.50), filled with a moist mélange of chicken and vegetables. We enjoyed the rolls very much--crunchy, delicate and clean tasting--especially with the hoisin-style dipping sauce, but could have done without the cute shopping cart that cluttered our table and pushed plates to the table's edges.

Our final appetizer, Vickie's lettuce tacos ($8), served four interesting versions of the Mexican soft taco, substituting lettuce for tortillas and topped with seasoned minced chicken.

Diners looking for something light and quick can stop at the small plates, or tapas, section of the menu. I have done this on past visits but forged ahead this time, exploring a new lineup of entrees. A flawless foursome of main dishes arrived at our table, each with appropriate sauces and sides.

Our handsomely grill-striped swordfish ($26), juicy and sweet with ocean infusions and Yucatan orange-herb rub, rested atop coconut risotto. Grilled pork tenderloin ($21) with a liquid coarse-ground mustard and zinfandel dressing came with sweet potato-chorizo gratin, while the thick, fork-tender filet mignon rested on a bed of baby sautéed greens atop a glassy pool of sweet Mongolian-style brown sauce. Lobster chow mein ($25) blended succulent morsels of lobster meat with noodles, bacon and arugula in a butter-based sauce tinted pink with the juices of the crustacean.

Forks went wild over desserts, diving like starving seagulls at warm chocolate cake with caramel mascarpone cream ($7.50), breadlike toffee pudding with butterscotch sauce, wine-soaked pears ($7.25) and pear and merlot sorbet ($6.50). Servers at the bistro are well schooled in the art of table management. Our waiter was knowledgeable, describing dishes succinctly and pacing our courses perfectly--but never hovering.

Tapestry has developed into one of the South Bay's finest restaurants. Earnest attention to detail, consistency, high quality, good service and pleasant dining conditions prevail. As my one guest aptly commented before a final sip of wine, "I feel like I've had Thanksgiving dinner."
---
Tapestry
Address: 11 College Ave., Los Gatos
Phone: 408.395.2808
Hours: 5-9pm Sun-Thu; 5-10pm Fri-Sat
Cuisine: Haute contemporary
Price Range: $20-$30
---
---
Send a letter to the editor about this story to letters@metronews.com.
---
[ Silicon Valley | Metroactive Home | Archives ]