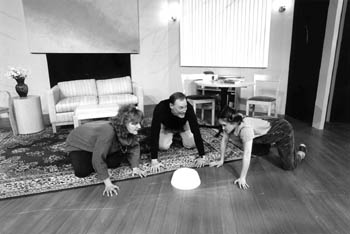 Photograph by Eagan Studios

Dish Network: Shelley Lynn Johnson (left) and Steve Lambert discuss dinner plans with their newly adopted pooch (Jacqueline Hillsman) in 'Sylvia.'

Canine Caper

A playwright's best friend is a dog character in City Lights' production of 'Sylvia'

By Michael J. Vaughn

A.R. GURNEY'S Sylvia is a fragile mix of the farcical, the realistic and the canine. City Lights' production will only truly capture you if you are one of those folks who think of their dogs as being human. For those who don't, Gurney's concoction never quite gels. He takes a fantastical premise--a stray dog played by a female human--and tries to juice it for character-based humor. But for that you need empathy, and (I hate to rain on your parade but) the dog is conversing with its owners in English.

Granted, the gimmick itself is good for some laughs. Master Greg (Steve Lambert), who brought the new pet home, is waxing philosophic about instincts when doggy Sylvia (Jacqueline Hillsman) spots a cat and releases a juicy string of specist invective ("Let me kill that fucker!"). Ditto for later, when Daddy finds out in a very public way that baby's in heat. The remainder of Gurney's humor is strictly New York pedestrian. Greg's doggy dotage is a symptom of the dread midlife crisis, and Mama Kate's post-child-rearing intellectualism is so polluted with Shakespeare quotes you want to throttle her. But then, Kate is doomed to play the villain, regardless, because she is decidedly (gasp!) anti-dog.

Hillsman gives an energetic and believable accounting of the doggie mind-set. And Tom Gough has entirely too much fun as the ambiguously gendered psychologist, Leslie. But you'll only really enjoy Sylvia if you can answer yes to the following question: Do you let your dog lick you on the lips? If so--ignore everything I've said and have a great time!
---
Sylvia plays Thursday-Saturday at 8pm and Sunday at 7pm through Feb. 22 at City Lights Theater, 529 S. Second St., San Jose. Tickets are $15-$25. (408.295.4200)
---
---
Send a letter to the editor about this story to letters@metronews.com.
---
[ Silicon Valley | Metroactive Home | Archives ]