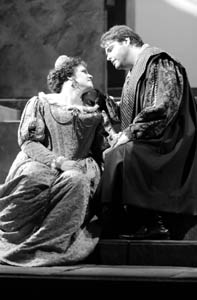 Photograph by Pat Kirk

Troubled Troubadour: Manrico (Adam Flowers) confronts his passion for Leonora (Lori Decter).

Verdi's Vengeance

A long-simmering anger fuels the fevered vocal flights of Opera San Jose's 'Il Trovatore'

By Michael J. Vaughn

IN A WAY, every opera singer is a shepherd of notes, assigned a certain number of the little creatures and expected to deliver them with due care. There are almost always casualties. Not so with soprano Lori Decter, playing Leonora in Opera San Jose's production of Il Trovatore.

From the beginning, Decter's phrasing was luxuriant and well tended, and she succeeded in giving each note (to steal a line from opera great Licia Albanese) "a little life of its own."

A fine example came at the end of Leonora's showpiece aria, "D'amor sull'ali rosee." She stands outside the prison walls, working up the courage to give her own life for that of her lover, Manrico (the "troubadour" of the title). The aria fades with the orchestration on a long sostenuto, and Decter could probably have let her line disappear without much notice. Instead, she works the final two measures into a louder/softer swell, giving even this throwaway tone its own small shape.

Verdi's opera, based on a novel by Antonio Garcia Gutierrez, is both convoluted and highly politicized. It also contains some important lessons: 1) Be very careful where and against whom you seek revenge, and 2) before fighting a duel, two rivals should stand around a while, swords in hand, and sing a rigorous duet.

The wellspring of the vengeance is Azucena, who, 15 years before, watched her mother burned at the stake for witchery. In revenge, she kidnapped the Count di Luna's son and, presumably, killed him. She has since trained her own son, Manrico, to hate the count's remaining son. The rivalry is heightened by their mutual affections for Leonora.

Il Trovatore demands a full cast of strong singers, and Opera San Jose has delivered--mostly. Tenor Adam Flowers sings Manrico with a wonderful top range (with a bit of Carreras' forceful spinto) but goes a little weak at his middle break.

The young count, baritone Joseph Wright, could fill a recital with his grand rolled R's, but he often pushes his voice out of pitch, and needs to stop posing quite so much. (The problem could be his costume, a dashing black leather/gold-braid ensemble fashioned by Julie Engelbrecht.)

The best acting came from mezzo Malin Fritz as Azucena, but her singing lacked dimension (singing a maniac with dimension is tough, but it can be done). On the other end, while Decter's acting was a bit stiff, her singing more than made up for it.

The prize for Supertitle That Sounds Most Like a Dubbed Japanese Movie: when the count's troops react to Ferrando's account of the witch burning by exclaiming, in unison: "I am filled with anger and horror!"
---
Il Trovatore, presented by Opera San Jose with alternating casts, plays Feb. 7-8, 11, 13, 20-22 at 8pm and Feb. 9, 16 and 23 at 3pm at the Montgomery Theater, San Carlos and Market streets, San Jose. Tickets are $40-$58. (408.437.4450)
---
---
Send a letter to the editor about this story to letters@metronews.com.
---
[ Silicon Valley | Metroactive Home | Archives ]