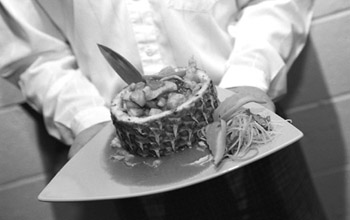 Pineapple Delight: Chicken Nenas comes tucked in its own fruity packaging.

Island Paradise

A quick trip to the tropics is as close as Mountain View's Spice Islands Cafe

By Joseph Izzo Jr.

SOMETIMES, AFTER a truly great dinner out, it's difficult to remember what the restaurant actually looked like. What color were the walls: parchment? blue? Were those prints or paintings in the dining room? And in the end, who cares? The real décor of a restaurant is established not by the decorations but by the activity of people eating joyously and by the beautifully crafted dishes.

The Spice Islands Cafe is one such place. From the very first bite, our senses were taken over, commandeered. A delicious anticipation pervaded the atmosphere. Spice Islands specializes in Singaporean, Malaysian and Indonesian cuisines. Influences from the ancient kitchens of China and India, threads of flavor from Vietnam and Cambodia--all are stitched together with fruit and coconut from the tropical islands.

Except for a few native baskets and carvings, the peach- and crème-colored cafe walls are bare. This effect develops an air of minimalist sophistication, supported by the presentation of the food itself. Each dish we were served was delivered on colorful triangular plates that turned our table into a sleek mosaic of modern design.

Our appetizers catapulted us skyward. First came homemade Roti Canai ($2.95), a crepe-thin pancake with a pungent curry thickened with potato and chicken. We tore pieces from the communal crepe and dipped at will. Poh Piah ($5.95)--Malaysian spring rolls stuffed with jicama and dried shrimps--arrived moist and succulent on a bed of lettuce in a bamboo steamer.

The feast continued its ascent with a salad of shredded green papaya ($6.95) blended with cashews, chilies, long beans and garlic in light citrus dressing. It was a perfect mix of textures and flavors, with a spiciness that crept along the tongue in soft slippers.

Dinner gained momentum with the arrival of two delicious house specialties. Singaporean Chili Jumbo Prawns ($16.95) hit the table steaming with peppery fragrances. These regal crustaceans with heads intact had first been roasted crispy then put to a sweet and fiery red sauce enriched by threads of egg white. The prawns were meticulously assembled around a head of lettuce. We devoured shells and all, sucking sweet juices from the heads.

Spareribs Malaysian Style ($8.95) brought us back to the land. These meaty, fat-laden ribs had been cut for consumption with the fingers, marinated in a traditional sauce both pungent and spicy hot, sweet and salty.

For vegetables, Kacang Pendek Balacan ($7.95; with shrimp $10.95) served us well, with fresh string beans, tender to the tooth, seasoned with Malaysian shrimp sauce that was more salty than spicy.

Our waiter recommended we also sample the Chicken Nenas ($10.95) presented in a hollowed-out pineapple filled with a curry of sliced chicken and pineapple, and seasoned with lemon grass, mint and scallions. By this time, I was on a roll and went to work with a spoon, scooping up the rich coconut-laced stew. I liked it more than my guests.

We didn't neglect to sample two native desserts, one with yam in coconut milk, the other an icy affair with palm seed, tropical fruit and more sweet coconut milk. Both were refreshing and light. When our waiter realized that we were open to trying new dishes, he went out of his way to assist us. If was he who guided us to these wonderful dishes, and he did his job well.

Rarely do I experience dinners like this. The food, the flavors, the presentation launched me into a blissful state that lingered for a long time after. Exceptional cooking technique coupled with flawless presentation prove that the Spice Islands Cafe is a restaurant very clear about its mission: To provide authentic native dishes in a pleasant environment. Great chefs are at work here. And on top of it all, the prices are reasonable.
---
The Spice Islands Cafe
Address: 210 Hope St, Mountain View
Phone: 650.961.0628
Hours: Lunch 11am-3pm Mon-Fri, dinner 5pm-9:30pm (Fri until 10:30pm); 11am-10:30pm Sat-Sun
Cuisine: Singaporean, Malaysian, Indonesian
Price Range: $6-$17
---
[ Silicon Valley | Metroactive Home | Archives ]