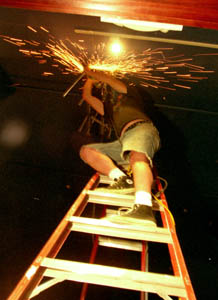 Spray of Light: A worker puts the finishing touches on the new Icon Supperclub only days before its grand opening.





What's in a Name?

Jacek Rosicki's new Palo Alto club puts the Icon in Silicon Valley

By Sarah Quelland

I'VE BEEN openly distressed about the closing of the Edge in Palo Alto since it was one of my favorite rock venues, but I have to admit, owner Jacek Rosicki's new restaurant and nightclub, the Icon Supperclub, is impressive. It's difficult to reconcile the building currently standing at 260 California Ave. with the Edge. Though I'd been there countless times, I had to do a double-take to make sure I was at the right place when meeting Rosicki for a preview tour.

Closed for construction since April 2000, the Icon celebrates its grand opening next Thursday (Feb. 15). Rosicki says the new club will feature "jazz and offbeats of jazz," including straight-ahead jazz, funk, swing, salsa, Latin and Afro-Cuban music. On opening night, the Anton Schwartz Quartet is scheduled to take the refurbished stage at 6pm with the Toledo Show following at 9pm. Guest DJs will spin throughout the night. The party is by invitation only, and invites are available at the Icon and at Rosicki's San Jose club Agenda Lounge.

While the Edge was dark and dimly lit, the Icon is bright and open. With a subtle light blue lavender, deep cobalt blue and silvery gray color scheme complimented by rich mahogany woods and clean white oak floors, the new supperclub looks contemporary, comfortable and elegant.

Big windows overlook California Avenue and the patio dining area, and skylights lighten up the spacious nightclub and redesigned restroom facilities. Rich mahogany sliding panels divide the restaurant from the nightclub, and there are two separate entrances. Both sides of the supperclub boast long luxurious mahogany bars (designed by Daniel Blanchard).

The renovated backstage area feels festive with its vivid maroon ceiling, silvery walls and mahogany accents. Rosicki plans to use the room as a banquet facility and will also hold more intimate live music and DJ dancing events there. He says it's a room for more "eclectic" entertaining.

The 21+ club is geared toward a sophisticated crowd--like the one attracted to Yoshi's and Bimbo's 365--and the dress code, as described by Rosicki, mandates no jeans, tennis shoes or sports attire. While ties aren't required, collared shirts are a must.

Executive chef Gerald Hewitt oversees food preparation in the new kitchen managed by Armando Perez. The Icon offers a lunch and dinner menu with starters and desserts. Dinner entrees run $11 for a grilled prime beef hamburger with fries to $27 for New Zealand lamb rack with potatoes gratin and minted sugar snap peas. There are pretty slim pickings for vegetarians, but as Rosicki points out, "We're not a vegetarian restaurant."

There will be a $10 cover charge for most live performances, though Rosicki notes that it could be more for bigger acts. However, Rosicki states that there will be no cover for diners at most shows and they will be given preferred seating when applicable.

The club seems worthy of its grand name. Since the 1960s, the structure has housed three grocery stores, a German restaurant called the Zinzannati Oom Pah Pah Lounge and three nightclubs (the Keystone Palo Alto, the Vortex and the Edge). Rosicki says he chose the name Icon because "the building is an icon for entertainment. [It] has a lot of history and we're going to get icon musicians." Additionally, he says, "It's a good, short, powerful name."
---
The Icon Supperclub holds its grand-opening celebration on Feb. 15 with complimentary hors d'oeuvres and cocktails starting at 5:30pm. The club will be open for regular business starting Feb. 16. Lunch hours are Tuesday-Friday, 11am-2:30pm; dinner Tuesday-Thursday 5-10pm and Friday-Saturday 5-11pm. The dance hall will be open with various DJs every Friday-Saturday; most live shows will be held Sunday-Thursday. The Icon Supperclub is located at 260 California Ave. in Palo Alto. Call 650.321.6447 for more information.
---
[ San Jose | Metroactive Central | Archives ]