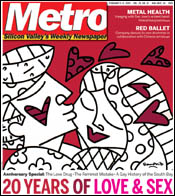 For the Week of
February 9-15, 2005
Cover: 20 Years of Love & Sex:
20-Year Timeline: From the beginning of AIDS awareness to outed cartoon sponges.
Love Is a Drug: Once the realm of poets, artists and philosophers, love has been exposed as biochemistry.
When Porn Wore Sideburns: In San Jose's golden age of smut, real fans converged in the dark at theaters like the Burbank, the New Paris and the Pussycat.
Gay Nineties: Twenty years of queers in the South Bay.
The Joy of Mix: Want a real window into the soul? Don't look into the eyes—look at the CD collection.
Victims Gone Wild: How feminism has messed up relationships.
Borderless Dating: In the valley, young couples aren't afraid of diversity.
Twenty Years of Tom Cruise: What were we thinking?
News: Between Democracy And the Mullahs
If Iran is to be liberated in the name of freedom, where do Iranian-Americans stand?
The Fly: This week's political bites.



Biter: Love on the Cheap.
Techsploits: Henry Darger's Internet.
Rev: Big Monster: It's not really a surprise, just a reminder that of course the largest oil company in the world would post huge profits in 2004.



Going East And West: Ballet San Jose Silicon Valley and Chinese Performing Artists of American meet in 'Middle Kingdom—Ancient China.'



Free Birds: One man's love affair with San Francisco's wild parrots is a bittersweet love song to a city.
Drunk Love: In the brilliant German comedy 'Head-On,' love hits a frail pair with full force.
Austen Powered: Gurinder Chadha follows 'Bend It Like Beckham' with a clever cross-cultural 'Bride & Prejudice.'
Gurinder Chadha: The director of 'Bride & Prejudice' and the upcoming 'I Dream of Jeannie' remake talks about updating both Jane Austen and 'Jeannie.'
Bangkok Brawl: 'Ong-Bak' is on a mission from Buddha.
Negatives, Positives: The children of Calcutta's prostitutes speak for themselves in 'Born Into Brothels.'
Cinequest Cascade: This year's Cinequest film festival in San Jose boasts more than 175 features and shorts.



Heavy Mettle: Is Heavyheavylowlow the best hardcore band in the South Bay? Ask the fans skipping around the pit in their underwear.
Out of Step: After 25 years of making music, Fugazi's Ian MacKaye continues to confound expectations.



Dynasty Rules: Hong Kong-style Chinese food comes to Vallco.
Sweet Talk: Local chefs describe their ideal Valentine's Day off.
Live Feed: Shark Fin Soup: A Bowl of Disaster.
5 Places With Alfresco Dining: For those who like to dine outside.



Show Bizet: Opera San José showcased its sopranos in 'Carmen.'
One Enchanted Evening: San Jose Rep spends a sun-dappled 'April' in Italy.
Lennon Marks: Tabard's 'The Taffetas' charts the fortunes of a '50s act in the Lennon sisters mold.



Please don't forget to write! Metro welcomes letters. Like any great work of art, they should be originals — not copies of letters sent elsewhere. Include address and daytime phone (for verification purposes only). Letters may be edited for length and clarity or to correct factual inaccuracies known to us. Postal: Metro Letters, 550 S. First. St., San Jose, CA 95111. Fax: 408/298-0602. Email: letters@metronews.com. Emailers, please include name, city of residence and phone number. Letters printed will list email address unless otherwise specified. Letters to the editor are not currently published in the online version of this paper.