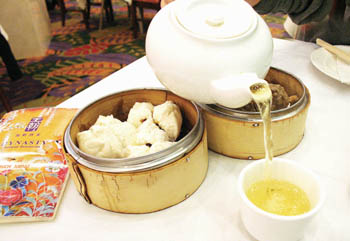 Photograph by Felipe Buitrago

Beyond the Seafood: In addition to swimmingly fresh seafood, Cupertino's Dynasty Seafood Restaurant serves an array of good dim sum at lunch.

Dynasty Rules

Hong Kong-style Chinese food comes to Vallco

By Stett Holbrook

CHICKEN chow mein and egg rolls are to Chinese food what hamburgers and fries are to American food: good but not particularly interesting expressions of the cuisine. It's too bad then that many people's experience with Chinese food is limited to these and other humdrum Chinese standards. China has rich and varied regional cuisines that merit exploration.

Silicon Valley offers ample opportunity to explore some of the best Chinese food outside of China itself. Cupertino's 7-month-old Dynasty Seafood Restaurant is a particularly delicious point of departure.

Dynasty, located in the depths of the Vallco Fashion Park, specializes in Hong Kong-style seafood. Hong Kong is the New York City of Asia, and the food is flashy, exotic and expensive. Fresh seafood is prized, and you'll know you're in a Hong Kong-style restaurant when you see tanks filled with live fish. In the case of Dynasty, there are Dungeness crab, spotted prawn, lobster and black bass.

Dynasty, which has an older location on Story Road in San Jose, is owned by Vallco owner Alan Wong and was one of the restaurants where former San Jose City Councilman Terry Gregory ate his way out of a job. The Cupertino restaurant is on the ground level below Macy's. Walking down here in the catacombs of the mall is a little lonely. All the shuttered storefronts make it look like Vallco's graveyard.

Ingredients like snake, goose feet and sea cucumber may put off the neophyte, but the menu offers plenty of choices. Seafood is your best bet here. It's quite fresh, especially the creatures that were swimming minutes before they arrived on your plate. There's also dim sum available at lunch.

It makes a mess, but you've got to order live crab. The house-special chile crab ($22, price varies by season) arrives slathered in a sticky, sweet, garlicky, spicy glaze. The sauce doesn't permeate the shell, but as you pick and crack through the crab, the sauce mingles with the fresh, sweet meat. The whole, steamed black bass ($37.50) would be a challenge, too, but the headwaiter deftly removes the bones with two spoons, leaving nearly a pound of the delicate, succulent fish. The light, slightly salty black-bean sauce and sliced green onions and cilantro play off the fish perfectly.

Shark fin soup is another hallmark of Hong Kong-style Chinese restaurants. Depending on the species, shark fin can fetch as much as $800 a pound, and it sells for $12 to $38 per person at Dynasty. My bowl of thick but translucent braised shark fin with tender greens ($12) was good but not worth the cost, monetary or environmental. Harvesting shark fin often involves the barbarous practice of hacking off the fins of live sharks and then dumping the fish back in the ocean to die and is the focus on an international campaign to reform the industry. (See this week's Live Feed).

For something lighter, try the marinated baby octopus and seaweed ($8). Served cold, the reddish little orbs of sesame-seasoned octopi marry well with the briny sweet seaweed.

The one dish that missed was the house-special roast pork ($12). The thin, squarish cutlets were tender and juicy, but salty. Shoulda stuck with the seafood.

Service is brisk and efficient. There are several layers of service that all work under the watchful eye of the dining-room captain. It was he who took our order, deboned the fish and replaced crab shell-piled plates with fresh ones. Language can be an obstacle with some of the waitstaff but therein lies some of the adventure of eating at Dynasty. We thought we had ordered a side dish of steamed snow peas and instead got one of the best dishes we tried, steamed pea shoots with garlic ($8). The plate of just-picked greens, seasoned with a trace of salt and minced bits of garlic, tasted like a spring day, clean, grassy and fresh.

While the food is good, the fluorescent lighting in the hangarlike dining room is harsh and far from cozy. Rococo chandeliers and neon blue and yellow accent lighting along the ceiling give the restaurant a gilded but gaudy style.

Craving something sweet, I asked for egg custard, but they were out. Instead, I tried the excellent green-tea sesame balls ($3). The dense, fried balls look like dark green donut holes but are filled with a sweet but not-too-sweet green tea-based paste. They're better than any donut I ever had.

With the rise of Santana Row and the reincarnation of Valley Fair, Vallco is not the destination shopping center it once was. But for fans of high-style, non-Americanized Chinese food, Dynasty makes the trip to Vallco worthwhile.
---
Dynasty Seafood Restaurant
Address: 10123 Wolfe Rd., Cupertino.
Phone: 408.996.1680.
Hours: Open daily 11am-3pm and 5-10pm.
Price range: $12-$38.
---
---
Send a letter to the editor about this story to letters@metronews.com.
---
[ Silicon Valley | Metroactive Home | Archives ]