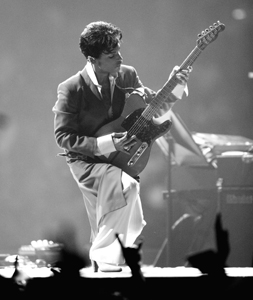 The Joy of Mix

Want a real window into the soul? Don't look into the eyes—look at the CD collection.

By Todd Inoue

OVER THE PAST 20 years, some of the most prolific romancing ever was completed via tape deck. Real Romeos woo extensively by mixtape. The social history—recently saluted in the Broadway play Avenue Q—has evolved as CD burners replace the cumbersome cassette deck, reducing the time-consuming recording task to a fraction depending on hard drive and download speed.

Though technology has fast-forwarded, the psychology behind choosing the right songs, however, remains unchanged. It's only gotten more difficult as online stores slice record digging into quickly searchable, downloadable and digestible ribbons.

Assembling a mixtape is almost like directing a movie. You need an intro, atmosphere, action, drama, comic relief, a dressing-up montage, a nightclub scene, a love scene, a climax, a cool down and outro—all in proper doses. You also need good taste in music—a sticking point that could make or break a relationship.

For Valentine's Day, here are some tips for creating the illest mixtape/burned CD for the lover in your life—1985, 1995 and 2005 versions.

Lead with something short and upbeat. Nothing kills momentum more than a long-ass, drawn-out song at the start. Avoid droning jazz pieces or jam bands. And if Moody Blues' "Nights in White Satin" appears anywhere on the joint, prepare to be met with a restraining order.

1985: "The Show"—Doug E. Fresh and the Get Fresh Crew
1995: "Connection"—Elastica
2005: "Disco Inferno"—50 Cent
---
Throw in some accessible pop. Unless you met your prospective honey on the Soulstrut message boards, stocking a mix with super rare and out-of-print jams expertly blended isn't going to impress anybody except maybe her record digging ex-boyfriends. Ditto for prog-rockers like Rush, Pink Floyd or Captain Beefheart. There are ways to incorporate cool commercial shit without looking like a Hot Topic-wearing poser or turning the tape into a K-Tel/Totally Hits compilation. Even emo boys like to get down sometimes.

1985: "Into the Groove"—Madonna
1995: "Creep"—TLC
2005: "One, Two, Step"—Ciara
---
Comic relief. A mixtape is a window into your soul. Just like life, a sense of humor is mandatory. A good trick is to record short comedy bits between songs to break things up. If you can tie the thematic structure of the comedic bit to the next song, proceed to Advanced Baller status immediately.

1985: "Bitchin Camaro"—Dead Milkmen
1995: "I Wish"—Skee-Lo
2005: "1985"—Bowling for Soup
---
Drop in a Prince song. DJs use Prince to segue from New Wave sets to R&B to hip-hop and back again. Same principle applies here whether jumping from schmaltzy to smooth. Prince is timeless and shows class, taste and sensitivity. Plus, he makes girls lose their shit.

1985: "Raspberry Beret"
1995: "Cream"
2005: "Cinnamon Girl"
---
Your "Song." It's the soundtrack as game is kicked and moves are made—and if it's really great, playing during the first dance at your wedding. The disposable nature of pop music makes a song's shelf life dramatically short so choose wisely or suffer corniness by wedding DVD.

1985: "Head Over Heels"—Tears for Fears
1995: "Lady"—D'Angelo or "I'll Be There for You"/"You're All I Need to Get By"—Method Man and Mary J. Blige
2005: "Truth Is"—Fantasia Barrino (as I said, choose wisely)
---
Send a letter to the editor about this story to letters@metronews.com.
---
[ Silicon Valley | Metroactive Home | Archives ]