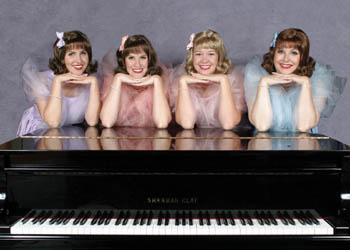 Photograph by Edmond Kwong

All Keyed Up: The singing sisters of 'The Taffetas' are (from left) Rebecca Lipon, Vanessa Briggs, Megan Tipton and Diane Milo.

Lennon Marks

Tabard's 'The Taffetas' charts the fortunes of a '50s act in the Lennon sisters mold

By Marianne Messina

AH, THE '50s. Anyone who gets that warm feeling when they think of the Lennon Sisters and Lawrence Welk will love the Tabard Theatre Company's production of The Taffetas, right down to the pastel gowns of peach, pink, pale blue and lavender. And matching shoes. And matching scarves, ribbons and props, such as suitcases of peach, pink, pale blue and lavender during "The Travel Medley." The production is a feat of coordination for which Susannah Greenwood and Marilyn Watts on props and costumes deserve much praise.

On the other hand, if glimpses of The Lawrence Welk Show have stymied your sense of historical perspective and left you wondering, "What the heck did people see in this stuff?" the play gives you the chance to be there. It must be said that, musically speaking, this barbershop style is catchy, harmonious and quite ingenious. But to think that this snoozy, treacly format thrived alongside Jerry Lee Lewis and Elvis, jitterbugging and James Dean, Gene Kelly and Louis Armstrong, boggles the mind.

It's hard to imagine anyone who's heard a peep of pop music over the last 30 years (the scatological, sexual, depressive lyrics; the paeans to dysfunction) not expecting The Taffetas to be presented with some degree of irony. One looks for cynicism and double entendre in every sisterly exchange. That the sisters are selling beauty products between smiles offers little relief from the terminal Midwestern homeliness. And in the first half of the show, introduced by MC Biff (Chris Webster) with the girls in front of a tinsel-draped bandstand, the singing is scarcely interrupted.

Then the songs (some of them, like "Mockingbird Hill," truly somnolent) come at you one after another (14 song bites in the Travel Medley alone): "Puppy Love," "Johnny Angel," "Mr. Sandman," "The Tennessee Waltz," "Lollipop" (funny "Sentimental Journey" isn't one of them).

The post-intermission set is livelier. Gradually, the production tosses out some ideas as the girls sit down for a question-and-answer period they call Taffeta Chatter. The most cynical moment comes when they're asked what figure from history they look up to, and, answering in turn, the sisters run out of options after "Mother" and Mamie Eisenhower (who would have been contemporary‹as in role model fodder for the popular women's magazines of the day).

Tabard does a remarkable job with this potentially soporific material. From wagging fingers to the swim, the girls' hand choreography makes up for what the rest of the show lacks in complexity. Vanessa Briggs as Donna, the "wildish" one (she likes cars); Rebecca Lipon as Peggy, called a "renaissance woman" for painting by numbers; Diane Milo as Kaye, the eldest, who makes sure she maintains control of the lead microphone; and Megan Tipton as the bubbly, boy-happy Cheryl—all did a tremendous job blending their mellifluous vocals to meet demanding barbershop harmonies and create an often elaborate interplay of sh-booms and diddly-iddlies.

Oddly enough, one starts to hear the message. This is music for a culture of veterans busy sublimating the after-effects of a world war. As the girls move their delicate hands in pearl bracelets, never roughly, and sing gently, volume subdued, their simple focus on hearth and beauty creates a slightly hypnotic mood—a mood that reaches out like feathered wing to sweep something wounded under it. It's because this production is relentless in maintaining the original flavor and avoiding cynicism that we don't see these girls as a bunch of bimbos being kept down on the farm but as natural nurturers answering a particular call of the times: be beautiful, be gentle, it's a harsh world out there, I'm fragile.
---
The Taffetas, a Tabard Theatre Company production, plays Friday-Saturday at 8pm, Sunday (Feb 13 only) at 3 and 8pm and Monday (Feb 14 only) at 8pm through Feb. 26 at Bella Mia Restaurant, 58 S. First St., San Jose. Tickets are $20. (408.979.0231)
---
---
Send a letter to the editor about this story to letters@metronews.com.
---
[ Silicon Valley | Metroactive Home | Archives ]