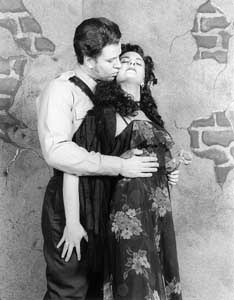 Forsaken Love: Don José (Thomas Truhitte) can dream, but Carmen (Layna Chianakas) will always be the one that got away.

Photograph by Daniel Herron





A Smoking 'Carmen'

Opera SJ and Layna Chianakas do Bizet proud

By Michael J. Vaughn

THAT LAYNA CHIANAKAS is such a slut. That's the highest of compliments in this case, since Chianakas is playing the Queen Slut of them all, Carmen, in Opera San José's latest production. In matters both vocal and dramatic, the talented mezzo dodges the usual bombast of Carmen performance to craft something more closely resembling a real, and genuinely intriguing, antiheroine. Vocally, Chianakas evades the usual megasultry cattle sounds favored by most Carmens and sings moderately and beautifully, saving the sonic bumps and grinds for when they're most needed. Her opening Habanera is simply a treasure.

Dramatically, she delivers Carmen's much-touted sexuality not in the standard swinging-gate pelvic action but in small, clever flirtations. In one scene, her hands bound by her jailer, Don José, she uses her teeth to pull up the hem of her dress and then, once freed, finds the untied rope useful for whipping the ground at her future lover's feet.

Obviously, a lot of the credit for this playfulness goes to stage director Daniel Helfgot, who has designed a rather physical production for his young charges. Another beneficiary is tenor Thomas Truhitte, playing Don José, who, with the help of Chianakas, turns the third and fourth acts into a veritable wrestling match of forsaken love. One particularly vicious slap from Carmen had the folks in the seats wincing the night I attended.

Truhitte was also wrestling with his voice that evening (the show is double cast in the lead roles), lacing José's "Flower Song" with a noticeable nasality in his top notes. For the finale, however, he had evidently warmed up, playing the ruined José with a full, powerful voice and fierce intensity.

It was certainly nice to have a baritone named Gomez playing the toreador Escamillo, and Roberto Perlas Gomez came to the part with all necessary savoir faire, spending much of his introductory "Toreador Song" signing autographs over the various body parts of his female fans. He did, however, lose a few of the lower notes into the orchestra pit.

Jose's goody-two-shoes girlfriend, Micaela, came across as something of a split decision. Christina Major tended to force her top notes over the spillway, causing a kind of blaring in the tone, but often, when she approached her passages with more tender care, the results were sublime, as with the final double-piano phrases of her third-act showpiece, "Je dis que rien."

Bizet granted some great music to the supporting players, and Opera San José responded in kind, providing a boisterous children's chorus in addition to its usual well-drilled chorus of young adults. Soprano Aimée Patrice Puentes stood out among the second-tier characters as Carmen's gal-pal Frasquita, providing some sparkling lyric crescendos during the Tarot-card trio with Carmen and Mercedes (Patrice Houston).

Though I enjoyed Helfgot's attention to details, there were a couple of odd lackings. His cigarette girls created quite the rowdy cat fight in Act I (including little bits of WWF gymnastics), but when the instigator Carmen was brought out for questioning they neglected to bring out her bloodied victim as well. (In the original novel by Prosper Mérimée, in fact, Carmen slices a cross into her victim's forehead, which would be a nice gory touch for some brave director.) The other missing element came in Carmen's cafe dance song, "Les tringles des sistres"--the scene really calls for a genuine guest dancer, not just various sopranos shaking their booties.

I really appreciated the entrance of conductor Barbara Day Turner, who cut her own applause short to turn quickly and launch the overture, and I also enjoyed the Act III entr'acte, a lilting pastorale with a lovely flute solo from Isabelle Chapuis.

In the end, however, Bizet's masterwork lives and dies by its iconoclastic main character, and it is frustrating how rarely anyone gets it right. All the more reason to see Layna Chianakas' intelligent, compelling performance.
---
Carmen plays Feb 10, 12, 15, 17, 22 and 24-26 at 8pm and Feb 13, 20 and 27 at 3pm at the Montgomery Theater, San Carlos and Market streets, San Jose. Alternating casts. Tickets are $35-$50. (408.437.4450)
---
[ San Jose | MetroActive Central | Archives ]