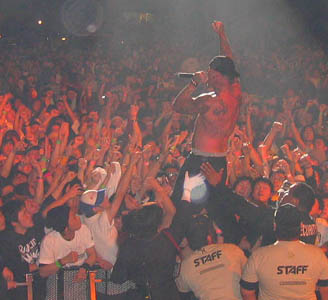 Mark Herman live in Japan.

Return of The Kings

San Jose's Insolence still high from Japan's SonicMania

By Sarah Quelland

IT WAS AMAZING. We played in front of 20,000 kids and rocked the whole building. It was one of the most surreal moments I've ever had in my life," Mark Herman, half of Insolence's vocal team, relates. Herman is still recovering from the band's weeklong tour of Japan, where the San Jose band played SonicMania 2004 in Tokyo and Osaka with Rancid, S.T.U.N., Thrice, G.B.H., Quarashi, Brian Setzer and the Stray Cats and several Japanese groups. The trip was a blur of sound checks, meet-and-greets, interviews, private jets and partying with David Lee Roth.

Insolence has a good fan base in Japan thanks to past tours and the November release of Stand Strong on Warner Music Japan. Much like here in San Jose, kids over there are already familiar with the band's alternately laid-back and aggressive California fusion of reggae and rock and recent singles "So Long" and "Operation Irie."

"The crowd response that we got was almost heart-stopping," Herman marvels. "The kids out there, they're just the gnarliest fans ever. If they're gonna cry their eyes out, they're not afraid to cry their eyes out. If you tell the kids to jump in the air, it was 20,000 kids jumping in the air. If you told the kids to start a circle mosh pit, it was 20,000 kids pitting."

After the Tokyo show, Herman says they caused a near-riot by mingling with the fans at the big HMV record store inside the arena, where they sold their merchandise and signed autographs. They caused such a ruckus and had so many kids chanting "Insolence!" that arena officials finally made them go backstage in an attempt to calm the chaos they'd created.

Despite an ear infection that landed guitarist Mike Rowan in the hospital and a hyperextended knee that occurred when a security guard tried to prevent Herman from jumping over the barricade and into the crowd, the band was sad to leave and anxious to return this year. "You don't want it to end when you come down off a high that high," Herman says.

Now that the guys are back home, they'll continue shopping to American labels and working on new material. "We basically already have a whole new record written," Herman says. "It's not like we're getting ready to go hop and do a new record anytime soon, but we just keep writing [new songs] and go out and try 'em and see if they're worthy." Locally, the band's been introducing new songs--most of which remain untitled for now--that range from straight dancehall to hardcore punk without straying too far from Insolence's roots.

Still amped from Japan, Insolence plays the Boardwalk in Orangevale this Friday (Feb. 13) with Abloom, which features members of Soulfly, Snot and Onesidezero. Photos from Japan will be posted soon on the band's website www.insolence1.com.

HOT TOPIC: Planet Marz Entertainment presents an all-ages drug- and alcohol-free music event this Friday (Feb. 13), 7-11pm at the Oasis Club/Downtown Youth Center (200 N. First St., San Jose) with soulful performers Tiffany Joy and Iari. ... Plans for Revenge vocalist Chris Martinez celebrates his birthday this Friday (Feb. 13) at Gaslighter's Music Hall in Gilroy with Novice, Brea, Far From Known and Project Mayhem. ... Managed by Miles Copeland, the Bellydance Superstars, the professional touring dance troupe that entertained the crowd between bands on Lollapalooza 2003, performs at the Edge in Palo Alto on Valentine's Day (Feb. 14). Visit www.bellydancesuperstars.com. ... Also on Saturday (Feb. 14), Pacific Art Collective presents an all-ages daytime PAC Session at Waves Smokehouse with live music by Stereostar FM, Mr. Lexicon, the Betting Fraternity and the Last Sundown, plus live painting; a standup poetry open mic and DJs. Visit www.pacsession.com. ... In addition to Monday nights at Waves Smokehouse, the promoters of Rockstars and Bitches are starting to present shows at Johnny V's and the Blank Club. Upcoming events include Called to Ruin, Last Amanda, Zeromind and Point 3 (Feb. 13) and Drunken Starfighter (Feb. 16) at Waves; Moulder's Lounge and Taylor & 9th (Feb. 21) at Johnny V's; and a Phat Tuesday Mardi Gras Bash with Mercury Sound and Myzar (Feb. 24) at the Blank Club.
---
Send a letter to the editor about this story to letters@metronews.com.
---
[ Silicon Valley | Metroactive Home | Archives ]