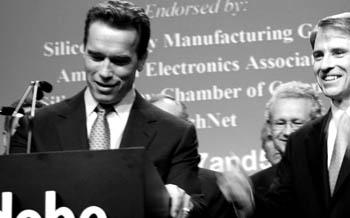 Glee Club: Schwarzenegger gets chummy with corporate pals.

Choke Hold

Business leaders are counting on the governor to squeeze worker benefits

By Allie Gottlieb

LAST WEEKıS gathering of the valleyıs top corporate leaders in the East Tower of Adobe Corpıs San Jose headquarters was billed as a "business climate summit," one of those gatherings in which business leaders tell us whatıs on their minds in stoic, dull terms. In this particular case, what was on their minds was a 28-page survey conducted by the pro-business Silicon Valley Manufacturing Group.

To make the survey sound official and neutral, it was presented by Larry Gerston, a San Jose State University political science professor who "analyzed" the data of 105 companies, employing some 141,000 workers in the valley.

The thrust of Gerston's presentation sounded academic and thorough. But the results were nonetheless predictable. The "key ingredient" to the success of Silicon Valley employers, we were told, was to reform the state worker-compensation insurance system. Of the seven types of businesses under the Manufacturing Group's umbrella, six scored workers comp costs as the biggest "challenge" facing their continued prosperity. Workers, meanwhile, selected housing and education costs as their main obstacle.

The audience of corporate executives wanted to know if Gov. Schwarzenegger was aware of Gerston's findings. The state's new governor was, after all, standing in the wings, waiting for a grand entrance. Gerston couldn't quite answer the question.

But it became obvious once Schwarzenegger was in the room that he intended to stay on message. He was in the middle of a barnstorming tour with Democratic Controller Steve Westly, promoting Propositions 57 and 58, which, as Schwarzenegger explained it, would allow the state to consolidate debt and prohibit future overspending.

"The state is like a spending addict," said the governor, who wore a blue shirt, purple tie and blue suit for the occasion. "We must consolidate the debt, refinance at a low interest rate, then cut up our credit cards and throw them away."

Schwarzenegger pointed the corporate leaders to the ballot box March 2 the same way he led voters last October. "Flex your muscles one more time," he said, before signing off in his trademark, "I'll be back." The governor received ovations at his exit, as he had at his entrance.

No doubt Schwarzenegger will return to pay back corporations for their support this election cycle. Which means worker benefits, with Schwarzenegger's help, will take an even bigger hit, probably sometime this summer. Last year, lawmakers eliminated subsidies for vocational rehabilitation, enacting a voucher program that pays much less than the old system. Schwarzenegger has already gone on record saying he prefers a disability rating system that will make it tougher for workers to be declared disabled.

Corporate leaders might still fawn when Schwarzenegger works the room, dishing old Terminator lines. But workers will soon realize nothing's being muscled except their hard-won benefits.
---
Send a letter to the editor about this story to letters@metronews.com.
---
[ Silicon Valley | Metroactive Home | Archives ]