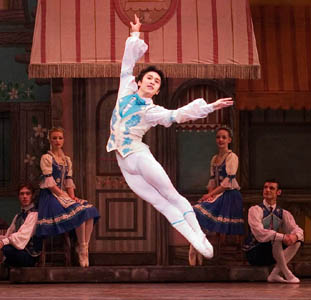 Photograph by Robert Shomler

Lover's Leap: Shingo Yoshimoto gets airborne as Franz in 'Coppélia.'

A Doll's Life

The ballet provides comedic flourishes for 'Coppélia'

By Marianne Messina

THE RECENT Ballet San Jose Silicon Valley production of Coppélia, delightfully spangled with the comedic flourishes of artistic director Dennis Nahat, kept things light, humorous, easy on the brain and damned torture on the dancers. It's a simple story based on a tale by E.T.A. Hoffman--you don't need a ballet mime glossary to figure out what's going on (plus the program notes are quite explicit). Franz (Shingo Yoshimoto) and Swanilda (Karen Gabay) are one day away from marriage, and Franz's bridegroom jitters start taking the form of a wayward eye, most notably his lust for a doll named Coppélia (who he thinks is a real lady, of course), created by Dr. Coppélius (Nahat).

Nahat has made sure that Franz has plenty of opportunity to ogle and flirt and to get slapped and tongue-stuck-out-at by Swanilda. In spite of his character's persistent infatuation with the doll (devilishly arching his toes as he climbs the ladder to her house), the sprightly Yoshimoto pulls off enough charm--with his impish smile ("Who, me?"), beautiful leaps and butterfly footwork--so that you don't quite want to strangle the philandering fiance. And besides, Dr. Coppélius poisons him with a brew so potent that when dashed against the floor it explodes, which kind of evens the score.

Dr. Coppélius--whom Nahat plays as more doddering than dark--is of course also in love with the doll he created, and so he wants to take Franz's soul and use it to make the doll come alive. Swanilda attempts to rescue the drugged-out boy from the doctor's doll workshop. As she pretends to be the doll come alive (a lovely oboe strain awakes her), Gabay's wooden-toed Swanilda begins her assaultive fits and starts. In a complex choreography of nip and tuck between Swanilda and Coppélius, she slaps the adoring doctor across the cheek with the skyward toe of her perfect développé, sword-fights him, cracks him across the rear with a spastic "mechanical" hand and delivers a slew of other precision slapstick moves, drawing steady laughter from the house. At the end of the scene, Gabay knocks all the lushly costumed, brightly colored mechanical dolls over and leaves them rolling and jerking their unique arm and leg movements over the floor. The impact of this variegated mayhem, as the curtain comes down on Act 2 speaks volumes for Nahat's visual acuity.

As to the dancing, Gabay gets bushels of red roses in ballet heaven for her Swanilda. The role starts out with a solo where most ballets are just warming up, and it continues ruthlessly with a rather daunting amount of toe work. A painfully delicate adagio in the grand pas de deux between Gabay and Yoshimoto, with its ephemeral vision of origami music box dolls, just about stops time. The performance has that good-meal kind of satisfying finish, full of leaps and shoulder lifts, color and familiar music (if you don't recognize Léo Delibes' melodies coming in, his use of the repetitive leitmotif device ensures you'll know them going out). Dr. Coppélius even "gets the girl."
---
Send a letter to the editor about this story to letters@metronews.com.
---
[ Silicon Valley | Metroactive Home | Archives ]