Bonding: Steve Westly has replaced Danny DeVito as Arnold Schwarzenegger's 'twin.'

The Fly

Naked State

The lovefest between Gov. Schwarzenegger and Silicon Valley's business and political elite turned physical last week as the Terminator tried to publicly crush Controller Steve Westly with his massive biceps in appreciation for his unconditional support for the governor's plan to rescue California with $15 billion in bonds. The Fly, of course, was on hand at Adobe headquarters to record the moment as ex­San Jose city bureaucrat Westly attempted, unsuccessfully, to lift and flip the 240-pound governor over his head. After collecting the endorsement of every business group in Silicon Valley, with the possible exception of the Monte Sereno Chamber of Commerce, Schwarzenegger deftly lobbed one-liners, unassisted by the plasma teleprompter to the right of his large feet. Illustrating the effects of California's overspending on average folks, Schwarzenegger pointed out, "People are poor in this state now. With the economy going down, people don't have clothes anymore. Look what happened to Janet Jackson." He also bemoaned the fact that "90 percent of the students in California cannot spell simple words. Like ŒSchwarzenegger'." Former San Jose Mayor Tom McEnery, accustomed to being the funniest man on the podium, worked hard to elicit some yucks in the post-speech gab session. Declaring that he tried to avoid talking to legislators in order to "conserve brain cells," the shot drew some chuckles, though not from a serious-faced John Vasconcellos, who was sitting among the invited guests. Oops. The thoughtful state senator, wrapping up a distinguished four decades of service to the people of California, is not exactly one of the state's dumb bunnies and looked more than a little steamed about the wisecrack.

Brain Drain

California keeps getting dumber and dumber in large part because of the stupidity responsible for 1978's Prop. 13. So explored the public TV docutragedy, First to Worst, which aired in San Jose last Thursday, Feb. 5. The hour-long documentary tracked how schools plunged to the bottom of the country's performance ratings after Californians voted to require a two-thirds majority to raise taxes that pay for public education. New York­based documentary host John Merrow asserts that Californians should cough up more cash for their public schools, as they did before tightwad Howard Jarvis led the property-tax revolt. After the documentary began showing across the state, the Fly gave Howard Jarvis Taxpayer Association honcho Kris Vosburgh a chance to save face. Vosburgh says he hasn't seen the documentary yet, but he nevertheless comments that it's "typical public-television bias." Mr. Vosburgh says the anti-tax lobby is not in damage-control mode since Prop. 13 remains overwhelmingly popular despite attacks. He notes that some minds at the Jarvis Association have considered calling on the federal government to stop funding public-broadcast "propaganda" like Merrow's program. Merrow assures the Fly he made the documentary without any funding from the feds. However, in response to the claim Prop. 13 didn't ruin public education, he admits he doesn't know what Vosburgh has been smoking.

No-Growth Lawsuit

New York attorney Brad Corsello has filed a class action suit against the Mackay brothers of British Columbia, Canada, and their various enterprises, alleging that the herbal pills they sell over the Internet do not in fact make penises larger. Faithful readers, no doubt, are familiar with the Mackays, who attracted the ire of Sunnyvale engineer Charles Booher last year. Booher, a testicular cancer survivor, was arrested for threatening to perform amateur surgery on Douglas Mackay with an ice pick, among other contemplated forms of retaliation for spamming his computer with penis pill pop-ups. Filed in Colorado, the lawsuit seeks to recover some of the $120 million spent by men who purchased the potions in hopes of acquiring more massive members, something the lawsuit contends is "medically impossible."

High Rollers

Fly has learned that two companies with a combined worth of well more than a billion dollars are not getting Michelangelo Delfino and Mary Day's television set‹though they did damn well try. Delfino and Day, notorious for posting often brutally insulting Internet messages about their former employers, Varian Associates and Varian Medical Systems, have battled the corporations in court for the last five years, a battle that's made them virtually asset-less. Then, after all that, Delfino and Day were ordered to pay Varian a $1 million judgment. And what did Varian want from the flat-broke couple after five years of costly litigation? Used electronics. Specifically, the court ordered the Los Altos couple to provide the following items: a color Sony television, a stereo, a DVD player, a Sony amplifier and a VCR. Proceeds of the sale would go‹not very far, unfortunately‹toward paying the million bucks Delfino and Day owe. "You gotta love it," crows Delfino, who used an exemption to escape handing over his television last week. He continues incredulously: "They had two counsels working on this. One guy's a partner‹that's about $600 an hour‹and he's there with an associate. That's a lot of money for trying to get $200 worth of stereo equipment." Meanwhile, Delfino, Day and Varian have appealed the case to the California Supreme Court. To date, Delfino and Day have received nine supporting briefs, including the California Anti-SLAPP Project and the California Newspaper Publishers Association.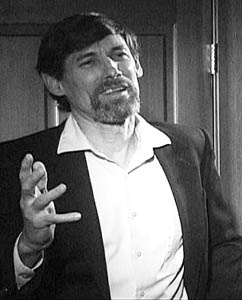 Selective Reinforcement: Rice roots for Lempert.
Primary Gambit
What was that about politics making strange bedfellows? State Senate hopeful Ted Lempert picked up key endorsements last week‹from the Libertarian and Republican candidates he might face in the November election. The catch is that Allen Rice, a 57-year-old Libertarian, and Jon Zellhoefer, a 50-year-old Republican, are endorsing Lempert only for the March 2 primary. Their reasoning is based on a Feb. 3 Mercury News article that said Lempert was essentially no different than his Democratic opponent, Assemblyman Joe Simitian. If the two are identical, why not support a Lempert victory, freeing Simitian from the rigors of the campaign trail so he can focus on budgetary issues, Rice and Zellhoefer argue. "These are unusual times," says Zellhoefer. "Simitian needs to be in Sacramento doing what needs to be done."Both Zellhoefer and Rice, underdogs in Democrat-heavy District 11, say they realize their endorsement might be viewed as a gimmick. "People will have to decide for themselves," Rice says. Both candidates say they plan to campaign heavily, taking off nine months from work for the race. "If there's a little bit of confusion, so what?" Zellhoefer says. "It gets people talking about how stupid politics are."
---
Send a letter to the editor about this story to letters@metronews.com.
---
[ Silicon Valley | Metroactive Home | Archives ]