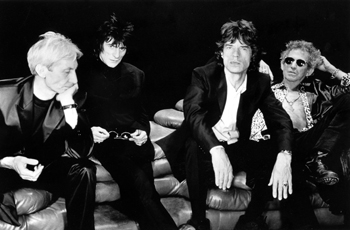 Senior Citizens Brigade: Todd Inoue discovers that it's only rock & roll, but he likes it.

Biter

Miss You

The Rolling Stones show was a gas, gas, gas

By Todd Inoue

GOTTA HAND it to the Stones. Their median age hovers between Abe Vigoda and Camryn Manheim (OK, it's 58), but they still have the chutzpah to let it all hang out in wrinkled and veiny glory. The Stones entered the HP Pavilion last Tuesday for no other reason than to pad their expense account and flog yet another compilation. But you know what? The Stones rocked, dude.

The band visited the Bay Area shows last November and began its tour in San Jose a year ago. The Stones have enough great songs in their repertoire to fill a weekend-long show, and fans would still crab about what was and wasn't played. But unlike lesser rock bands past their prime (and every hip-hop act with more than one album out), the Stones have the class to perform songs all the way through, even extending them a couple of bars for effect. Screw the medley treatment; Mick and the boys know each song deserves a turn through the sound system. "Only Rock & Roll (But I Like It)," "Tumbling Dice" and "Brown Sugar" all benefited from this thinking.

At 8:45pm, the group came out fighting--that is, they played "Street Fighting Man." Keith Richards, who has obviously missed out on the whole Botox revolution, was in ragged glory with open shirt and a bird's nest for a hairdo. Ronnie Wood resembled a SoFA street punk with leather jacket, T-shirt, tight jeans and cigarette dangling off his lower lip. Ex-Miles Davis bassist Darryl Jones was barely noticeable in black and gray, and button-down drummer Charlie Watts looked positively ecstatic--yes, that last part was sarcasm.

While Charlie could barely muster a grin, Mick was the ageless fop, strutting and dancing like Mike Myers' Austin Powers character. Or was Mike Myers channeling Mick when he led Austin through those dance moves? A rare, substantiated case of life imitating art imitating life.

An acoustic version of "No Expectations" (with Ronnie Wood on slide guitar) lead into a short run through Exile on Main Street songs "Sweet Virginia," "All Down the Line" and "Tumbling Dice." During the latter, Mick stuffed the microphone down the front of his pants, leaving his hands free to get the crowd clapping along. The microphone head bulged suggestively out of the top of his waistband, scoring cool points with the hipsters in the crowd.

Richards was the catalyst, playing chunky Chuck Berry-type runs while dodging imaginary Frisbees. The opening riffs to many of the songs simulated the sound of a diesel engine turning over before he jammed into full throttle. "It's nice to be here in San Jose," Richards said at one point. "But it's nice to be anywhere, really," he chuckled, completing the thought.

Jagger sounded surprisingly strong, but background vocalists Bernard Fowler and Lisa Fisher helped him stay on key and embellish the shouts during "Honky-Tonk Woman." Jagger and Fisher were pure magic during their vocal duet "Gimme Shelter," which was the set highlight. No Stones show would be complete without a tumble through "(I Can't Get No) Satisfaction," a song that should be mandatory listening in elementary school.

The encore, "Jumpin Jack Flash," played to a shower of red confetti before the boys headed off to their luxury cars and foot massagers. Both show business maxims were met: Finish strong and always leave them wanting more.

The Stones still have plenty of lives left, and one can imagine them hooking up with the Neptunes for a future single, just to extend their demographic reach. On the complimentary shuttle ride back to the San Pedro Square parking garage, all the kids looked dry and untouched while their parents were dabbing sweat off their necks and touching up their damp hair. It was a stunning role reversal, producing two sets of thought bubbles: 1) Wow, the Stones have still got it, and 2) Wow, maybe my parents were cool once.
---
Send a letter to the editor about this story to letters@metronews.com.
---
[ Silicon Valley | Metroactive Home | Archives ]