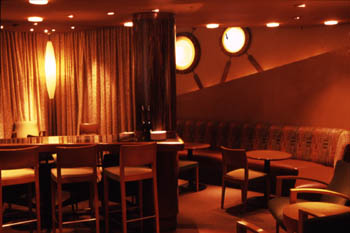 Photograph by Troy Bayless

Mod Pod: Go ahead, wear the party clothes--California Cafe caters to the posh spice in all of us.

Chic Pick

California Cafe reigns as a destination point for Asian-inspired nouveau cuisine--and desserts to sigh for

By Christina Waters

REASONABLE prices are the last thing you'd expect at a place that looks this good. Los Gatos' Old Town favorite, California Cafe, is more metropolitan than mountain, and the cuisine maintains the pace. Last week's lunch with my shopping shaman Di was a positively pampering experience. Past the cozy front bar, urban-style lounge and caramel-hued main dining room, acres of woodwork and glamorous mezzaluna chandeliers, we settled into seats at the plushly upholstered banquette.

A "supersize" San Pellegrino kept us company as we sampled irresistible baguette and focaccia. California Cafe's seasonal menu reflects its regional culinary roots as well as a savvy Asian awareness. Seared ahi adorns the daily-special bento box, while Asian chicken salad, potstickers and tempura are menu fixtures.

An order of potstickers (five for $7) was prettily presented in a bamboo steamer along with a crunchy salad of cashews, jicama and mizuna. Alas, the won-ton specialty arrived, mysteriously, without any sort of dipping sauce, and the moist interior lacked flavor.

The pallid potstickers, however, were to be the only missed step in an otherwise excellent meal deftly served by our new favorite waiter, Jeffrey P. The entire mood here is chic, from sexy décor and attractive waitstaff to handsomely presented foods loaded (save for the potstickers it seems) with flavor.

On a monumental rectangle of white porcelain came a trio of petite Dungeness crab and shrimp cakes ($13), each perched atop a warm pool of creamy, utterly addictive polenta. This was already a lovely marriage of New England and Italy, the sort of multicultural concept that seduces my palate. But it got better with the first bite, when we discovered that the lovely garnish atop each crab cake was created of razor-thin celery and a microconfetti of shaved red apples. So clever and so surprising, that tiny hit of sweetness in each bite. And a lovely swirl of green scallion-infused oil added the sort of visual enjoyment that only a detail-oriented kitchen can deliver.

Not that my entree salad of poached salmon was exactly chopped liver. Au contraire, it was exceptional. Starring an extravagantly thick, moist salmon fillet, the creation--served in a huge, deep bowl--offered layers of flavor synergy, beginning with a foundation of gingery, vinegary broth in which were suspended long ribbons of carrot, cucumber and fresh cilantro ($13). These flavors absolutely adored that salmon, as did a top relish of ginger-infused diced persimmon and a side cushion of crème fraîche. Had the salmon been slightly less chilled, I might have rushed back to make a foolish play for the chef. An outstanding dish, the salmon made sensational dining for the money, and the huge portion kept us both happy during the long lunch.

Then things got serious. Narrowly averted from senseless adoration for the creator of the poached salmon, I fell hard for the pastry chef. Di and I sampled two dessert dazzlers from the California Cafe menu, alongside top-notch Illy Caffè espressos. A curvaceous circle of cheesecake, creamier than anything Manhattan has to offer, went straight to the pastry hall of fame thanks to the secret ingredient of Laura Chenel goat's milk. Good enough to obliterate the cheesecake cliché, it was adorned by squares of poached quince, faintly spice-laden and haunting, and a bravura dusting of powdered sugar--restrained, yet decadent. Di's dessert was truly to-Di-for, given its high-intensity chocolate factor. A warm cake of molten Valrhona chocolate, it seduced with sheer density, and two companion scoops of brilliant cranberry/orange sorbet on a pool of bitter orange purée (both $6). We were unprepared for desserts this spectacular; they deserve to be considered destinations unto themselves.
---
California Cafe
Address: 50 University Ave., Old Town, Los Gatos
Phone: 408.354.8118
Hours: 11:30am-10pm Mon-Thu; 11:30am-10:30pm Fri-Sat; 10:30am-2:30pm Sun brunch, 5-9:30pm Sun dinner
Cuisine: New World Pacific Rim (a.k.a. California)
Full bar
---
---
Send a letter to the editor about this story to letters@metronews.com.
---
[ Silicon Valley | Metroactive Home | Archives ]