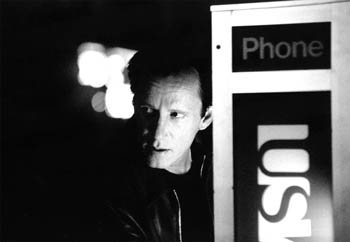 Into the Woods: Actor James Woods (seen here in 'John Carpenter's Vampires') is one of this year's Maverick Spirit winners at Cinequest.

More Maverick

Cinequest adds Woods, Kilmer and Frears to list of festival honorees

By Richard von Busack

THREE LONG-LIVED FIGURES in the film world have just been announced as Maverick Spirit Award winners (along with Ralph Bakshi and Lupe Ontiveros) at Cinequest 13, which runs Feb. 27-March 9. First, an MIT dropout who is the most reliable impersonator of unreliable types; second, a Julliard-trained leading man who pleases least when he tries to please the masses; and finally an English director whose efforts in every different film field continue to impress (most recently with the excellent High Fidelity).

Pauline Kael once referred to James Woods as "The Snake." That was two decades ago. Since then, Woods has persisted in his carnival of crime, playing fast-talking, supercilious bastards, cads, red herrings and Satan (well, Hades, in Disney's Hercules). If only American movies were half as fast as Woods is; his acting provides a one-man critique of slowpoke, dumb and sentimental writing, from Videodrome to Salvador to John Carpenter's Vampires. What was said 20 years ago can still be said: no movie can be truly bad as long as James Woods is in it.

Val Kilmer got his start in a movie that's better than all the Abrahams-Zucker-Abrahams work put together. Yet his big-screen debut in 1984's Top Secret!, a musical with a pseudo-Elvis fighting a Commu-Nazi conspiracy, was closer to the Firesign Theater than to Airplane (et al.)'s channeling of Laugh-In. Kilmer's singing and Presleyesque disdain were good enough for him to play a fantasy Elvis in True Romance, as well as a commanding Jim Morrison in The Doors. For TV, Kilmer played Billy the Kid--who was a kind of rock star, too. The off-flavored candy of Batman Forever showed that Kilmer's good looks may be too petulant for even a comic-book fantasy. I preferred his glassy L.A. criminal in Heat and the Latin-quoting Doc Holliday in Tombstone. There's even something to be said for the bizarre but fascinating Island of Dr. Moreau that Kilmer shared with Marlon Brando. Kilmer's work occupies the middle ground between the mainstream and the flamboyantly exotic; here's hoping he heads straight for the latter.

Stephen Frears worked his way out of British TV. "If you ask [critic] David Thomson, it's all been downhill for me since then," Frears commented when I interviewed him in 1999. Frears scored international success with My Beautiful Laundrette. Frears followed up with an unclassifiable series of comedy-dramas: Dangerous Liaisons, The Grifters and The Snapper. The Hi-Lo Country wasn't popular, probably because the director didn't simplify the material. Even so, The Hi-Lo Country offered the almost extinct delights of the Western. Frears followed it with High Fidelity, which is worth watching five times, and Liam, which can barely be got through once. The director continues in a career that produces frequent surprises and frequent classics. Ticket information for the appearances of Kilmer, Woods and Frears will be announced soon.
---
James Woods appears March 1 at 7pm at the Fairmont Hotel in San Jose. Val Kilmer appears March 9 at 1pm at the Fairmont Hotel. Stephen Frears will appear March 4 at 7:30pm the San Jose Repertory Theater in San Jose. For Cinequest details call 408.995.FEST or go online to www.cinequest.org.
---
---
Send a letter to the editor about this story to letters@metronews.com.
---
[ Silicon Valley | Metroactive Home | Archives ]