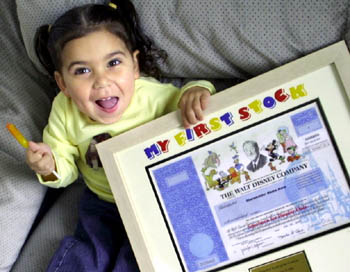 Learn to Share
A gift that teaches kids all about the stock market--except what roof to jump off when the Dow goes south
By Kelly Luker
ASK ANYONE if they've got some bucks tied up in stocks and the answer will most likely be yes, given the money-grubbing stampede to Wall Street in the last few years. Now, ask those same folks to explain P/E ratio, the difference between treasuries and mutual funds or how compound interest works and watch their eyes glaze like a week-old doughnut.
Perhaps there is some correlation between this yawning crevasse of ignorance and the recent belly-scraping of the stock market. Lance Lee wouldn't be surprised. Had they only been taught as kids with his company's program, My First Stock, investors might be a little wiser--and a little less invested--today.
My First Stock grew out of Lee's E-commerce site, OneShare.com, which allows customers to easily purchase one share of stock. Lee saw the market potential when he was working as a stockbroker and customers asked to buy one share of stock, usually for gift reasons, as a kind of collectible.
Selling one share is time-consuming and offers no profit motive for brokerages, and most are unwilling to do it. So Lee started OneShare.com in 1996, selling one share from about 100 different companies for a $39 commission fee, plus the current share price.
Don't expect to find boring chemical companies on Lee's list; most companies have immediate brand-recognition and some lend themselves to the perfect gag gift, like Pfizer (the folks who brought us Viagra) and Playboy Enterprises, for example. Then there are stocks that people probably buy in all seriousness as gifts, such as Harley-Davidson or Quaker Oats.
But when Lee realized that more than half the customers were parents and grandparents buying a framed share of stock for their children, he started thinking "niche market." Hence, My First Stock, an $89 kit that includes a framed share of stock, the Kid's Wall Street News, a children's book on investing and, of course, a stock tracking sheet.
"We want to be an inspirational starting point," says Lee by phone from his San Francisco offices. "We hope that children will get a glance of basic financial fundamentals."
Given the stocks to choose from, getting inspired might not be such a stretch for kids. Names that every TV-addicted crumbcatcher would know, such as Toys "R" Us, Nike, McDonald's, Coca-Cola and Walt Disney, are liberally sprinkled throughout the list.
What hooks the kids into enjoying their share is more than just brand-name recognition.
"To get a child involved," explains Lee, "you literally have to print their name on it." Fortunately, that's the way that the colorfully framed share arrives.
Lee sees his mission as one of empowering the pipsqueak when she or he confronts the consumer-oriented society.
"Children learn about these companies as soon as they turn on the TV," says Lee. "We want to teach them to be owners."
While the idea of hordes of swaggering half-pints with a false sense of entitlement is downright horrifying, Lee points out yet another effect of youthful stock ownership.
"A lot of the children are looking on the net to follow [their one share of stock]," he says. "One child went to Disneyland and now that he owned stock, he felt a lot different walking around as an owner."
Lee is convinced that OneShare.com won't land on the rubble heap along with the other dotcoms getting swept away. Perhaps because he understood the fundamentals of money, Lee thought long and hard before taking the VC handouts.
"They really wanted me to increase my advertising, which would increase their profit but put me in debt," Lee recalls. So, he took a pass.
While staring at one's framed share of stock on the wall of a Power Ranger-festooned bedroom could be a heady experience in 1998, what lesson might kids be taking away as the leading indicators slowly sink into the horizon?
"We do hear that kids are surprised to learn that the stock prices change so fast," says Lee. "I found that kind of cute and began to look at it with a fresh eye. Why is this price going up and down?"
Or, more likely, just going down, he admits.
"[Kids who own one stock] don't have the same kind of perspective as their parents, who are crying," admits Lee. "At that point, it's a lot less education and a lot more tension."
That's the beauty of My First Stock, figures the company's CEO. "It's a great gift without the jumping-out-of-the-window aspect."
[ San Jose | Metroactive Central | Archives ]