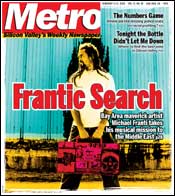 For the Week of
February 15-21, 2006
Cover Story: Frantic Search:
Bay Area maverick artist Michael Franti takes his musical mission to the Middle East.
News: Downtown Crossfire:
After the shootings in October, the hot topic in SJ is how downtown's nightclub scene should be policed. Charges of racial profiling are fanning the flames.
The Fly: As if San Jose needs another controversy, we may soon have 8-year-olds marching on the Dome, thanks to an ordinance that would restrict the use of inflatable houses in local parks.



Silicon Alleys: Synchronicity.
Techsploits: Interbreeders.
Rev: Venezuela Ride.



The Soul's Sanctum: Jennybird Alcantara's paintings explore the darker realms of human nature.



Again Young: Jonathan Demme films Neil Young in 'Heart of Gold,' with a mix of schmaltz and genuine magic.
'Classe Tous Risques': A classy re-release of a 1960 French crime thriller.



Summer Of '42: Fort Minor's Mike Shinoda talks about his family's internment camp story in 'Kenji.'
Fever Pitch: Augustana bridges Britpop and Americana to make a sound of its own.



Book Box: 'The Race for Timbuktu: In Search of Africa's City of Gold' and 'Ivan's War: Life and Death in the Red Army, 1939-1945.'



Put a Cork In It: Three of the valley's top wine shops make it easier than ever to imbibe in style.
Live Feed: San Jose: Leaner, Meaner.
5 Things: Good Sushi Restaurants.



Hucksters And Believers: The debate over evolution gets an evenhanded airing in San Jose Stage Company's 'Inherit the Wind.'
Born to Act: Opera San José's stars filled the stage with high drama and emotion for 'La bohème.'
Any Way You Slice It: Short plays are long on audience impact at Pear Avenue Theatre.



Please don't forget to write! Metro welcomes letters. Like any great work of art, they should be originals — not copies of letters sent elsewhere. Include address and daytime phone (for verification purposes only). Letters may be edited for length and clarity or to correct factual inaccuracies known to us. Postal: Metro Letters, 550 S. First. St., San Jose, CA 95111. Fax: 408/298-0607. Email: letters@metronews.com. Emailers, please include name, city of residence and phone number. Letters printed will list email address unless otherwise specified. Letters to the editor are not currently published in the online version of this paper.