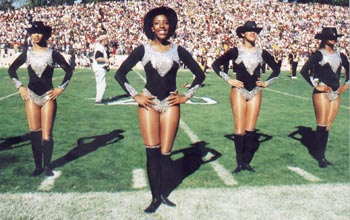 Game Day: The 2003 MLK Literacy Classic brought glory to San Jose, if only for a weekend. Allegations of financial misconduct have tainted the legacy of the event.

Grumbling Classic

In 2003, black activists threw the biggest football party the city has ever seen. Two years later, they're still trying to sort out what went wrong.

By William Dean Hinton

WHEN THE CALL finally came, Tommy Fulcher was filled with anxiety. For nearly two years, he had discussed the possibility of using a San Jose State University football game as a way to stimulate children's interest in learning to read. The game would be modeled on the carnival-like atmosphere surrounding some black-college rivalries, like the annual Bayou Classic in New Orleans or the Florida Classic in Orlando, where thousands of African Americans network outside the stadium even as the game is played inside. It's football with a taste of soul and hip-hop, bright colors and good Southern food. What if SJSU football, traditionally among the NCAA's bottom-dwellers in terms of attendance, competitive competence and enthusiasm, could import that kind of vibrant culture, if only for a weekend?

Fitz Hill, the Spartans former head coach who has a doctorate in education and a desire to use his coaching position to advocate for black causes, was the person on the other end of the line with Fulcher in February 2003. He told Fulcher the university had given its blessing to move forward with the event. Fulcher, a self-made businessman who holds an MBA from Harvard, was bittersweet about the news. He was about to undergo knee-replacement surgery and knew he'd be laid up a few weeks. There wasn't much time. He and Hill had only six months to prepare for an Aug. 23 kickoff, which required incorporating a nonprofit to handle the bookkeeping, kick-starting a major marketing campaign, coordinating volunteers, organizing a dozen events in conjunction with the game, selling 31,000 tickets and paying Grambling State University $275,000 to change its schedule and travel with its band.

Fulcher is intimately familiar with charity work, heading Economic and Social Opportunities Inc., one of the largest nonprofits in San Jose. ESO, as it is known, provides a range of services for low-income people, from drug and job training to retrofitting the homes of the elderly and disabled. Months before Hill's phone call, Fulcher was able to convince the ESO board of directors that the Literacy Classic was important enough for ESO to provide half the upfront costs for the football game.

The other half was provided by another nonprofit, Unity Care Group, which focuses on disadvantaged teenagers through care homes and after-school programs. Unity Care is based on Race Street in San Jose but operates youth programs all the way to Monterey. Andre Chapman, Unity Care's president and CEO, joined Fulcher and Hill as the three board members of MLK Literacy Classic Inc. The idea for the Classic was Coach Hill's. Fulcher had connections to a wide network of political and religious leaders. Chapman was responsible for incorporating with the secretary of state's office as well as opening a checking account and keeping track of the bookkeeping.

Though Fulcher and Hill have much in common—both have postgraduate degrees and were awarded Bronze Stars for military service—Fulcher says Chapman and Hill were more closely aligned than he was with either, mainly because they are 20 years younger than he is. Even so, Fulcher is well acquainted with Chapman. In the early '90s, Chapman was among 50 young black adults Fulcher selected to become part of the "civic diplomats," a group to whom Fulcher hoped to teach leadership skills, especially as they relate to nonprofit work. As part of ongoing education, the group spent a long weekend in Bodega Bay, where the Mercury News publisher, a judge and other business leaders counseled the group on the keys to leadership.

"We stressed integrity at every session," Fulcher says.

As Fulcher, Hill and Chapman moved toward forming the Literacy Classic board, Fulcher says, the issue of integrity arose again. "When I agreed to come on board, I told Andre and coach we had to be totally honest, totally above board," Fulcher says. "We had to do it right and not embarrass the university."

Nightline

By late June, Fulcher was already seeing signs that his wishes were not being followed. The financials, which Chapman controlled, were in disarray. The most alarming sign was that Chapman spent money from ticket sales on printing and other expenses that should have been paid from the operating account. By law, all ticket proceeds should have been funneled to the HP Pavilion, which is the Ticketmaster outlet for all Spartan events, to be kept in a trust account. In the unlikely event the football game was canceled—because of a natural disaster or other calamity—organizers would have had to repay all money from ticket sales.

Instead, Chapman spent money on things like Microsoft Project, software to help plan the Classic step by step. The software runs about $250. But Chapman spent $1,200, apparently for four software licenses. To this day, Fulcher says, he has not seen the software and doesn't know which computers it was installed on.

It also made some volunteers angry that they were donating their time while most of the people Chapman attracted to the event were hoping to be paid. Randy Cooper is a former San Jose deputy police chief who now directs the Fresno Parks and Recreation Department. He became involved in the Classic as the police liaison, responsible for making sure security concerns were met. He witnessed the evolution of the Classic, attending nearly every meeting leading up to the event. He was surprised, he says, that Chapman scheduled many events, like a comedy show, without considering security. Of the 26 events originally planned, 14 had to be cut.

"There were too many side issues, too many people from outside the event," Cooper says. "I kept thinking, this shouldn't be about making a profit. Let's focus on making it successful the first time out. Too many people on Andre's side of it were making money off it. Too many people were losing money."

One of those people was Carl Agers, who runs a marketing and PR company called Tager Group. Tager Group has an ongoing relationship with SJSU athletics, trying to boost attendance by hosting mini-events like Armed Forces Day. There was no problem with the Tager Group marketing the MLK Literacy Classic except that Agers is the board chairman of Unity Care Group, making him, in effect, one of Andre Chapman's bosses. But for the Classic, their roles were reversed. Chapman, as a Literacy Classic board member, was the boss, Agers the employee. The unusual arrangement created a conflict of interest, one that flared when Fulcher realized, he says, that Tager Group had submitted invoices with no supporting documentation even though Tager had been paid a $150,000 retainer.

Agers says there was no conflict of interest, because he reported directly to Fulcher. Fulcher, however, denies he acted as Agers boss. "He's lying," Fulcher says.

In addition, Fulcher had heard some volunteers were fed up with Chapman's management style and no longer wanted to work with him. Two other members of the Literacy Classic inner circle, ESO board chair Tony Thompson and SJSU Director of Quality Improvement Dorothy Poole were emphatic that Chapman should step aside and allow Fulcher and ESO to manage the books. In a July 5 email, Fulcher notified Chapman that the Classic's financials were "totally unacceptable" and threatened to pull out of the event altogether.

"At this point, ESO's continued involvement in [the] Literacy Classic is seriously in question," Fulcher wrote.

Chapman, who in emails worried about the "stigma" of turning over the books, held off Fulcher's request for a full month, finally ceding the checkbook and some of the bank records. If not for Chapman's relenting less than a month before kickoff, Fulcher says, ESO would have pulled out and the game-day festivities would have never occurred.

As it was, the game was one of the strangest successes in recent memory. It was such a novelty, importing black football culture into a city with no significant African American history, that Nightline sent a reporter to cover the event from the angle of the lengths a struggling collegiate program had to go to regain a competitive edge.

Of the dozen activities, the most successful was the gala dinner, organized by NAACP president Rick Callender, which earned $100,000, the most money of any of the events. The game by all accounts was a success, with San Jose State winning 29-0 and the Grambling band electrifying the crowd.

The official report was a $5 million boon to the city's economy, but Fulcher places the figure much higher, with a spillover crowd that included some of the wealthiest black Californians and visitors from as far away as Ohio. "We could have filled up the Oakland Coliseum if we wanted to," he says.

The glow of the game was quickly to wear off. In a wrap-up meeting several weeks later, Fulcher announced that the MLK Literacy Classic netted about $300,000 after paying SJSU for use of the stadium and the HP Pavilion for ticketing services. Immediately after the meeting, Fulcher says, he began receiving invoices for work he suspects wasn't needed or completed. There was $10,000 for an extra tent rental. A T-shirt vendor suddenly wanted another $21,000. The Tager Group submitted an additional $70,000 invoice, Fulcher says, without providing receipts or other proof of services.

Fulcher has refused to pay the Tager Group the $70,000, saying the agency has already collected $321,308, or double what Tager was originally agreed to.

"I've told everybody, you ain't getting no more money unless you can prove we owe it," Fulcher says. Carl Agers, head of the Tager Group, said he wasn't sure how much money was in dispute and sounded dumbfounded that Fulcher was making an issue of it. "This is all a surprise to me," he says.

Andre Chapman knew of Fulcher's distaste for some of the business practices because Fulcher threatened to go to the media in November 2003. Responding in an email, Chapman wrote, "I cannot afford any negative publicity over the Literacy Classic nor can coach. We both know this is going to get worse, and in the end we will look just like those other sorry Negroes who can't do anything right without controversy and mess."

Raggedy Stuff

Through the fall of 2003, it was dawning on Fulcher that Chapman was the one creating most of the mess. Fulcher discovered he didn't have access to the Wells Fargo bank account Chapman had opened even though Fulcher had written checks on the account. The Blossom Hill branch was clearing them anyway. It turned out Chapman failed to submit the signature card Fulcher had signed back in the spring.

By March 2004, Fulcher was ready to kick Chapman off the MLK board. But Coach Hill, the third board member, was unwilling to cast the deciding vote. Fulcher decided to take a hardline approach. He asked Deputy Chief Randy Cooper, former San Jose Vice Mayor Suzy Wilson and actor-activist Carl Ray to join the board. Before the vote, in Fulcher's quiet, tidy office, Chapman knew what was about to happen to him. The room cleared except for Hill, Fulcher and Chapman. Fulcher told Chapman he'd screwed up from the beginning and needed to resign immediately. Chapman pleaded with Fulcher, but it was no use. Chapman left the building humiliated. Coach Hill resigned. The rest of the board then voted Chapman off and wrote a resolution, which was delivered to the Blossom Hill Wells Fargo branch, announcing Chapman had been removed from the board.

But Chapman wasn't finished with the Literacy Classic. He somehow convinced the Blossom Hill branch to revert the checking account back to his name. Chapman still receives the bank statements even though he's no longer a board member. Fulcher retains the checkbook and some of the historical banking information, though he has no way to reconcile the account or prevent Chapman from obtaining more checks.

There were other suggestions of the lengths Chapman went to to keep Fulcher in the dark. When he filed the initial articles of incorporation with the secretary of state, Chapman listed himself as CEO, a Unity Care employee as CFO and Carl Ray, the actor-activist, as secretary. But Ray was never contacted and never agreed to become a Literacy Classic officer. Ray, who was interviewed via telephone from Florida, signed an affidavit in July saying he became a board member in March 2004, almost a year after Chapman filed incorporation papers with the state.

Fulcher would like to dissolve the MLK board because it no longer has any use. San Jose State managed the second Literacy Classic, In September against Morgan State, but attendance was sparse because the event no longer had the street credibility the black activists brought to the game.

Before the board can dissolve, however, it needs to find a home for Literacy Classic intellectual property. Soon after Fulcher agreed to join Hill and Chapman on the MLK board, he asked his son, Anthony, a patent and trademark attorney, to file the Literacy Classic logo and trademark with federal authorities. Anthony Fulcher, working pro bono, tried for months to work with Tager Group to file the information but was never able to obtain a signature for the engagement letter. After Chapman was kicked off the board, Anthony Fulcher again tried to copyright the logo and trademark. He was surprised to learn Chapman had already copyrighted the MLK Classic name and logo under the Unity Care Group corporation.

In August the board filed suit against Chapman, asking that he stop representing himself as an MLK board member, stop engaging in MLK transactions and stop withholding financial information. MLK board members say they'll withdraw the lawsuit if Chapman withdraws his claims to the MLK Classic and turns over remaining assets and business records. Chapman's attorney, Doug Morgan, declined comment on his client's behalf.

In a separate email, Chapman said he was "saddened and shocked at the recent wicked and erroneous allegations" and vowed to "vigorously fight" the charges. He concluded, "Rest assured, as God is my witness, the whole truth will come out."

In October, the state attorney general's office sent a letter to Fulcher, demanding a full account of MLK transactions. Somebody had apparently alerted state regulators to the board's troubles. A state accountant documented $221,000 in checks paid to vendors with no supporting receipts.

Fulcher has responded with a binder full of documents, which he also gave to Metro, but is waiting for Chapman to turn over the rest of the information so the Literacy Classic can satisfy the attorney general's office and file its 2003 tax returns. Fulcher worries about his reputation. Nonprofits must work hard to convince the public they are more than opportunists looking to make a buck off the plight of poor. "He used me to get people to support the Classic," Fulcher says, "and then turned around and did some raggedy stuff."
---
Send a letter to the editor about this story to letters@metronews.com.
---
[ Silicon Valley | Metroactive Home | Archives ]