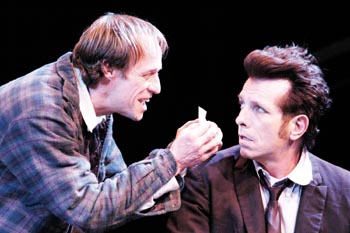 Duel Speaker: Rod Gnapp (left) and Randall King don't get along in 'The Lonesome West.'

A Feud Good Men

Heads roll, shatter and blow in SJ Stage Company's 'The Lonesome West'

By Marianne Messina

FROM THE VANTAGE point of suburban America, it's hard to imagine the isolation of a place like western Ireland's Leenane, where playwright Martin McDonah sets The Lonesome West. But travel to the west coast of Ireland in a year when it has rained 360 days nonstop, and the drear is palpable, the desolation stifling. The oppressive sky calls for a stiff poteen (bootleg whiskey); the chill calls for layered clothing and thick woolen sweaters; the sodden earth calls for muck boots.

San Jose Stage's production of The Lonesome West captures the dreary essence of the place in the booted, well-worn bulky-sweater look of the brothers Connor and the woody, sparse and dated furnishings (complete with central crucifix) of their home (costume designer Michele Wynne and set designer John Harrison York). In the insular, charming and cruel town of Leenane, people brood together over endless glasses of poteen; everyone has known everyone else in town for generations; and town murders are kept like family secrets in a Southern novel. "I'd have to kill half me feckin' relations to fit in this town," says Father Welsh (Michael Craig Storm).

As the play opens, Coleman Connor (Randy King) has just added his part to the town secrets by blowing his father's head off (for insulting Coleman's hair). Then Coleman gets his brother, Valene (Rod Gnapp), to swear it was an accident by signing over his share of the property. But this deal is destined for disaster because the brothers Connor fight like "a pair of old women," according to Father Welsh. They fight over crisps (potato chips) and Valene's plastic/ceramic menagerie of saints and Virgin Marys (Gnapp plays a worthy sad sack in Valene).

Half the twisted humor of this play comes as a result of the fact that the brothers can only attach emotional bonds to inanimate objects. It's displacement heaven; they play out their emotions through the objects, by proxy. Taking it to hyperbole, Coleman threatens Valene's life by pointing a gun at him—to no effect—until he realizes he has to aim for Valene's prized stove to get a reaction out of him.

This is one dysfunctional crew, and yet they're as funny as "feck" (a euphemism for "fuck" used repeatedly as a noun, verb, adjective and adverb). The fights, the absurdities and ironies, even the callousness ("intensive care is all she's in now"—talking about the goalie for an opposing girls soccer team) provide some nasty funny stuff. A good deal of the humor lies in the language of Leenane. The San Jose Stage actors have done their dialect studies for this one, enough to transport you to McDonagh's godforsaken corner of the planet.

The production does seem to have one murky area obscuring the humor: tone and delivery. McDonagh has written a language with disarming musicality; the right delivery can carry words like "fecking" (the adjective) off as a gleeful flourish, a baroque trill. Here, it feels like the tone needs to shed some weight. King's gruff, heavy Coleman loses the subtle distinction between habitual sarcasm and anger. Halsey Varady nails the musical lilt, in creating her deliciously bratty, girlishly brazen Girleen Kelleher. Because Girleen has a crush on Father Welsh (Michael Craig Storm), she taunts and teases him no end. But in the scene between Girleen and Father Welsh, the offhandedness of the sarcastic line again seems to get lost in translation, a confusion that grows with the priest's soliloquy. At times it seems that Storm finds Welsh's stance inaccessible and the soliloquy leaves you with a "huh?" Still, with a good bit of the humor intact—this production is strong on contention and absurdity—the play is a lot of fun, what with a smoking oven, a figurine rampage, a couple of great brawls (choreographed by Kit Wilder) and formidable insult duels: "He'd steal the shite out of a burning pit," and "He couldn't pay a drunk monkey to go interferin' with him." The production ends up delivering a rich, enchanting, warped aura worth basking in.
---
The Lonesome West, a San Jose Stage Company production, plays Wednesday-Thursday at 7:30pm, Friday-Saturday at 8pm and Sunday at 2pm through March 6. Tickets are $20-$42. (408.283.7142)
---
---
Send a letter to the editor about this story to letters@metronews.com.
---
[ Silicon Valley | Metroactive Home | Archives ]