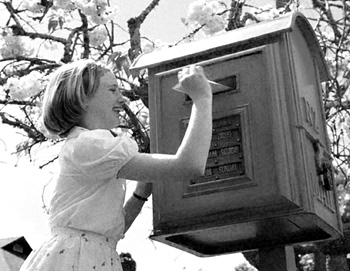 Red-Letter Box Day: Young Elizabeth sends a letter to her namesake the queen in 'Her Majesty.'

Queen for a Day

'Her Majesty' is solid fare for tweeners

By Richard von Busack

IT TAKES sitting through the collected oeuvre of Hilary Duff to impress you with the need for solid fare for teens aged 12 to 16. The locally produced, mostly for tweens Her Majesty fills that particular bill. Her Majesty was directed by Mark J. Gordon and executive-produced by Lisa Gordon—not billed as "A Sister to the Director" as the credits in one of John Landis' films had it—who helped midwife the film, years after the script won a screenwriting award at Sundance.

The shot-in-New Zealand comedy is about a young girl's pash for the newly crowned Queen Elizabeth, as well as her effort to get the monarch into her small town. Middleton, New Zealand, in 1953 evinces a kind of boredom that time has made picturesque, where Saturday is spent waxing cars and dining on legs of lamb. When not mooning over her sovereign, young Elizabeth (Sally Andrews) is drilling in the schoolyard with the girl grenadiers. She's also warding off her dangerously bullying brother, Stuart (Craig Elliot), who has a racist streak.

An elderly Maori woman (Vicky Haughton, plainly too young for the part) lives in what the local white kiwis consider an eyesore shack. When the possibility increases that the queen might come to the area on tour, Stuart and his vandalizing friends get into action, as does the queen bee of the local rhododendron society (Liddy Holloway). At this point, Elizabeth has already learned so much about the unhappy history of her nation that she is ready to side with the Maoris.

Former Mountain View director Gordon had longed to return to New Zealand after a trip there. Thus he came up with the idea of a story to be made on the archipelago. His film was optioned at Sundance 1989, when it was selected as one of the nine projects greenlighted out of 500 submissions. Unfortunately, he never managed to get it produced.

After years of delay, Gordon's sister, Lisa—an ex-sports marketer from ProServ and a political media consultant—assembled a fund to buy the script back and produce it on their own. Their partner in the enterprise, Susan Hailey, got together some 30 locals to form the Silicon Valley Fund to finance this little movie. "Sixteen years from script to screen," Lisa Gordon says.

Her Majesty already played in New Zealand in 2001 and has turned up at numerous film fests, including the Mill Valley Film Festival. Gordon says that this limited local distribution of Her Majesty is meant as a platform for a bigger release. The 4-year-old movie may be indie, but it has several major talents attached, including photographer Stephen Katz of Gods and Monsters and producer Walter Coblenz (The Onion Field, All the President's Men). Despite the undertones of exposed racism, it is heavy on the sweetness and light and tends to feel like a vintage piece of Commonwealth kids' literature. It is nothing if not restful, though, and there's a beautiful red vintage car in it called a Zephyr. The toylike chubbiness of this Southern Hemisphere auto befits a fairy tale that ends with a bit of Queen ex Machina.
---
Her Majesty (PG; 105 min.), directed and written by Mark J. Gordon, photographed by Stephen M. Katz and starring Sally Andrews and Vicky Haughton, opens Friday at Ciné[email protected] Row and Mountain View 16.
---
---
Send a letter to the editor about this story to letters@metronews.com.
---
[ Silicon Valley | Metroactive Home | Archives ]