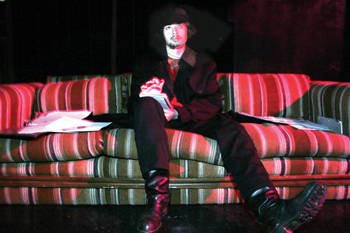 Photographs by Felipe Buitrago

Couch Poet: Matt Miyake of Pioneer High School prepares for his three minutes in the slam spotlight.

School of Slam

Today's teenagers turn poetry into spoken-word power at high-velocity slam competitions

By Vrinda Normand
---
I am the one that in silence
thinks, feels and prepares
For the day when my tongue unleashes a voice so powerful
That it will transcend the
boundaries of your ignorance.
Mixing when necessary mis
palabras with your words,
I will be silent no more.
Marisol Barrera,
Latino College Preparatory Academy
---
AS FLICKERING candle flames illuminate the faces of a hundred teenagers, excited chatter buzzes over the hip-hop beat spun by the DJ at the side of the stage, a simple platform modestly adorned by an ashy mural scrawled with poetic graffiti. On this rainy January night, the downtown San Jose theater with cold concrete floor and dingy black curtains has become a haven for the spoken word. Master of ceremonies Joe Gaeta takes the microphone, quieting the applause with a cheeky grin and a wave of his hand. His G-rated humor endears him to the crowd and smooths the transitions between dramatic goth kids, spunky hip-hop kids and meek-looking "loner" kids who use the element of surprise to unveil their hidden passions.
Gaeta picks five judges from the audience who will rate the performances from 1 to 10, based on performance, writing quality and, often, subject matter. A performer is docked for going over the three-minute, 10-second time limit, while the highest and lowest scores given to each poem are thrown out. The crowd responds with cheers or hisses to the self-strung soliloquies, heightening the energy and opening new ears to an art form that has traditionally been confined to quiet bookstores.
T.J. Senot from Fremont High School glides onto the stage. His dark hair is buzzed close to his head and his knees bounce under his baggy pants as he pounds out his words.
---
Stab me in the back, not soft but hard
Harder than the calluses of
your corrupted conscience
The violence and nonsense of
war leaves you unfazed
Your eyebrows uncocked,
unraised
Kids, we're still stuck in
this Bush
With a Dick to push us back in.
T. J. Senot
---
He delivers the last line with a thrust of his hips, hurling most of the kids into laughter. Among the smattering of adults in the room, eyebrows lift and lips turn up in surprise. A few Republican parents shift uncomfortably. Martin Arroyo from Mt. Pleasant High School uses his moment in the spotlight to vent his frustrations with his father. He holds the microphone in one hand and points his finger with the other hand, his tall frame slouched under the weight of his raw emotion.
---
OK, Dad, let me get this straight.
Is this one of those
conversations
Where you run around
on your
Track of hypocritical lies?
I've had it with you calling me stupid
Saying you're right all the time.
There are other racers in this race
And I've been training a
long time.
Martin Arroyo
---
Students from the Gunn High School team ease the mood with a bit of comic relief. Becky Bob-Waksberg elicits hoots and thunderous applause with her insight into a trademark of today's teen culture: cell phones. Her curly hair and horn-rimmed glasses accentuate her theatrical flair as her hands make gestures for each clever line.
---
I was the last senior in high school without a cell phone
The last senior in high school
without a personalized
ring tone
The last not to succumb to
the surprising sensation
Of vibrations in my back
pocket.

I was the last 17-year-old who
didn't have a cell phone
The last 17-year-old not worried about coverage zones
The last to have the need for the number C-A-L-L-A-T-T
The last to admit that people
aren't clamoring to call me.
Becky Bob-Waksburg
---
This poem, along with polished performances from the rest of the team, helped Gunn win the slam that night at MACLA. The successful turnout signaled a promising transition for the South Bay Poetry Slam League, which has in the past two years at least doubled in size and gained recognition on the national teen slam scene.
---
Your fingers strongly caress my eloquent mixture
My intimate elixir of lyrical
overflow that vomits from my lips
While your eyes purposely stare down at my hips
Because I'm a waitress for
your convenience,
For your acceptance but I
don't get any tips.
Renae Garcia,
Mt. Pleasant High School
---
Someone slipped a copy of this poem under the door of her parents' bedroom, and when 16-year-old Renae Garcia came home from school that evening, she knew something was wrong. Her dad, who is a Christian minister, sternly asked her what the poem was about, particularly concerned about the reference to getting tips.
Renae wanted to say that those words were condemning the image they conjured, of nasty boys pushing girls to conform to a sex-symbol mold. She wanted to say her lines were mocking those who see themselves only through other people's eyes. But she couldn't, because she felt they wouldn't understand anyway. She looked down at her feet and said she didn't know what the poem was about. Her father said he didn't want to be there when she performed it and she responded, "Fine."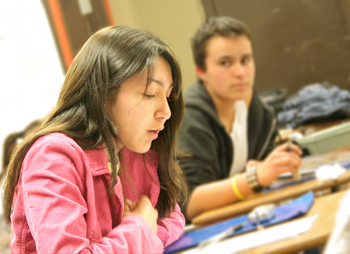 Automatic, Dramatic, Pragmatic: Renae Garcia keeps the verbal flow pulsing.
The next day, she earned her highest score at the league slam.
Renae's mom, Linda Garcia, says she and her husband "don't care to listen to a lot of things that are negative, that are evil." They're proud of their daughter's talent, but they don't agree with some of the things she writes.
"Don't expect us to support it," they tell her.
While we chat at a coffee shop, Renae tries very hard to maintain a meek, good-girl veneer. She wants to show more respect for her parents, she says. Her family eats dinner together every night, after which her father leads a Bible study. Her conservative Protestant family stands out from the largely Catholic Latino population in her east San Jose neighborhood.
Renae's attitude, however, is too strong to be suppressed. It peeks out of every paragraph and fuels her initial response to her parents' censorship, "That's real life. Get off it. Nothing's perfect." She has honed the art of raising one eyebrow while tilting her head to the side as if to say, "Uh huh. That's right."
This feisty sophomore brings the same energy to poetry slams.
When she steps onstage, she means business. "If it wasn't for the competition, I probably wouldn't do it," she admits. She has dedicated time and energy to polishing her work, memorizing her words and practicing her vibrant delivery. Her petite form sways as she smoothly releases a breathless tumult of words: "Don't you know that I'm an automatic, dramatic, pragmatic, chocolate attic, possible asthmatic but not for oxygen. Mainly for your attention."
She ends with a triumphant smile and hops back to her seat, where she carefully writes down her score. At every slam, she keeps track of her main rivals, and while few other kids seem to pay attention to individual numbers, Renae is intent on winning at every level.
Her new target is a student from Fremont High School, Caitlin Cook.
---
Suck that spaghetti noodle that feeds your greedy mouth
With stolen strands of me.
I stay around and bear the
fork that stabs me
Through the stomach that
you tell me isn't perfect.
Thanks for reminding me!
I must have forgotten to
look at myself in the
mirror this morning.
Caitlin Cook, Fremont High School
---
With all the frustrated fervor of a teenager juggling matters of the heart, 17-year-old Caitlin Cook shoots her words like darts into the audience, her black-lined green eyes accentuating the intensity of her performance.
She begins her poem by crooning the first lines of a few classic love songs and rapidly shifts her mood to upbeat cynicism. "Love is ... unhealthy. The one and only invisible disease eating away at the nonfunctional yet overfunctioning heart ..."
Last year, Caitlin was blindsided by the predictable way in which her summer romance ended. She thought she was above the conforming restrictions of high school, but apparently he wasn't. Most kids calls Caitlin a "gothic white girl," but she prefers the nonlabel "eclectic."
Her boyfriend, however, was a popular Filipino who ran with a similar crowd—one she didn't belong to. The social politics didn't matter during the summer, but when school started and they entered their senior year, the two parted for opposite ends of the spectrum.
"I was so sure that wasn't going to happen," she says, smacking her palm against her forehead. At least the pain caused by this experience inspired a hit slam poem.
When Caitlin joined the slam team her sophomore year, her coach, Margaret Reynolds, says her cheeks would turn as red as the curly hair she was twirling as she shyly recited her poems. "Now she can just spit out the most amazing poetry," Reynolds says. Caitlin's strong stage presence turns heads and keeps people attuned to what she has to say.
Writing has often helped Caitlin get through her growing pains. Freshman year, she kicked her smoking addiction by sticking her nose in a journal and holding an incense stick when a craving arose. When she was 15, she composed a rant about the limitations of her driving permit, and this year, she crafted a dramatic piece out of a quarrel with a close friend.
Caitlin looks back at her binder full of early scribbles and rolls her eyes. "What was I thinking?" she asks herself. "I don't even know what I was talking about and I wrote it." Training on the slam team has helped Caitlin write with clarity so she can show her audience exactly what she's feeling. "If the poem has no connection," she says, "it's just words coming out of somebody's mouth."
---
"Chicano Messengers"
Don't shoot the messenger
If the message don't suit you
If we spell our reality in
terms you're not used to
If the rhymes we write
Represent images of an
imminent threat
The challenge to change is laid
in your way
We are merely messengers
Paul Flores, program coordinator,
Youth Speaks
---
At Yerba Buena Center for the Arts in San Francisco, the lights dim on a full house of young people clad in denim, hoodies, knit caps, head wraps and oversized silver hoop earrings. The spoken word show in commemoration of Martin Luther King Jr. has sold out—hundreds of teens fill the chairs and flow into the side aisles.
Two DJs quiet their throbbing beats as the introductory performance begins. From the back of the room, Paul Flores strides through the center aisle booming lines from "Chicano Messengers."
The 31-year-old nationally recognized slam poet has appeared on HBO's Def Poetry Jam series and works as the program coordinator for the San Francisco-based Youth Speaks, a nonprofit organization that promotes spoken word poetry among teenagers largely though outreach in high schools.
Flores tosses the poem to another speaker, who then passes it on to another and so forth, as the heads in the audience swivel back and forth to glimpse the source of poetic incantation among them. Finally the audience focuses on the stage as master of ceremonies Ise Lyfe takes over, backed by two DJs and a powerful sound system. He hops and gyrates like a rapper while shouting into the mic, "San Francisco, make some noise!" He tells everyone to stand up and stomp their feet, beginning the evening with an energetic thrust that more closely resembles a hip-hop concert than a poetry reading.
Youth Speaks has played a role in the crossover between spoken word and hip-hop—tonight's poetry performances are interspersed with musical numbers. The trend also goes the other way; Youth Speaks artists are being featured at shows for musicians like Blackalicious and Zion Eye.
"Hip-hop is the language of young people," Flores says, just as rock was in the '50s. His organization is using that language to communicate to a new generation of poets. Youth Speaks has established a national network called Brave New Voices, which includes 35 partner organizations and reaches more than 10,000 kids yearly through organized slams. In the Bay Area, the nonprofit conducts poetry workshops and demonstrations at 50 schools. Every year, Youth Speaks hosts a national youth slam in which teams from around the country compete. Ten new teams join the network this year (making 36 total)—and the South Bay is one of them. Five teenagers, one from each school in the league, will represent their region for the first time on the national stage in April.
---
These are the boots that love
the smell of napalm in
the morning
These are the boots that
stagger through sand
across burning, bloody land
Arteries tapped like oil
reserves that all too soon
stop spurting
These are the boots of our president
Though his own have never
marched.
But these boots, this pair I wear in protest
These boots march to the beat
of a different drum
They drum out a rhythm and
the beat goes on and on
Steady as father time they
march, shouting we shall overcome.
Matt Miyake, Pioneer High School
---
On a sunny afternoon in the Almaden Valley, rowdy students have crowded the outdoor quad at Pioneer High School. Wendy Savinar, the slam-team coach, greets me in the main office with a flustered expression. Sauntering behind her is Matt Miyake, a 6-foot-2 17-year-old dressed entirely in black, from his silver-buckled boots to his trench coat. His pale skin and wavy dark hair complete the image of an eccentric goth, although his gentle brown eyes belie any hint of toughness his exterior might suggest.
He offers me a saltine cracker from the stack that he is munching on. I decline, and he shrugs as he coolly follows us outside to the classroom where the slam team is meeting.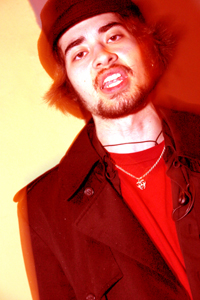 Word Weaver: Matt Miyake enjoys the free-form relief of the spoken word.
On the way, the three of us wade through a swarm of teenagers. We pass a group of at least six girls posing for a picture in matching pink berets. Several robust boys are shoving each other around, and one accidentally topples into Ms. Savinar. She tells them to watch out in a high-pitched voice and glances over her shoulder at me with that same expression. Matt grins and glides through the chaos with ease.
His existence on the social fringe seems to be softened by his handsome features and quirky sense of humor. "I'm the only one who comes to school with my shirt actually tucked in," he points out. Or maybe his confidence comes from the way that he can stand up from his desk and rain down a torrent of political anguish entirely from memory.
As he performs, his hands sway from side to side and his slightly bent knees rock back and forth. He inhales sharply between every couple of lines to keep the flow moving fast.
For this high school senior, the craft of weaving words into webs of metaphor and alliteration provides a free-form relief from the structured essays he forces himself to produce in English classes. He has also lost any stagefright he may have started with—for the league slam in October, he wore his Halloween costume of Captain Jack Sparrow, complete with puffy sleeves, double fly pants and his signature black boots.
---
This is more than just a genre
of music; it's a gospel.
Mutual admiration for this
phenomenon has crowds
swaying in unison
Heads nodding to the
mesmerizing melody floating through both ears
Ascending hands reaching
up to the sky tryna touch LORD ALMIGHTY
'Cuz it's like finding the holy
hip-hop ghost.
Liz Mullen, Fremont High School
---
With the swift cadence of rap and the defiant spirit of old-school hip-hop, today's spoken-word poetry is a far cry from the beatnik coffeehouse scene of the '50s and '60s. Whether or not they don the style of mainstream youth culture, most young poets write from a lyrical tradition that is rooted in the urban revolution of the 1980s.
"Hip-hop was born out of resistance," explains Bruce George, co-founder of Def Poetry Jam, the HBO show that features spoken-word artists from slam and hip-hop backgrounds. He speaks to a small gathering at the Riekes Center in Menlo Park. "When we wear our pants hanging off our behinds, that's a way of mooning the system," he says.
The same applies to wearing baseball caps backward, leaving shirts untucked and speaking truth to power. But the commercial mainstream has sucked the life out of hip-hop culture. The genre has become "rich financially and poor spiritually," George believes.
Spoken-word poetry is where hip-hop was 20 years ago, and it is quickly gaining popularity among those who are trying to maintain the integrity of the musical art form. George grew up in the Bronx when kids were starting to tap rhythms on desks, make sounds with their mouths (beatboxing) and spray lyrics on walls. His early training as a rap artist prepared him for an easy segue to spoken word, which often adopts the feel of hip-hop without the rhythmic constraints. When he first heard it 12 years ago in Harlem, he thought, "Wow, this shit is hot."
The television series he created with Russell Simmons, now entering its fifth season, has boosted spoken word closer to mainstream success. Poets are releasing albums as alternatives to the hip-hop moguls that glorify money, misogyny, drugs and violence. "The powers that be are not happy," George explains as he leans forward in his chair, "because the poet is the most dangerous person on Earth."
Now kids are using that edge to make their voices heard. Rocco Kayiato (a.k.a hip-hop artist Katastrophe) won the annual Youth Speaks slam in 1998 when he was hanging on as a C student in high school.
He felt like he had little control over his life until he found his place in the spotlight, where people actually listened to his words. "In that moment onstage, kids feel confident. You can't shoot that down," he says. "When they go up there, they get respected as people."
---
Her beautiful soul touches my pain and I cry
I cry for this girl that has to be strong
Strong to surpass all the obstacles that are placed in her way
Like perverted men forcing her to open her legs.
Their vulgar eyes undress the cloth that conceals her childlike body
Horny, hairy men fantasize about something she will never know.
Yosimar Reyes, Latino College Preparatory Academy
---
These steamy words sink into the pages of a journal that 16-year-old Yosimar Reyes guards with his life. The smooth leather-bound notebook rides in his backpack wherever he goes, and every two weeks he finds a new hiding place for it at home. Because home is the living room in a two-bedroom apartment that he shares with his older brother and grandparents—in addition to the six other people who occupy the bedrooms.
He usually finds it too distracting to write while his grandmother's novellas are blasting from the television, so he locks himself in the bathroom. Pretty soon, though, someone bangs on the door and breaks his moment of peace. The closest semblance of privacy he finds is at the back of the city bus, where he steals minutes to jot in his journal.
It's relieving to write things down, he says, but it's also dangerous to commit his thoughts to paper that could fall into the wrong hands. He can never fully let himself go because of this fear.
Still, Yosi's writing has a searing quality that contradicts his gentle demeanor. His soft voice thoughtfully explains the circumstances that inspired the graphic poem about his younger female cousin. They were riding bikes together through a parking lot crowded with Mexican day laborers. Yosi says the men's stares seemed harmless but he caught the intention behind their eyes and it bothered him. "I just got that vibe that something was not right," he says. He sees the same thing at the liquor store on his block, where men loiter, drink and hoot at women passing by. "I find it offensive and degrading," he explains, his dark eyebrows furrowed with concern. "Especially for a girl just stepping into puberty and not feeling that comfortable with her body."
This concern extends to his other female relatives, whom he observes closely for writing material. He notices a pattern in the way they act, in the way they talk incessantly about marriage and looking for love. They talk to him about their issues, and most of the time he doesn't know what to say. But he doesn't mind listening.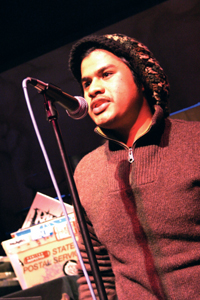 Coping Strategy: Slam events help Yosimar Reyes deal with the hardship in his life.
For this high school junior, writing is a way of dealing with the material hardships in his life. His brother recently had to drop out of San Jose City College to help his family earn money, but he says he would sooner live under a bridge than stop going to school for work. Maybe he'll write his way to a scholarship at the University of California at Berkeley, but for right now, his pen is a way of understanding himself. "How am I going to get to know anybody if I can't get to know myself?" he asks.
---
I grow my bangs to try to cover the scars that aren't cuts or bruises
But rather the physical trenches of a psychological battlefield
The war against a system that says, "Do your homework, get your grades,
Do extracurricular and you've got it made."
And it's one thing knowing
the tic is the precipitate
of a super saturated life,
But it's a different matter putting that knowledge
to use,
Not letting stress lift your hand up to tattoo its name on your forehead.
Nate, Gunn High School
---
Soft lighting complements warm tones at the Art 21 gallery where the Palo Alto slam team hosts its bimonthly competitions. On this third Sunday in January, the adult team is featuring the teen talent from Gunn High School.
Fifteen-year-old Nate (who asked not to give his last name) stands in front of 40 people, a royal blue mosaic and grand piano framing his background. His tall frame slouches as he stares at a piece of paper, a security blanket that he doesn't actually need to read from anymore. He's performed this poem several times already.
As he begins to explain his three-year-bout with tricholomania, a disorder that causes him to pull the hairs from his eyebrows, his voice wavers. After the first few verses, he gains momentum, pulls his eyes from the paper and looks out into the crowd. His long arms gesture toward his face, which is halfway hidden by a mop of shaggy brown hair.
It's not financial poverty that burdens this teenager, but the overwhelming pressure to succeed in a high-powered world. He's only a sophomore and he's juggling chemistry, trigonometry, world history, French, photography and literature, in addition to extracurricular activities like cross country, track and field, the literary magazine and, of course, the slam poetry club.
He wrote this poem about his stress-related disorder to educate people so they would think before they asked touchy questions (which also means he shies away from further prying for this article).
Ironically, performance poetry allows kids to bring up very personal issues in front of audiences (often filled with their peers) even though they avoid such topics in general conversation. The outlet has become a sort of therapy for some teens, who use it to tackle painful memories such as domestic abuse.
Lee Knight Jr. of the Palo Alto slam team works with the Gunn High School team on a regular basis and steers the kids away from simple rhymes and shallow subjects. He also helps them project their voices and get over their shyness because the poems they write are meant to be heard.
The teenagers, Knight adds, have more confidence than you might think. "After they take the paper away from their faces, they start realizing their words have power."
---

Slam Zone

THE SAN JOSE arts organization MACLA initiated the South Bay slam league in early 2003 with Ruben Zamora from Fremont High School (Sunnyvale) and Wendy Savinar from Pioneer High School (San Jose). When the second season started a half-year later, Mt. Pleasant High School (San Jose) joined. Gunn High School (Palo Alto) and Latino College Preparatory Academy (San Jose) started competing in the fall of 2004. Spoken word has become a steady extracurricular activity on these five campuses with at least one teacher's guidance and the help of an outside mentor.

Slam clubs include up to 30 kids who prepare for competitions, when only five will represent the team. This is quite a change from the early days of the league—Matt Miyake from Pioneer remembers only 20 kids gathering for slams, which didn't have time limits because there weren't enough people to perform.

The league has developed a steady set of events for each season: a tournament held at one of the high schools to give kids detailed feedback on their performances, monthly slams at MACLA to prepare for larger competitions such as the season's final slam and the yearly grand slam that determines the league champion.

A recent increase in leadership from MACLA aims to expand the league as it enters its third year. On Feb. 11, the organization started conducting weekly poetry workshops with mentors from Youth Speaks, free to all kids who want to try their hand at spoken word.

For more information, contact Fred Salas at 408.938.3594 or [email protected]

Vrinda Normand



---
Send a letter to the editor about this story to letters@metronews.com.
---
[ Silicon Valley | Metroactive Home | Archives ]