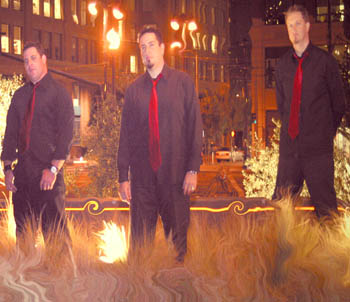 Ones and Zeros takes a regimented approach to rock.

'Chrome' Finish

Ones and Zeros gears up to release its third album

By Sarah Quelland

MY DREAMS OF major-label blah blah blah and all that, it's not what it used to be," Ones and Zeros vocalist and guitarist Jesse Gould confesses. "Ten years ago, that's all I cared about. Now, I would just like to have a solid group of people interested in what we're doing so we can keep doing what we're doing."

Being in that headspace might explain the dispirited outlook on Ones and Zeros' new album, Chrome. Still, as Gould suggests about his lyrics, "There's a glimmer of, not necessarily hope, but just the tenacity of human nature, the ability to just deal with things that bring you down."

Chrome was produced by Billy Gould, the one-time Faith No More bassist and founder of the new Kool Arrow Records label, and the record was mastered by Primus engineer Ron Rigler. Billy and Jesse share no common family ties, but they do share a common interest in digital recording. Given the opportunity, Jesse cultivated a working relationship with Billy and says his approach to production was instrumental in creating the sound on this record. "I feel we brought it back to where we started," Jesse says, explaining that this third record finds the band putting the emphasis on synth and groove.

Much like God Lives Underwater's underrated Empty, OAZ's songs use hard electronic music to enhance its masculine, heavy-rock sound, the result being something like Alice in Chains meets Filter. Gould (meaning Jesse from here on) agrees that Alice in Chains had a big influence on him and says he was blown away when he first heard Filter. "I was like, this is it! That's what I want to do."

Thematically, Chrome addresses intense feelings of exhaustion ("Dying Man"), abandonment ("Waiting") and betrayal ("One Time"), and of being overwhelmed ("U.T.S.") and fed up ("Fine Like Nothing"). The band's thick, bristling cover of Depeche Mode's "Policy of Truth" fits right in.

Referring to that and the cover of the Cure's "Fascination Street" found on second album Protocol, Gould says, "I always wondered what Big Bob would think if he heard our version of his song, or if David Gahan took a listen, if they would dig it or if they would think it was blasphemy and hate us for turning it all down-tuned and guitar driven."

In addition to creating compelling music, Gould feels its crucial to put on an entertaining show. He's been streamlining the band's image and, since OAZ plays to sequenced tracks anyway, he's used his PowerBook to create a video imagery sequence that's programmed in time with the music. "If people aren't entertained by what you do," he insists, "they're not gonna come see you play, and they're not gonna buy your music. I wanna be an entertainer to everybody else, because the only person I really need to vindicate my artistic belief to is myself."

OAZ has accomplished a lot in its run, including the opportunity to play alternately for Creed and Seether fans at Shoreline Amphitheatre. With Chrome ready for release, Gould's wish is simple. "I hope people like the record," he says.

It's already sparked interest. KSJO's Sloppy Joe is spinning "I Can't Feel" on Sunday night's Home Grown show, and OAZ is one of the few local bands whose songs are available for download on iTunes. To properly debut the record to South Bay fans, OAZ's Gould, drummer Rocky Lewis and bassist Mike Lee are throwing back-to-back CD-release parties: one with Drist, Unjust, SECURITY and Splyt this Friday (Feb. 20) at the Edge in Palo Alto and another with Spider Goulah, Red Cel, Mindeye and Lavish Green this Saturday (Feb. 21) at Pine Street in Livermore. Visit www.theonesandzeros.com.

HOT TOPIC: South First Billards celebrates its 10-year anniversary and the opening of its new lounge, elixir, this Tuesday (Feb. 24), 6-9pm with a VIP cocktail party. ... The Huxtables, Kennedy, Melee, Stunt Monkey, Out of Fiction, Joy's Panic and the Chaperones play Grand Fanali Presents' 8th Canopener, a benefit for Second Harvest Food Bank, this Friday (Feb. 20) at St. Bede's Church in Menlo Park. Visit www.lgouthouse.com. ... Noise Pop 2004 starts this Tuesday (Feb. 24) in San Francisco. Visit www.noisepop.com for the schedule.

PLAN AHEAD: The Shitkickers, Feb. 21 at the Blank Club; Day One Symphony, bATES, Morning Calling and Mercury Sound, Feb. 22 at the Gaslighter Theater in Campbell; Plans for Revenge, Feb. 25 at the Gaslighter Theater.
---
Send a letter to the editor about this story to letters@metronews.com.
---
[ Silicon Valley | Metroactive Home | Archives ]