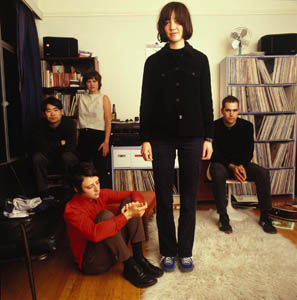 Back That Thang Up: The Aislers Set gets the most solemn indie crowd to dance.

Scribble Jam

While the White Stripes play private shows for celebrities, the Aislers Set plays basement parties. The group couldn't be happier.

By Traci Vogel

AFTER HE went to see the Aislers Set play a 3pm all-ages show at a laundromat-slash-rock-club in Seattle in December 2000--on the same bill as a then equally little-known act called the White Stripes--a friend of mine called me up raving.

"You wouldn't believe how good they are," he said. He was having a hard time catching his breath, and I joked that if he kept getting that excited he'd have to quit smoking. "Yeah," he said. "Otherwise, next time I won't be able to dance so much."

Dance? This was Seattle, still reluctantly post-grunge. People didn't dance. And my friend, a tall, gangly careful vegetarian, definitely didn't dance. But as I was to learn when I saw the group play a few months later, you dance to the Aislers Set.

The Last Match, the Aislers Set album showcased that afternoon that left my friend breathless, arose from introspective eight-track sessions in Bay Area musician Amy Linton's basement. Linton cut her musical teeth in Henry's Dress, a band that achieved some success, but whose dark, dense sound didn't really do justice to Linton's pop lyrical gifts. Her experience in Henry's Dress, however, did allow Linton to gather the musicians--Alicia Van Denheuvel, Yoshi Nakamoto, Jen Cohen and Track Star's Wyatt Cusick--who would bring her eight-tracks to jangly life.

With The Last Match, a sound coalesced that allowed Linton to mull over '60s pop influences while standing legs akimbo in 1990s Bay Area dance politic. "The Way to Market Station," for example, kicks off with a reverb guitar rhythm that riffs off Iggy Pop's "Lust for Life," then jumps into lyrics like "I'm frightened of the cancer on their faces."

The Aislers Set's newest CD, How I Learned to Write Backwards (Suicide Squeeze Records), continues this dark/light tradition, sending tambourine sweetness into a San Francisco sky that "the queers and the boys and girls raise high." Judging from her lyrical and musical influences (she acknowledges lifting from the Smiths and Leonard Cohen on How I Learned), Linton sees her world as half war zone, half Weimar-style stage set--and melancholia is a friend in 2/4 time.

How I Learned seems to be set up in the form of a pop opera. The song list is divided by years--1972, 1991 and 1993--and each year's songs address broken relationships. As is so often the case, these relationships bleed into one another, with their ambiguous accusations and their "atavistic take on my commitment."

The pop-opera comparison is apt in that it also reflects Linton's wide stylistic range. "Mission Bells" is an infectious pop riot, backed up by an almost surf-music minor guitar. "The Train No. 1" starts out with a theatrical piano and prances its way into a punk-rock wail.

Linton's vocal phrasing is intelligently unpredictable, and reading the lyrics on the CD jacket gives absolutely no indication of how they'll end up fitting into the pop-music format. "I don't need no more warning the morning's over, and this isn't my room. But I could care less if the kettle steam peels the paint from the ceiling, let it crawl down to the wainscot" hardly sounds melodic, and yet this track ("Sara's Song") exudes college-radio catchiness.

It's instructional to note the parallel careers of the Aislers Set and its early tour-mates the White Stripes. Both critical darlings, the Aislers Set is hardly better known than it was in 2000, while the White Stripes perform private shows for the likes of Nicole Kidman. I have the distinct feeling that the Aislers Set's basement existence will serve it--and indie-pop music lovers everywhere--better in the long run.
---
The Aislers Set performs March 6 at the Great American Music Hall, 859 O'Farrell St., San Francisco. Tickets are $11 and available at Virtuous.com or at the box office. (415.885.0750)
---
---
Send a letter to the editor about this story to letters@metronews.com.
---
[ Silicon Valley | Metroactive Home | Archives ]