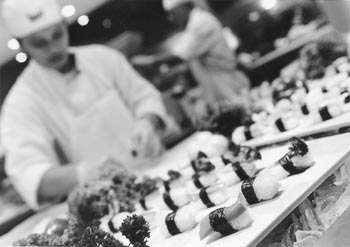 Photograph by Erika Pino

Nigiri Madness: Sushi chefs at Todai are prepared for buffet appetites.

Sushi for Short Attention Spans

Japanese kitsch and Vegas bombast meet head-on at Todai

By Todd Inoue

TODAI IS NOT a peaceful place to eat. The ceiling is painted Marge Simpson hair-dye blue, the zealous wait staff hustle and bustle in floral shirts and happi coats. Crazy birthday songs and an omnipresent yellow spokesthing ("Todai-chan") scream Japanese kitsch. Hosts even yell the standard sushi bar greeting--"Iraishaimase!"--to entering guests. All of this combined with the spot lighting gives Todai a space-age pinball feel.But if your idea of serenity is to graze contentedly over yards of freshly prepared sushi and Pan-Asian specialties, Todai may be your nirvana.

Since the Vallco opening last Mother's Day, the buzz has calmed down slightly. On a Friday night, eight of us got in after 45 minutes of waiting and light badgering. That's pretty good for a Friday night at a 9-month-old restaurant. Even better, on a recent Thursday night, there was no shortage of open tables, and two of us got seated right away.

Billed as a Japanese seafood buffet, the Santa Barbara-based chain doesn't limit itself to Japanese dishes. Pan-Asian and just plain odd specialties rotate. Baked fish, Cajun crawfish, scallops, snow crab legs, baked lobster thermidor, fried rice, miso soup, teriyaki chicken were offered. Shrimp seems to be a constant, appearing atop nigiri, salted and spiced, rolled in coconut breading and deep fried, or naked, with cocktail sauce. A scrapplelike combination called Seafood Dynamite mixed clam, shrimp, crab, scallop, seasonings and jack cheese atop an open clam shell.

For a buffet, Todai manages to combine adventurous things with the standard fare. The green mussel salad was a nice surprise, featuring the bivalves tossed with green and red bell peppers, red onions and a sweet, soy-based glaze. The Hawaiian sashimi salad resembled poké. The most unusual item was jackfruit sushi, a slice of tropical fruit with a slight durian smell lounging on vinegared rice.

Sushi chefs at the nigiri station were slapping and rolling the stuff like it was an Olympic competition. Hand-shaped beauties, tempura rolls and passable futomakis of all shapes and contents fed a ravenous line of folks. One can grumble about the methods of preparation, but for a buffet it was tasty, generous in size and very fresh. In Japan, sushi isn't made to be gobbled down, it is meant to be appreciated and savored. Ever wonder why they're so small and intricate? Educated diners will know the difference between Todai and one of the valley's finer sushi establishments.

The biggest surprise at Todai was the udon and ramen station. The Tokyo subway staple had everything you'd expect: nice, fat wheat noodles, green onions, fish cake, a tempura shrimp and seaweed swimming in a competent fish broth. The crab legs and lobster claws were the low point. Both are served chilled, rendering the meat tough and a battle to get to. Plus they're messy as all get-out. The crab was slightly better than the lobster but would be improved if served steamed with drawn butter.

Desserts bested other buffets--no frogurt here. Teeny tiny cream puffs and cheesecakes make sampling fun. Green tea cheesecake and tiramisu were faithful. The crème brûlée might be the most authentic thing on the menu--its fire-blazed sugar top crumbled with the introduction of a spoon. But on a different visit, the soufflé dish was swapped with a bulky pan--crème brûlée for the masses. Crepes, made to order, were so-so. The dessert cookies resembled Cookie Crisp cereal, so skip those.

Todai is short-attention-span dining. The chain is predominantly based in malls--there are locations at the Eastridge Mall, Stoneridge Mall (Concord) and Sunvalley Mall (Pleasanton), and a Daly City location will open in mid-2002--giving a clue to the target audience. Don't go to Todai expecting Nobu. Do what everyone else does: loosen up, undo a belt notch, load up on sushi, shrimp and crab legs and everything will be OK.
---
Todai
Address: Vallco Shopping Mall (near Sears), 10123 N. Wolfe Rd #2001, Cupertino
Phone: 408.996.3444
Hours: Lunch 11:30am-2:30pm daily; dinner 5:30pm-9pm Mon-Thu, Sun and 6pm-10pm Fri-Sat
Buffet Pricing: Lunch $12.95 weekdays, $14.95 weekends; dinner $21.95 weekdays, $22.95 weekend. Children 5 feet and under are half-price, 4 feet and under $5.95, 3 feet and under $3.95, 2 1/2 feet and under free.
---
[ Silicon Valley | Metroactive Home | Archives ]