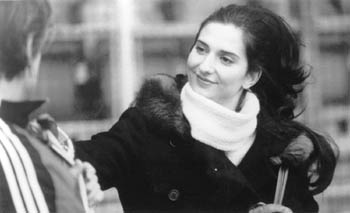 Foreign Climes: Sara Indrio Jensen plays an Italian girl stuck in a strange town in Denmark in 'Italian for Beginners.'

Bellissimo

Denmark's 'Italian for Beginners' gets far on charm

By Richard von Busack

THE NEW Dogme film Italian for Beginners is a wonderfully charming piece by Denmark's Lone Scherfig. It does what a Dogme film ought to--it reveals the possibilities in cheap camera work, nonstar actors and found locations.

Scherfig has made the most deliberately funny film of its austere class. The constant interior shots, bland and drab, help make the final scenes in the outdoors seem all the more liberating. The following-around of nice but unappreciated people delivers in the finale. It's sweet, this film, but it's mostly sweet-sour.

The setting is a part of Denmark that the tourists never see, because why would they want to? This no-name town can't be called squalid; squalor takes more energy. Its inhabitants' rounds include one dull hotel sports bar, one unappetizing bakery, one beauty parlor, a cancer ward and an adult-education center.

A group of middle-aged students meet for Italian lessons, trying to master the sunny tongue in hopes of thawing out their love lives. One student is Andreas (Anders W. Berthelsen), the area's new Lutheran pastor, whose wife died under clouded circumstances.

Andreas is being hazed by the church's former pastor, Wredmann (Bent Mejding), whose frothing saliva literally still stains the church's podium. The former pastor lost his faith and now hangs around the church, carrying on about the death of God like Richard Burton in Night of the Iguana. Some consolation to the pastor is a pleasant but extremely clumsy bake-shop girl named Olympia (Anette Stovelbæk).

The flirtatious hairdresser Karen (the humid-eyed Ann Eleonora Jorgensen) works at a nearby salon, where she has a fling with the manager of the hotel's bar, Halvfinn (Lars Kaalund), a thoroughly ornery party whose roughhousing of the customers is costing him his job. "This isn't an orphanage," he snaps at his patrons, who are pleading for food and drink.

This malcontent's supervisor and chum is Jorgen, a square's square (Peter Gantzler, the Fred Willard type). He suffers from worries of his own: he's lost his sex drive for years. This is all the more upsetting since Jorgen has a reciprocated crush on the pub's waitress, a pretty Italian girl named Giulia (Sara Indrio Jensen).

Morose Bay

The more customarily Dogmatic scenes are included, such as Karen wrestling her demented and terminally ill mother back to the hospital. But the anguish can't hide this film's links to the dreaded romantic ensemble comedy. Still, Italian for Beginners displays a basic moroseness that justifies its fluffiness.

The horrible old pastor Wredmann, who lost his faith, blurts out something poignant: "God took her away from me, and she took God away from me." When we see something that looks like slapstick, it turns out to be the results of fetal alcohol syndrome. And the standard lover's quarrel isn't just occasioned by a gentle misunderstanding but by a loud barroom insult to a woman's dead mother.

Italian for Beginners makes a comedy out of disappointment, of the gap between what good people deserve and what they get, out of how having a pair of rotten parents can keep someone cringing for life. The film ends in a city where we all dream of spending some time. When these characters arrive there, cameras in hand, they seem to have paid for their tickets in full.
---
Italian for Beginners (R; 99 min.), directed and written by Lone Scherfig, photographed by Jorgen Johansson and starring Anders W. Berthelsen, Anette Stovelbæk, Peter Gantzler and Sara Indrio Jensen, opens Friday at the Century 16 in Mountain View and opens soon at the Cameras in San Jose.
---
[ Silicon Valley | Metroactive Home | Archives ]