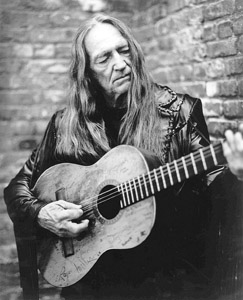 Scrunchy Music: Willie Nelson lets his hair down.





Full Nelson

Willie Nelson gets the 'Supernatural' treatment with mixed results

By Sarah Quelland

IN 1984, Willie Nelson composed a feisty tune called "Write Your Own Songs" for the movie Songwriter: "Mr. Purified Country, don't you know what the whole thing's about? / Is your head up your ass so far that you can't pull it out? / The world's getting smaller and everyone in it belongs / If you can't see that Mr. Music Executive, why don't you write your own songs?"

There is something enduringly wicked and ornery about Willie still in 2002. He may be getting older, but he'll be damned if he mellows out. He has a new record, a book of memoirs, a tour, his golf game and a black belt in tae kwon do.

Nelson's latest musical gift, The Great Divide (Lost Highway/Universal), finds the sage 68-year-old American legend exploring themes of aging with wisdom and humility. The sands and tides of time are recurring characters, most powerfully on "You Remain," a subtle duet with Bonnie Raitt, on which Nelson questions his mortality: "What do you do with the sands of time / When they carve out lines around your eyes / I can close my fists up good and tight / But I can't hold back the sands of time."

Willie's album maintains a consistent flow, which is remarkable considering the Texas troubadour didn't take his own 1984 advice from Songwriter; he only co-wrote one song on The Great Divide (the haunting title track with Jackie King). The rest were penned by producer Matt Serletic, Bernie Taupin, Jim Cregan, Robin Le Mesurier, Leslie Satcher and matchbox twenty's Rob Thomas.

Some people have groaned that Nelson is following Carlos Santana's lead by working with Serletic and Thomas--who engineered Santana's comeback Supernatural and produced the hit song "Smooth." But collaboration is nothing new to Nelson, who has spent much of his almost 50-year career experimenting with music and doing duets; "To All the Girls I've Loved Before" with Julio Iglesias, "Seven Spanish Angels" with Ray Charles and "Heartland" with Bob Dylan spring to mind. Nelson even teamed up with Santana back in the early '80s for "They All Went to Mexico."

The Great Divide is very different from recent expeditions like Teatro and Milk Cow Blues. The pop material positively shines when Nelson tackles the songs without help. Nelson's renditions of songs written by Thomas--"Maria," "Recollection Phoenix" and "You Won't Catch Me Cryin' "--are among the strongest on the album. The unforgettable title track is vintage Willie--an achingly romantic Spanish-style ballad that resonates with Nelson's timeworn voice and sparse guitar.

The tranquil, almost meditative "Recollection Phoenix" would fit right in on Sting's Brand New Day. The song's soothing tone is appropriate for the subject matter, on which Nelson proposes a theory on the meaning of life: "It's all about hope and where you go when you get it."

"This Face" (written by Taupin, Cregan, Serletic and Mesurier) pays homage to Nelson's warm, leathery countenance. Nelson was reluctant to include this song--not wanting to draw attention to his generously weathered features--until he realized many people could relate and respond to the lyrics: "I have this honesty that grows with time / And when cracks appear they suit me fine."

The dark, brooding Mickey Newbury cover "Just Dropped In (To See What Condition My Condition Was In)" delves into noirish outlaw territory, taking some dangerous turns. "Woke up this morning with the sundown shining in," he sings. "Found my mind in a brown paper bag again." In contrast, Nelson presents a quiet, straightforward cover of Cyndi Lauper's wistful "Time After Time," an addition that suits this album's themes of time well. "Last Stand in Open Country," Nelson's duet with Kid Rock, proves to be a great gunslinging tune with the vocal chemistry between the two working surprisingly well.

Several songs suffer from the overactive imagination of the producers. The slickly produced first single, "Mendocino County Line," with Lee Ann Womack, and Nelson's unlikely collaboration with Bryan McKnight on "Don't Fade Away" are schmaltzy, overly sentimental studies in sparkly country and R&B pop.

Ultimately though, The Great Divide is a soul-stirring self-portrait that finds a Western icon coming to terms with the joys and sorrows of growing old. It's honest, guileless and adventurous. One wouldn't expect anything less from Willie Nelson.
---
Willie Nelson concludes his four-night run at the Fillmore in San Francisco tonight (Feb. 21) and tomorrow (Friday, Feb. 22).
---
[ Silicon Valley | Metroactive Home | Archives ]