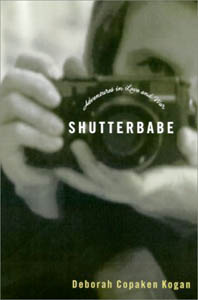 ---
Shutterbabe: Adventures in Love and War
By Deborah Copaken Kogan
Villard ; 300 pages; $24.95 cloth
---
Shutter Priority
Memoirs of a young adrenaline-junkie photojournalist
By Jeff Kearns
DEBORAH COPAKEN Kogan begins her new memoir, Shutterbabe: Adventures in Love and War, as a 22-year-old Harvard grad who moves to Paris to try to land a job as a photojournalist. Seen through her own lens, Shutterbabe (a name she half-jokingly applies to herself) is a little hottie with a camera, a vague idea of what she wants to do and enough of an attitude to tell the dirty Frenchmen to keep their hands and comments to themselves.
In spite of her lack of experience, she starts getting work with photo agencies in Paris. At first, she tries hanging around the same sidewalk cafes as the French photographers, which doesn't work. She knocks on agency doors, and somehow (it's not clear how or why) lands an assignment to travel to Jerusalem to shoot for Sygma.
A roguish French war photographer named Pascal invites her to Afghanistan to shoot the end of the Soviet war there in 1989; she says yes, and it's as easy as that. It is understood that, even though Pascal lives with his girlfriend, the trip isn't going to be strictly business.
It's an improbable odyssey for a bright kid from suburban Maryland who fell in love with making little frames that magically freeze moments. While Kogan's story is one of an idealistic young woman doing her best to succeed in a fairly iconoclastic role, it's also a minefield of feminist issues.
Kogan names all six chapters in the book for men who played some kind of role in her life. And, no, they're not all lovers. (The book is also neatly divided into three sections named for darkroom procedures: develop, stop, fix. It's a pretty straightforward metaphor for her life.)
And as much as Kogan reflects on the nature of womanhood, she's just about the only woman in the book. Kogan doesn't seem to have a problem with this, and she does deserve credit for being brave enough to flout feminist conventions. She does, after all, use Pascal as a ticket to the war zone, but it's not like she slept her way up the corporate ladder.
KOGAN'S RECOUNTING of her experiences with various lovers isn't all soft-focus love scenes. She gives unflinching descriptions of how she is beaten, stabbed and even raped.
And if Kogan can admit for just a second that she doesn't know everything, then it only seems fair to look at the book the way its subject might: the story of a bright young woman just out of school and looking for something to do other than land a husband.
Other adrenaline-related assignments follow: shooting heroin addicts in a Swiss park, rhino poachers in Zimbabwe, girl gangs in L.A., and the Communist collapse in Romania. Each new stamp on her passport is another chance to put herself in harm's way.
Even though she's young and inexperienced, the young Shutterbabe manages to start making a name for herself in European photojournalism circles. It seems like a miracle. How she can show up in Paris with a couple Nikons, get in with agencies like Contact and Gamma and start seeing articles about herself in trade journals a few months later isn't quite explained.
It seems as if her secret is that she didn't know that she couldn't do it. But after four years of chasing headlines around the world (and watching friends die as she goes), Kogan hangs up her cameras to become a wife and mom, taking a more stable job as a producer for Dateline in New York. She quits that job, too, when the network won't let her have the flextime she needs to be with her baby.
Kogan's storytelling reads like a Dateline script, too, but it works to her advantage. The narrative constantly intercuts between the present action and whatever circumstances led her there. She also splices in a fair amount of background (a lot of it boy-related) from her teen years. Kogan's book is literate, but it doesn't get too preachy or eggheaded.
While slightly trespassing into the self-aggrandizing at times, the narrator doesn't take herself too seriously. Even at the most serious points, Kogan can be self-deprecating and keep her sense of humor.
Though the black-and-white cover photo (a self-portrait) of Kogan peering through a Leica might suggest otherwise, the book that bears Shutterbabe's name turns out to have little to do with photography.
There's enough about the news business, camera gear and international crises to keep up the charade, but Shutterbabe turns out to be about a young woman who has a relatively unique coming-of-age story to tell.
Also keeping up the deception that the book has something to do with photography are the photos by Kogan that are interspersed throughout. There aren't many photos, but the ones that are included help tell the story and work well with the background about how they were made.
Kogan says she's a disciple of war photojournalist Jim Nachtwey and human freak show art photographer Diane Arbus. She indulged her inner Arbus in college, shooting behind the scenes at a Boston strip club. She also did a photo thesis called "Shooting Back," which consisted of portraits of men who propositioned her in the red-light districts of Boston, New York and Philadelphia.
Kogan writes: "I'd troll the seedy streets outside the strip clubs and the porno shops and wait for the inevitable comment, which ran the gamut from 'Hey, baby, wanna get it on?' to 'Suck my dick, bitch.' To every proposition I would quickly and confidently reply, 'No, thank you, but I would like to shoot your photo.' This retort and the presence of my camera changed the entire dynamic of the encounter. My clunky old Nikkormat became my weapon, turning hunter into prey, and as I held my wide-angle 28-millimeter lens mere inches from these men's faces, distorting their images, I felt the universe tipping for a moment in my favor."
It seems like good practice for the nerve-racking assignments that will follow.
[ San Jose | Metroactive Central | Archives ]