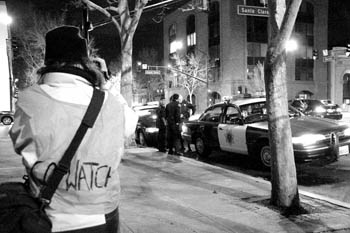 Photograph by Felipe Buitrago

Bad Boys: A mainstay in many U.S. cities, Copwatch has already rankled a few San Jose cops in less than two months on the job.

All Eyes on You

A San Jose group aims to keep the police in line

By Vrinda Normand

A CHORUS OF shrieks and screams sounds in the distance as the wobbling video camera captures darkened glimpses of concrete and metal. The man behind the lens speeds through a covered walkway in downtown San Jose, propelled by a disembodied voice saying, "You getting' all that? That's police brutality. You get that."

As the camera approaches the scene, blurred lights become solid figures: a San Jose police officer helps a woman from the ground, men in uniform stand alert, their long black batons and heavy flashlights clearly visible. Officers and civilians clustered on the sidewalk appear to be regrouping from a brawl that just occurred. They part as a brown-skinned man is led in handcuffs to a patrol car along Third Street at Santa Clara.

Then the camera turns toward the other side of those vehicles, in the direction of sobs and a woman yelling, "Get up! Come with me." She and several police officers lift a heavily built African American man who has fallen face down in the street. How he fell is unclear, and how he got a 2-inch gash at the top of his shaved head is also unclear. After he has regained some composure, George (as he is referred to in the video) bends his head so the camera can zoom in for a close-up of the wound. His left eye is squinted shut from mace. Below the diamond stud glinting on his left ear, his white muscle shirt is blood-stained.

The man behind the camera is Jacob Crawford from Berkeley Copwatch, here to kick-start the San Jose Copwatch that began to roam the city streets in early January. His goal? "To police the police." On this Friday night in February, he and a small posse seek out officers on duty to observe with their eyes, ears and video recorders. Much of their time is spent chasing calls on the police scanner and circling the busiest downtown areas on weekend nights. Through a combination of persistence and luck, they occasionally find themselves in the right place at the right time.

Tech Guy

A Copwatch expedition begins at a small community center on South Second Street run by the Barrio Defense Committee. The voice from within this modest building with brightly colored walls comes from Quetzaoceloaciua (Quetza for short), a 60-year-old Chicana activist who has protested police brutality and prisoner abuse since 1994. Copwatch is her newest project, which she has undertaken with at least three local stalwarts. A handful of others participate sporadically. After a half-hour of chatting, cooing over Corina Cardenas' 2-month-old puppy, donning makeshift orange vests with handwritten "Copwatch" logos, and deciding who will go in which car, eight copwatchers finally hit the road at 11pm. Tom Belote, a thin, red-haired SJSU computer science student, is the designated tech guy, fully equipped to play the cop game with a police scanner, cell phone, two-way radio and video camera.

Quetza is at the wheel of the lead car and decides to head for Story and White roads on the East Side. Last week, this intersection was swarming with patrol cars and at least two helicopters responding to an alleged shooting; the copwatchers even had their trunks searched at a checkpoint. Belote programs the scanner for calls from this area, and the warm interior of the sedan reverberates with static and the clipped voice of a female dispatcher.

Cardenas, the 20-year-old daughter of Rudy Cardenas, who was fatally shot by a state drug agent last year, drives the second car. Crawford, the visiting East Bay copwatcher, rides with her and juggles communication between his two-way radio and cell phone. Within the first hour, the cars get separated at least twice, and Belote's Southern drawl repeats, "Where ya'll at now?"

A scanner call, the first of the night, leads them far down Quimby Road to Murillo Street, where a 70-year-old Vietnamese man has apparently walked out of the bushes, making residents suspicious. In a manicured neighborhood of new housing developments, no cops or strange old men are in sight. A few more minutes of peeking around confirms they are too late, and the two cars head back down the hill, catching a stunning view of city lights. "At least we're exploring San Jose," Belote says cheerily.

In the back seat, Donna Wallach sits quietly, her eyes peeled on the road for patrol cars. Her long gray hair is stuffed under a baseball cap and she boasts a collage of plastic buttons on her T-shirt and jacket, advertising messages like, "No War in Iraq," "Free Palestine" and "Justice for Rudy." The copwatchers follow a few more dead ends on the East Side tonight, but they come closer to their target in downtown San Jose.

How you doing?

Along a dark section of Third Street near San Fernando, copwatchers pass three patrol cars stopped behind a small white car and quickly park to investigate. Belote and Wallach avoid jaywalking and trespassing on private property—which means they will park only on city streets and walk a block to the nearest crosswalk. Wallach props a video camera on her shoulder and starts filming as they approach the scene. Three officers converse with a young man.

Pedestrians pass by hurriedly, but Belote and Wallach walk into the tension, which thickens as the officers realize they are being filmed. One tall uniformed man turns his head toward the two and asks, "Can I help you guys?" Belote responds with a soft but unwavering voice, "We're just observing."

The officer steps and points toward the copwatchers. "For officer safety, I don't like people showing up this close to my stops," he says firmly. "Back up to the last car."

Belote moves a few feet away. Wallach keeps her camera trained on the cop's face, stepping backward. He tells her to look where she's going so she doesn't fall. She ignores him. He stares for a few more seconds, then climbs into his car and drives away.

Minutes later, the remaining officers follow, shooting a few nonchalant smiles in the camera's direction. "How you guys doing tonight," they say with a nod. Belote explains to the driver why he is there. The man half-grins and says, "It's cool."

"It's our priority not to make the person being pulled over feel uncomfortable," Belote explains later on. "We want to let them know that we're not just some weird group. We're there to protect their rights."

In the past year, Belote has traveled with Copwatch groups in Berkeley and Watsonville before he joined the newly formed crew in San Jose, and most of what he sees is routine law enforcement. That's fine, he says. Copwatch's main purpose is to deter excessive force or racial discrimination that might occur if officers aren't monitored.

Many officers tell copwatchers to keep a distance and stay within a line of vision. At a stop on Santa Clara Street, two male officers barely noticed people staring at them from a few feet away. After he finished running a check on a young Latino man, Officer Nabil Haidar said with a grin, "It doesn't bother me because wherever I go, people watch."

In a later interview, SJ police spokesman Enrique Garcia assumed a similar attitude. He advises copwatchers to use common sense. "As long as they aren't breaking the law," he says, "they can do whatever they want. It's a free country."

Strip Search

Only three copwatchers have lingered this late into the night, about 3am, but their endurance pays off. Crawford, Belote and Emjay Pate run to the Mission Ale House on Third and Santa Clara streets. Once the screams that drew them there die down, they are able to gather this story from witnesses:

Two groups of people confronted each other in the bar; one group was predominantly Caucasian, the other African American. A fight broke out and police responded. Inside the crowded building, they separated the fighters by pushing the Caucasians to the back of the bar and driving the African Americans outside, halfway down Third Street. Approximately three women and four men were then "attacked" by police, copwatchers say. They were sprayed with mace because they were reportedly yelling comments, such as "Why you always got to be fucking with black people?"

At some point in the scuffle, George ended up sprawled in the middle of the street with a bleeding cut at the top of his head. From a video interview, he couldn't say exactly who hit him. About the mace stinging his eye, he says, "They don't even know what's going on. They just spraying 'cause they like to spray that stuff. This is bullshit."

Comments like this one don't surprise Crawford, who's run with Copwatch groups from Denver to Cincinnati. The film he produced, These Streets Are Watching, shows footage of cops beating protestors, forcefully pinning people on the ground, strip-searching young Latino men, roughing up homeless men and barking at the camera to "back off."

His assessment of tonight's incident follows that theme: the blacks didn't "pass the attitude test," giving officers an excuse to become mace-happy. An SJPD spokesman could not produce a police report of the incident or provide an explanation of what happened.

"The cops should have only used as much force as was necessary to control the situation," Crawford says, "But by the time the groups were separated, there was no situation."
---
Send a letter to the editor about this story to letters@metronews.com.
---
[ Silicon Valley | Metroactive Home | Archives ]