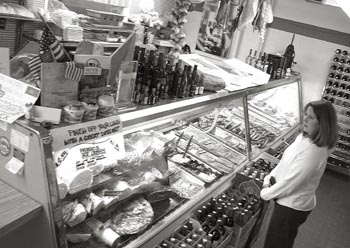 Photograph by Felipe Buitrago

Grill Masters: Neto's popular Tuesday and Friday lunchtime barbecues have the feel of a neighborhood secret.

Links Plus

Mom-and-pop shop Neto's is tops for sausage

By Stett Holbrook

THERE WAS a time when small, family-owned butcher shops and delis were the norm. You know the kind of place. The folks behind the counter knew your name. They made their food from family recipes. They'd save you bones for making soup and trim your steaks just the way you wanted. What happened to them is an old story.

Big, corporate-owned supermarkets gradually squeezed out these mom-and-pop shops. Superstores offering lower prices and the convenience of buying everything from antifreeze to watermelon under one roof made the independent grocer an endangered species.

This isn't just misty-eyed nostalgia. It's a hunger for better food. Cut-rate prices and convenience have seldom been synonymous with high quality. Today, heavily marketed, national brands that appeal to the greatest common denominator dominate the market, and our collective table is the worse for it.

Fortunately, a few holdouts have managed to survive in spite of the Costco-ification of the marketplace. Places like Santa Clara's Neto Sausage Co. Arthur Gonçalvez founded Neto's in a tiny storefront on The Alameda in 1948. A Portuguese immigrant, Gonçalvez catered to his countrymen with his handmade linguiça, morcilla and Spanish chorizo, but the company's customer base soon expanded.

"It just kept spreading from there," says Ed Costa, Gonçalvez's grandson and now third-generation owner of the company with his wife, Debbie. From the company's three-sausage beginnings, Neto's now makes about 25 different varieties.

Neto, which means grandson in Portuguese, was Gonçalvez's nickname. "I always said this was my destiny since I'm the neto of Neto," Costa says.

All the sausage is made on site from Gonçalvez's original recipes in the chilly plant behind the retail store. The majority of Neto's sausage goes to wholesalers and restaurants; it also sells fresh sausage and other products, such as Portuguese cheese, wine, dried beans and other specialty items from Portugal, Spain, Italy and Brazil, in the small store.

Portuguese wine is becoming more widely available in the United States, and it's a real value. Neto's sells several bottles of good Douro and Vinho Verde, two of the country's best-known red and white wines, respectively, for well under $10. Neto's is filled with the homespun bric-a-brac of nearly 60 years of operation. There's a big map of Portugal and a Brazilian flag at the back of the store. One wall is covered with Little League photos of the Costas' son and other baseball teams Neto's sponsors. On a beam above the cash register are yellowing Polaroids of smiling customers who won the market's monthly $20 raffle.

Due to changes in the restaurant trade and what Costa sees as the public's dissatisfaction with the homogenization of supermarket food, his retail business is gaining on the wholesale side. People like the real thing, he says.

"You can't find an Old World deli anymore," he says. "You don't have the service and the rapport with customers."

Part of Neto's success is due to the market's Tuesday and Friday lunchtime barbecues. Weather permitting, Neto's wheels out a gas grill, drags out picnic tables and cooks up fresh sausage patties ($5.95), chicken breasts ($6.95) and rib eye ($8.40). The grill master hands you your meat in an aluminum tray, and you walk it inside, where they make it into a sandwich with your choice of bread and condiments. The oval-shaped, meaty patties of sausage are as good as they look, especially the linguiça, spicy andouille and Spanish chorizo. The kitchen goes a little heavy on the mayo, so let them know if you want less on your sandwich.

The barbecue has the feel of a neighborhood secret, albeit a well known one. Table space is at premium. The Costas bought the house next door and are contemplating using the backyard for more outdoor dining.

"People are parking three or four blocks away and walking here," says Costa. "It's because of the product."
---
Neto Sausage Co.
Address: 3499 The Alameda, Santa Clara.
Hours: Mon-Thu 8am-5pm, Fri 8am-6pm and Sat 8am-4pm. Tue and Fri barbecue 11:30am-2pm.
Price range: $6-$8.
---
---
Send a letter to the editor about this story to letters@metronews.com.
---
[ Silicon Valley | Metroactive Home | Archives ]