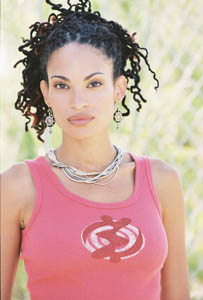 Photograph by Skyblaze

Soul Power: Goapele grew up listening to Miriam Makeba, Hugh Masekela and Prince.

Move On Up

Goapele's goal for 2005 is to 'Change It All'

By Todd Inoue

BACK IN THE DAY, many of R&B's finest doubled as social documentarians. Marvin Gaye, Curtis Mayfield, Sam Cooke, Edwin Starr—even the Temptations—sang about love and struggle. By comparison, the majority of today's soul singers push hard realities away like Brussels sprouts. Who can be counted as Mayfield's 2005 equivalent, someone who can nurture mind, body and soul?

A good candidate is Goapele. The Oakland songbird was raised around community activism and hip-hop's beat revolution. She balanced yin and yang on her 2002 debut, Even Closer, with supple lover's rock like the title track and "Romantic" and the consciousness-raising "Red, White and Blue" and "Childhood Drama." She brought hip-hop into the soul mix with guests Pep Love, DJ Fuze, Zion I, Casual and brother Namane.

Goapele—derived from a Sitswana word meaning "to go forward"—concedes there are more love songs on Change It All, but don't play her as soft. She's spread Miracle-Gro across the soil, expanding and strengthening her root talents. The album's title track sums up her outlook. "It's a song that talks about the time period right now politically and how it affects our community," she says. "So much has happened since Bush came into power—all these things, like small propositions that are passing. I feel a lot of basic things in life are subtly changing. Individual opinion is being shut down and commercialized. What would happen if we could change it all, piece by piece?"

Goapele's activist pedigree began early. The daughter of a Jewish mother and a South African political exile father, Goapele grew up in Oakland and formed the first preteen peer-led support group of the Bay Area Black Women's Health Project. At 15, she worked with progressive women's group Be Present Inc. and E.Y.E.S. (Empowered Youth Educating Society). Goapele also sang—well—in the Oakland Youth Choir and at the Berklee College of Music.

In 2002, her seductive single "Closer" broke the invisible barrier that kept local independents off commercial hip-hop/R&B station playlists. "Closer"—with its backbeat and crawling keys as the vibrant espresso and Goapele's voice as fresh whip—heralded a case of local hero trumping conglomerate cattle herd mentality. The song blew up in the Bay, and little by little, spread across the nation on urban and Quiet Storm stations. She followed the scent, touring for most of 2003 and 2004.

It's been six months since Goapele got off the road and holed up in an Emeryville studio where she established the independent Skyblaze label and wrote and recorded Change It All.

"It's the same vibe," she says, comparing the two. "I stretched further and was more open creatively. It's definitely soulful, but not as much hip-hop influence."

She corrects herself. The drum and bass still knock, but a couple of songs breach New Wave territory. Goapele says her album keeps with the open-ended tradition of Prince's early records and Andre 3000's The Love Below.

"I just love a lot of music," she says. "I reinterpret in my own way a lot of the music I listen to. Even the old music that Prince was doing couldn't be confined to a category. I really enjoyed Outkast's The Love Below album. That opened up another door in urban music."

Songs on Change it All include a duet with Dwele called "You," a collaboration with hit-maker-to-the-stars Linda Perry on "Darker Side of the Moon" and boudoir songs "First Love," "Crushed Out" and "Fly Away." She worked with longtime producers Jeff Bhasker, Mike Tiger, Zion I's Amp Live and new friends Perry and E-40 associate Bedrock. With a spring release date, three sold-out shows at Yoshi's and an under-the-radar San Jose State University gig, Goapele sighs deeply and lets a smile escape, wondering what the reaction will be. Experience it firsthand on Monday.
---
Goapele performs Monday (Feb. 28) at the Barrett Ballroom on the San Jose State University campus. The show begins at 8pm and features DJs and fraternity and sorority step shows. Tickets are $10 and available through brownpapertickets.com.
---
---
Send a letter to the editor about this story to letters@metronews.com.
---
[ Silicon Valley | Metroactive Home | Archives ]