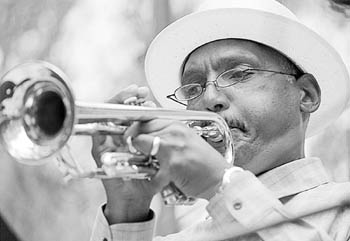 Oakland Raider: Khalil Shaheed leads his quintet through a hurry-up offense.

Yearnin' Learnin'

Oaktown Jazz Workshop's Khalil Shaheed lets the lessons flow

By Geoff Wong

PATIENCE IS a virtue. Just ask trumpeter-bandleader-educator Khalil Shaheed, whose informal session work with one of his musical mentors, Jimi Hendrix, was finally heard in 2003 on the PBS program Martin Scorsese Presents the Blues. The Jimi Hendrix episode features an early recording of a budding Shaheed jamming with the guitar god. "It was a really, really educational part of my life, to be hanging with Jimi," Shaheed says, by phone from his home in Oakland. "I was really young at the time, like 19 or 20." Shaheed was in Buddy Miles' jazz band for six years and befriended Hendrix through Miles—then drummer for Hendrix's Band of Gypsies. Buddy's band was living in New York at the Chelsea Hotel right around the time of Electric Ladyland.

"Jimi used to just call me up and say, 'Hey, man, bring a horn section over. Let's record!' We'd go over and might be over there for two or three days." With the passing earlier this month of Oakland-based jazz pianist Ed Kelly, all three of Shaheed's main musical mentors, including drum master Billy Higgins, are no longer alive. Shaheed has become a teacher and mentor to countless others. As the founder and director of the 11-year-old Oaktown Jazz Workshop (OJW), he has brought the world of jazz into many lives and schools. Performance Workshops are tailored to players 12 to 18 years old, while 45-minute Jazz in the Schools programs introduce music students to the world of jazz and its relationship to the European classical tradition.

Jazz fans will get to hear Shaheed on March 6 as the San Jose Jazz Society presents his quintet as part of its Sunday Jazz Series. Featuring tenor saxophonist Richard Howell, pianist Glen Pearson, bassist Ron Belcher and drummer Darrell Green, the group is the core of Shaheed's 13-piece Big Belly Blues Band. "It's like a family thing," he says of one group anchoring the other. While he's still determining the exact program, he does know it will be of a straight-ahead, post-bop nature.

Another certainty is that lessons he teaches in the classroom are likely to make their way onto the bandstand. "The one thing I've learned about teaching in 20 and 30 years is that you never quit learning. By teaching, you learn," he reflects. "So I may be teaching something to my band and come up with a great idea to use for my professional band. They interlap, and it's a really great thing, because it keeps it fresh."

Born in Pittsburgh and raised in Chicago, Shaheed began gigging in high school. His jazz-nut father would chaperone him to bar dates with established musicians. He also dressed up with big floppy hats and big coats to sneak into bars to hear groups and meet musicians. Neither of his parents were musical, but his father took Khalil to concerts by Duke Ellington, Count Basie and Gene Ammons. After graduating from high school, he attended Southern Illinois University at Carbondale, where he studied composition and performance. He taught music on the side before moving to the Bay Area, to be near his mother, who had transferred out here for her job with United Airlines.

Attending San Francisco State, he started to gig locally before taking up his gig with Miles. After the six years of touring with him, he returned to the Bay Area and continued to live and play and teach here. "I majored in performance and composition. That tells you right there that my goal wasn't to be a teacher. And it turns out if I wasn't a teacher right now, I'd be starving to death," he concludes. "So you plan, and God plans. God is the best planner."

The Khalil Shaheed Quintet performs March 6 at the Palm Room at the Hyatt St. Claire as part of the Sunday Jazz Series 2005. The show starts at 3pm and tickets are $17. For more information, visit www.sanjosejazz.org.
---
Send a letter to the editor about this story to letters@metronews.com.
---
[ Silicon Valley | Metroactive Home | Archives ]