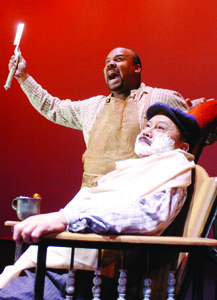 Photograph by David Allen

Shave Party: The demon barber (James Monroe Iglehart) brandishes his razor over a hapless customer (Steve Completo) in 'Sweeney Todd.'

Meat Pie in The Sky

The proof is in the filling in Foot Music Theatre's delicious 'Sweeney Todd'

By Marianne Messina

WHEN THE THEATER usher sees that you're sitting in the second row and warns, "Mind the blood," it's a good sign—that is, if you're there to see Sweeney Todd, the musical black comedy that ends like a Shakespearean tragedy. Though the blood did not spurt and splatter as suggested, this Foothill College Music Theatre show about the "demon barber of Fleet Street" was perfectly shuddery. According to "The Ballad of Sweeney Todd," "he shaved the faces of gentlemen, who never after were heard of again," a plot based on an actual London murderer/barber executed in 1802.

Stephen Sondheim's musical version (with Hugh Wheeler) adds a love plot between a "good Christian" seaman (Austin Ku) called Anthony Hope (with a name like that, who wouldn't be a token metaphor?) and Sweeney's daughter, Johanna (Keite Davis). Ku and Davis bring beautiful singing to the otherwise tepid roles. Sondheim also gave the updated Sweeney (James Monroe Iglehart) a motive: his daughter is being raised by Judge Turpitude, er, Turpin (Mike R. Padilla), who raped Sweeney's wife and had Sweeney dispatched to Australia on "a trumped-up charge." As Sweeney's lust for revenge grows, his human connectivity shrinks (along with plot complexity), and what's left is some really fine music—with its jagged rhythms and horrific discord—and a whole lot of meat pies.

Diana Torres Koss has incredible chops as Mrs. Lovett, baker of the ghoulish meat pies and thereby Todd's accomplice. Singing about the fate of Sweeney's wife in "Poor Thing," she's a gem of equivocation and deception, often using just her eyes. In "God That's Good," she's multitasking ever so fluidly—snapping commands at her dim-witted assistant, pampering and chatting up several customers and running upstairs between customers to placate the unhinged Sweeney.

The performers have formidable skills, which help to fully realize the emotional dissonance implicit in Sondheim's music. "Not While I'm Around," a cleverly arranged duet between Mrs. Lovett and her orphaned assistant Tobias (Sean Patrick O'Connor) comes to a poignant finish. We can be touched by O'Connor's lovingly devoted high note while we can sense that Mrs. Lovett would have Tobias in a meat pie in a trice. Iglehart's sonorous baritone carries Sweeney's desperate anger into both the chilling and the sublime, like the amorous strains with which he sings, "You'll soon drip rubies" to his razor in "My Friends." When Beadle Bamford (Martin Rojas-Dietrich) sings about "Ladies in Their Sensitivities," Rojas-Dietrich hits one of the most delicate high notes of the evening, yet we've already seen this Beadle break the neck of a songbird.

The play offers a constant totter between cringing and laughing. At its best, in "Priest," Sweeney and Lovett banter about the selection of meat pies they intend to offer: royal marine ("tastes of wherever it's been"), general ("with or without his privates?"), actor ("always arrives overdone") and so forth. Koss and Iglehart put this tasty number over the top.

In an intimate theater space, Foothill Music Theatre has fit a production big at heart. The set design (Foothill veteran scenic designer Joe Ragey) involves several levels, huge versatile set pieces that roll on casters like heavy freight cars, a human-size furnace that smokes (and with some tricky staging swallows a live person). And the centerpiece, Sweeney's eject-a-corpse barber chair, is imposingly gruesome. It's a high-impact show well worth the willies.
---
Sweeney Todd, a Foothill Music Theater, plays Thursday-Saturday at 8pm and Sunday at 2pm (with an added show March 12 at 2pm) through March 13 at Foothill Playhouse, Foothill College, 12345 El Monte Rd., Los Altos Hills. Tickets are $10-$24. (650.949.7360)
---
---
Send a letter to the editor about this story to letters@metronews.com.
---
[ Silicon Valley | Metroactive Home | Archives ]