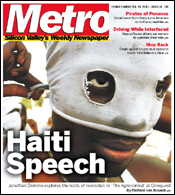 For the Week of
February 25-March 3, 2004
Cover Story: Haiti: Roots of Revolution:
Jonathan Demme explores the roots of revolution in 'The Agronomist' at Cinequest.
News: Personality Disorder
Fishing for leaders in San Jose's shallow political pond.
The Fly: This week's political bites.
'Trust Us': Six weeks after Furnituregate, city government seeks to loosen taxpayer safeguards.



Biter: How to Bush whack: Talking points for the DNC.
Notes From the Underbelly: The parrots are treated like kings and queens at Dr. Fern Van Sant's For the Birds.
Techsploits: The most devious minds in the computer industry unite at the hacker conference CodeCon.



The Flog Prince: Mel Gibson hopes that a good scourging will bring moviegoers back to Jesus in 'The Passion of the Christ.'
Field of Dreams: 'United' opens Cinequest Film Festival with winning combination of love and soccer.
The Revolution Will Not Die: Why should not old men be mad? Mexico's revolutionary soldiers are still ready to kick some ass in the documentary 'The Last Zapatistas.'
Wild Moose Chase: If only the producers of 'Welcome to Mooseport' could have nabbed a co-star who could match wits with Gene Hackman.



Sonic Mélange: The Rum Diary could sneeze and it would sound ethereal.
Aural Fixation: New management causes talent buyer Jimmy Arceneaux to resign from the Edge.
Loud Return: Krenshaw previewed new songs to longtime fans at the Blank Club last Friday.
Metro's Club of the Week: The Elixir Lounge.



Politics of Make-Believe: In 'The Price of Loyalty,' ex-Treasury Secretary Paul O'Neill exposes Bush's alternative universe.



Local Motion: Two south San Jose restaurants battle the mall-ification of cuisine.
Cheap Eats: The Mediterranean in Santa Clara.



Royal Terror: San Jose Stage ratchets up the terror in stage version of Stephen King's 'Misery.'



Please don't forget to write! Metro welcomes letters. Like any great work of art, they should be originals -- not copies of letters sent elsewhere. Include address and daytime phone (for verification purposes only). Letters may be edited for length and clarity or to correct factual inaccuracies known to us. Postal: Metro Letters, 550 S. First. St., San Jose, CA 95111. Fax: 408/298-0602. . Emailers, please include name, city of residence and phone number. Letters printed will list email address unless otherwise specified. Letters to the editor are not currently published in the online version of this paper.