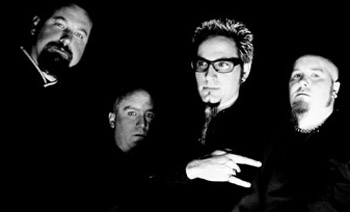 Krenshaw debuted new material at the Blank Club.

Loud Return

Krenshaw previewed new songs to longtime fans at the Blank Club last Friday

By Sarah Quelland

AFTER SEVEN MONTHS of laying low, Krenshaw made its big return to the stage last Friday (Feb. 20) with a show at the Blank Club featuring the Venting Machine and Deconstruct. The South Bay rock band known for its heavy stomp, sludge and groove is readying its new album, Fingered (which it expects to release in April) and rewarded its fan base by sending out invitations to a free show and preview of the new material. Independent filmmaker Jay Lee was on hand filming the night for a DVD intended to chronicle the making of Fingered.

Despite hot competition for fans on Friday, with Ones and Zeros' CD-release bash at the Edge and Trapt headlining the Catalyst, Krenshaw had a good turnout. Early on, vocalist Kelly Dalton voiced his appreciation to the enthusiastic crowd of familiar faces for coming out. "It's good to be back. Thank you, very much," he said, acknowledging the group's extended absence from the live circuit.

Krenshaw played 10 songs off the forthcoming record and three favorites from 2001's Lazy i. There are two tracks on Fingered vying for single status: "Drain," which has reportedly received more than 150,000 downloads on www.cornerband.com, and the band's cover of XTC's "Dear God."

At the Blank Club "Dear God" featured a guest appearance by Michelle Budd (daughter of Krenshaw producer Don Budd), who also sings on the record. Dalton calls her an inspiration and says her vocal approach to the song helped set the tone for him. He explains that Krenshaw wanted to do a cover and chose that song because its lyrical content holds significance for every member of the band. The song speaks of "The wars you bring, the babes you drown / Those lost at sea and never found" and suggests, "The hurt I see helps to compound that the Father, Son and Holy Ghost is just somebody's unholy hoax," and Dalton says ideas like those represent Krenshaw's political and religious outlooks. Dalton says he was overwhelmed by the show of support on Friday. He attributes the strength of Krenshaw's performance to the energy of the crowd and says he was floored by the response they received.

Near the close of the show, former S1FT vocalist Chris Dinsmore joined Dalton on "Pig" before Krenshaw closed with "F.M.O." The crowd started demanding, "One more! One more!" and refused to let the guys call it a night without hearing one more song. Krenshaw returned to do "Peel" as an encore.

The band is working to get everything in place before the new record comes out. Part of the holdup has been finding a new bass player since the departure of Mike Lee. Trip Device bassist Steve Ratcliff filled in on Friday, but the band is still searching for a full-time replacement.

Krenshaw is now managed by Broken Ocean Entertainment, a firm founded by entertainment lawyer Lee Rudnicki. That union helped secure the group an opening spot at the Loud Music Symposium 5 scheduled for April 25 at the Herbst Theatre in San Francisco. There, Krenshaw will share the bill with the Punk Rock Orchestra and a number of drum and bugle corps, including the San Francisco Renegades. It's not exactly your typical rock crowd. Dalton says that's the whole point. Rudnicki is intentionally trying to make them stick out like a sore thumb in order to cross-pollinate audiences and reach as many different types of people as possible to expand their fan base. No other shows are scheduled at this time, but Krenshaw expects to hold CD-release parties in San Jose, San Francisco, Sacramento and Los Angeles when the time is right. Visit www.krenshaw.com for updates.
---
Send a letter to the editor about this story to letters@metronews.com.
---
[ Silicon Valley | Metroactive Home | Archives ]