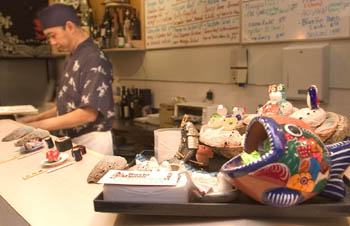 Photograph by Charlie Nucci

Raw Talent: Chef Osmai Ly works the counter at Sushi Okawa.

Local Motion

Two south San Jose restaurants battle the mall-ification of cuisine

By Todd Inoue

WHEN I FIRST moved from downtown to South San Jose near Snell and Blossom Hill roads, I bemoaned the lack of eateries in the 95123. The only traces of culinary life were chains or tiny shops blatantly obvious in their signage (Burrito This, Chinese Food That). I remember driving through our 'hood on a food-finding mission, pointing out eateries and commenting as if describing streetwalkers in a red-light district: "Gross," "Too much fat," "No way" and "Hell, no."

I don't do that any more. After four years of suburban acquiescence, the open palate of discovery has replaced sullen foodie snobbishness. Quaint, tucked-away places have become like pals. I spent New Year's Eve noshing a great Stromboli at DiMaggio's. When I get my oil changed at Quality Tune-Up, I always hit the breakfast nook behind the gas station, where the waitresses wear jeans, call you "honey," talk about their Reno trip and have a coffee pot ready to rock.

On a politically progressive up note, eating local is good for everybody: the money stays in the community and studies have shown that scrambled eggs and bacon taste better when someone calls you "honey."

I don't get called "honey" at Pho My--a Vietnamese restaurant that has become my default choice on those nights when I don't feel like cooking--but I'll gladly forgive them. Vietnamese cuisine fulfills every taste and texture craving--sweet, salty, spicy, crunchy, heat--often in one spoonful. Plus it's fresh and tasty as all get out for a price that barely dents the wallet.

I'm head-over-heels for the bun (rice vermicelli) bowls filled with grilled pork, cocktail rolls, shrimp, bean sprouts, cucumber, cilantro, peanuts and a nuoc mam (fish sauce) and lime dipping sauce. So many different colors, flavors and textures; it's like a multimedia explosion in a bowl. Then there are the reassuring broths in the pho and lemon-grass soups, and the curious broken-rice dishes--long-grain rice mixed with shredded pork that when cooked has the consistency of couscous. It could take a year to go through the menu. If I made these myself, I'd easily waste four hours shopping, marinating, cutting, dicing, simmering, grilling and whisking. This is my public thank-you to Pho My for nourishing me when I'm too lazy to cook.

The other restaurant is Sushi Okawa, a newer spot down the street from Pho My. Sushi Okawa is buried deep in a minimall. The lone signage is a Kinko's-produced banner on the side of a minvan parked along Blossom Hill Road. Opened last April, Sushi Okawa is in desperate need of customers--but it's not because of the food. Chef Osami Ly spent 12 years as a chef at the prestigious Kiku inside the Hilton San Francisco before working at restaurants in San Mateo and Dallas. His arrival back in the Bay Area coincides with his interest in creative plates and presentation.

The Okawa Mountain combines spicy tuna, tobiko caviar, spinach and rice stacked upright in a wasabi mayonnaise dressing. The Mango Tai Sashimi--a mound of shredded mango, fresh snapper, carrot and cucumber with tobiko wasabi--makes a refreshing and simple update of a favorite. There is also a full-service sushi bar with a dry-erase board scribbled with specialties. The prices are a touch high but extremely plate efficient. Tonkatsu was $10.50, but what arrived were three pork fillets breaded and fried crisp. It came with rice, salad and miso soup--a tasty value that even provided leftovers.

I like my neighborhood. There are plenty of other eating options I've yet to try, including Indian, Mexican and Chinese, but alas, I'm putting my house up for sale and moving to another neighborhood, and the process of finding good local eateries shall begin anew. So if you or someone you know wants to live near some great restaurants off of Highway 85 at Blossom Hill, I know of a charming 3BR, 2BA, newly roofed, central-air-conditioned house in a cul-de-sac that's for sale.
---
Pho My
Address: 5499 Snell Ave., San Jose
Phone: 408.365.2042
Hours: 10am-9pm daily
---
---
Sushi Okawa
Address: 5657 Snell Ave., San Jose
Phone: 408.972.5978
Hours: Lunch 11:30-3pm Mon-Sat; dinner 5-10pm Sun-Thu, 5-10:30pm Fri-Sat
---
---
Send a letter to the editor about this story to letters@metronews.com.
---
[ Silicon Valley | Metroactive Home | Archives ]