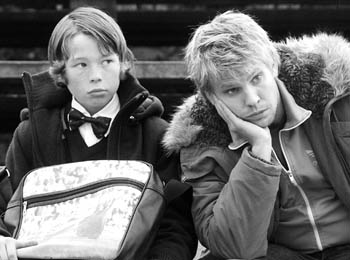 Fan Base: Kåre (right) and his young friend ponder the fate of their team in 'United.'

Field of Dreams

'United' opens Cinequest Film Festival with winning combination of love and soccer

By Todd Inoue

THOUGH SOCCER trails football, golf, basketball, baseball, hockey, archery and competitive eating on ESPN Sportscenter highlights, it has great crossover potential, especially in the theater. The residual fallout from the success of a movie like Bend It Like Beckham is that American moviegoers have been briefed on the worldwide popularity of soccer--a public service that the World Cup and MLS couldn't accomplish. The idea of a romantic comedy centered between and outside the touchlines isn't hard to accept.

For United (the opening-night offering at this year's Cinequest) another Manchester United superstar achieves icon status: Bryan Robson. In the likeable Norwegian film, a chronic Man United fan, Robson sympathizer and unforgivable procrastinator named Kåre wants to assert himself before his girlfriend, Anna, succumbs to his apathy and falls victim to the charms of a rival suitor.

With the ailing shipyard short on jobs, Kåre secretly tries out for the local squad as a way to improve his lot and forestall homelessness. If he makes the team--he thinks--he earns a paycheck and qualifies for a loan and a mortgage. And then it's a trip down the aisle, happy forever more. The story all comes down to a free kick, and since the field is situated far away from Hollywood (western Norway to be exact), the ending may come as a surprise.

Or not.

United scores goals with its quirky charm. The first 10 minutes playfully introduces the plot and characters with techniques borrowed from instructional films of the '50s. The side characters add familiar color: the runty pine rider who never gets a chance, the evil suitor who has all the class and guile of a cigar salesman on The Apprentice, the bearded soccer coach spouting wisecracks and the mismatched couple who never knew they could love each other until fate brings them together.

Film has long embraced the passionate nature of football, using it as a plotline for Tibetan monks sneaking out to watch World Cup games (The Cup), for war prisoners Pele, Michael Caine and Sylvester Stallone to beat the Nazis (Victory) and for Disney to pander to kiddie teams and soccer moms (Ladybugs). United adds to this growing pile of romantic comedies dressed down in trainers and kits. Fans of Bend It Like Beckham or Love Actually will like the film even if they don't know that Bryan Robson was Manchester United's best player in the '80s. It makes sense: just as soccer is the universal sport, love is the universal language. Put them on screen together, and it's like a full volley off a perfect cross: pure magic.
---
United (Unrated; 85 min.), directed and written by Magnus Martens, photographed by Jakob Ingimundarson and starring Håvard Lilleheie, Berte Rommetveit and Vegar Hoel, opens Cinequest on Wednesday (March 3) at 7:30pm at the San Jose Repertory Theater, San Jose. Tickets are $50 (includes party).
---
Quest for Film
Next week's Metro will run down the highs and lows of this year's Cinequest Film Festival, but a little advance planning couldn't hurt. The big happening this year is the Maverick Spirit Award presentation for Gov. Arnie himself (can the elected head of the world's seventh-largest economy really be called a "maverick"?)--time and place still to be announced.
Perhaps more intriguing at the pure film level is the afternoon Maverick Award session planned for Berkeley-based screenwriters David and Janet Peoples, the couple responsible for adapting Blade Runner and writing 12 Monkeys and Unforgiven. This event is scheduled for March 12 at 2pm at Morris Dailey Auditorium at SJSU.
The other Maverick Spirit Award winner is Kurt Miller, who, in conjunction with Warren Miller, is one of the pioneers of the extreme-sports scene--from skiing and snowboarding to surfing and sky diving. The program will include some stomach-dropping clips from the Miller back catalog. This one is set for March 11 at 9pm at Morris Dailey Auditorium.
The festival runs March 3-March 14 at a variety of downtown San Jose locations: Cameras One and 3, the Rep, and University Theater, Morris Daily Auditorium and Hal Todd Theater at SJSU.
Most of the films show at least twice, and individual screenings are $9 (with discounts for seniors and students), except for some special showings. Big spenders might want to consider springing for a Platinum Pass. It costs $500, but it gets the bearer into everything, and includes a Palm Tungsten C, worth about $500 all by itself. With the Palm, fans can access video updates from the festival.
For schedule and ticket information, call 408.295.FEST or check www.cinequest.org.
(Full Disclosure Department: Metro is one of the Executive Partners of the festival.)
---
Send a letter to the editor about this story to letters@metronews.com.
---
[ Silicon Valley | Metroactive Home | Archives ]