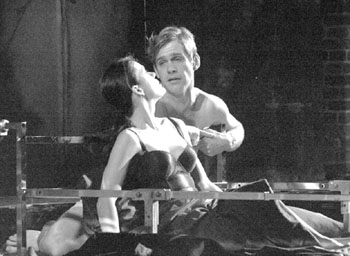 Round and Round Stephanie Gularte and Jonathan Rhys Williams explore the art of seduction in 'The Blue Room.'

True Blue

The inhabitants of 'The Blue Room' come to life in a West Coast debut

By Heather Zimmerman

FOR ITS FIRST nonmusical production, Theatre on San Pedro Square shows off some true programming prowess, staging the West Coast premiere of David Hare's The Blue Room (based on La Ronde by Arthur Schnitzler). The company presents a smart, sleek show which demonstrates exactly why this refreshing and insightful play should be revered for far more than being the play in which Nicole Kidman got naked.

Hare has constructed a sort of intimate tag-team relay of scenes--10 interconnected liaisons between 10 mutually unfaithful characters. Sex is the ostensible goal of each of these scenes, but Hare makes sure that getting there is always more than half the fun as he delves into the myriad dynamics at work in each of the encounters. Director Michael Butler nimbly guides these encounters. From near-tragedy to drugged-out romp, he finds the perfect tone for every interlude.

Stephanie Gularte (all the female roles) and Jonathan Rhys Williams (all the males) tackle five characters apiece, and each performer turns in five impressive performances. From a naive streetwalker to a self-possessed actress, a prissy politician to a streetwise cabbie, Gularte and Williams are utterly real in their roles, and they always find the right chemistry between each pair of characters.

Advertised provocatively as a "sexual drama," The Blue Room offers no shocking scenarios. If anything, it's deliberately predictable, especially in that the structure provides a sort of built-in cynicism: for example, when we see the Politician extolling the virtues of connubial bliss to his wife, we already know that the next scene will find him with another woman (who in turn will have another lover herself). Hare has dispensed with plot almost entirely--the soap-opera consequences of who's cheating with whom--to get at the characters, to examine their interactions. And the strategy works. Among these 10 relationships, blatant abuse of power abounds, often where an age or economic gap is present, though not always. The Actress simply enjoys the thrill of the chase, whether it's the Playwright or the Aristocrat in pursuit, whereas the wealthy Student takes advantage of the Au Pair's status as an employee of his family.

Nevertheless, sex also acts as an equalizer, the one equalizer among these many varied ages and classes, uniting in the basest, most human sense, every one of these disparate characters. The one factor common to all is suffused throughout the production in costume and set design. "Blue" is sometimes used as another word for pornographic or erotic, and accordingly, designer Ching-Yi Wei subtly saturates the stage and props with blue, and Lisa Pontier de Mattei's costumes, though much varied in hue and style according to character, all incorporate the color, suggesting almost subconsciously that, at least in one small but basic way, people can be painted with the same brush.
---
The Blue Room plays Wednesday-Saturday at 8pm, Sunday at 2pm through March 31 at Theatre on San Pedro Square, 29 N. San Pedro St., San Jose. Tickets are $24.50-$42.50. (408.283.0200)
---
[ Silicon Valley | Metroactive Home | Archives ]