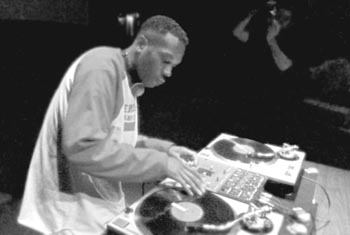 Wax On: Rob Swift cuts it up during a scene from 'Scratch.'

Needle to the Groove

New movie and tour celebrate the art of the 'Scratch'

By Todd Inoue

MASTERING A four-finger click can take months to master. Beat juggling can take years. But the hardest part of being a scratch DJ is explaining the art of manipulating records to non-hip-hop-savvy friends and relatives.

The new documentary Scratch does the job for them. The film takes viewers on a coast-to-coast trip from where the "zhigga-zhigga" originated to where it's headed. The cameras catch amazing live shows and practice sessions. Early pioneers Grandwizard Theodore (the inventor of the scratch), Afrika Bambaataa, Jazzy Jay and Grandmaster Flash are given generous screen time. New-school innovators (or "turntablists") Q-Bert, Mixmaster Mike, Cut Chemist, Steve D, Babu and Rob Swift muse on the culture's progress. Scratch delivers a linear, comprehensive look at the evolution of the DJ, moving from the back to the front of the stage.

It's interesting to note that the man behind Scratch is a 41-year-old alternative-rock fan named Doug Pray, whose previous film, Hype!, documented post-grunge Seattle.

"With Hype!, I kept saying, 'It's not about the bands in Seattle, it's about American pop culture,'" says Pray, calling from his home in L.A. "With Scratch, it's not a fan's portrait of one or two DJs, it's about a huge underground movement and a larger idea of making music out of music."

Before making the film, Pray had a mainstream understanding of hip-hop, having edited and directed rap videos by Eazy-E and Bone Thugs-n-Harmony. As for underground hip-hop and DJ culture, he was totally clueless. He immersed himself in the subject, collecting tapes and records, meeting DJs and attending shows.

"I was just shocked that as I was so focused on alt rock there was a huge underbelly on underground hip-hop that I missed out on," Pray admits. "I didn't know this was happening."

Pray's naiveté paid off as his subjects reveal their thoughtful sides. Being an outsider allowed curiosity to be Pray's guide. "When you're inside, you have so many relationships and preconceptions--that album sucks, that guy's cool, that guy's not cool,'" Pray says. "Being outside allows me to ask simple questions and get really interesting answers. 'How are you making this music?' 'Why are you making this music?' Being an outsider made me approach it in this human way."

This is where the film succeeds. Grandwizard Theodore reminisces in true wonderment that a sound he discovered by rubbing a record back and forth over a small percussive section has spawned an entire subculture. Gang Starr's DJ Premier remembers the time a friend cut up two copies of Whodini's "Five Minutes of Funk" in front of him and how that inspired him to become a DJ. Numerous DJs pour lavish praise on Grandmixer DXT, the spaceman dicing it up on Herbie Hancock's "Rockit."

One of the most magical pieces focuses on crate digging, a.k.a. record shopping, a timeless passion and pastime for all DJs. Pray's cameras follow the notoriously camera-shy DJ Shadow to the dank basement of his favorite record store--the now-shuttered Records on K Street in Sacramento (pictured on Shadow's breakthrough album Endtroducing).

Surrounded by mountains of vinyl relics, Shadow compares beat digging to picking through the bones in a cemetery: "Buying records keeps you humble, because you're rooting through a graveyard of broken dreams."

Seeing Shadow immersed in his element brings out a knowing feeling of bliss in any person who loves music. "It made him really comfortable," Pray explains. "The interview felt very intimate and went on for a while."

A concert tour starring Dilated Peoples, Mixmaster Mike, Jazzy Jay, Grandwizard Theodore and Z-Trip coincides with the theatrical release of the movie. At Sundance 2001, Scratch hosted a performance that brought in some of the artists featured in the film. Pray remembers that 80 percent of the audience had no idea what turntablism was about. When Mixmaster Mike came on and killed it with a laser-sharp routine, jaws dropped en masse.

"It was a Hendrix-like experience," Pray recalls. "A lot of the hippies were like 'Goddamn! What the hell is he doing!' The whole night was revelatory. I felt that anybody who thinks this isn't every bit as powerful a music as rock is just completely in denial."
---
Scratch begins a limited run March 8 at San Francisco's Lumiere and Berkeley's Shattuck theaters. Scratch the Tour plays 8pm on Tuesday (March 5) at the Fillmore, 1805 Geary, San Francisco. Tickets are $30. (Ticketmaster or 415.346.6000)
---
[ Silicon Valley | Metroactive Home | Archives ]